This is a guest blog by Rachita Saxena. Photography credits go to Rachita Saxena.
Amazing trekking experience in an offbeat country in Central Asia.
I am not very fond of trekking or hiking but sometimes, just for the views, I do end up putting in the effort.
So, this year, my best friend and I decided to explore Central Asia. We spent two months in two countries: Kazakhstan and Kyrgyzstan. And both of these places were extremely beautiful and rewarding.
One such beautiful place which I can never forget is the Song Kol Lake in Kyrgyzstan.
From encountering wild animals to camping alone at night, it was an exciting adventure for us.
This 26-km was tiring but the views. Oh god! The views were just too precious to skip. So, if you are planning to travel to Kyrgyzstan soon then I would urge you to experience this amazing and life-changing trek.
In fact, if you aren't planning to visit this country then you actually should! Because Kyrgyzstan is one place which you won't ever get bored, especially if you like adventures.
---
Related Experience: An Offbeat Experience of Camping for Two Nights in Charyn Canyon – Valley of Castles
---
About Song Kol Lake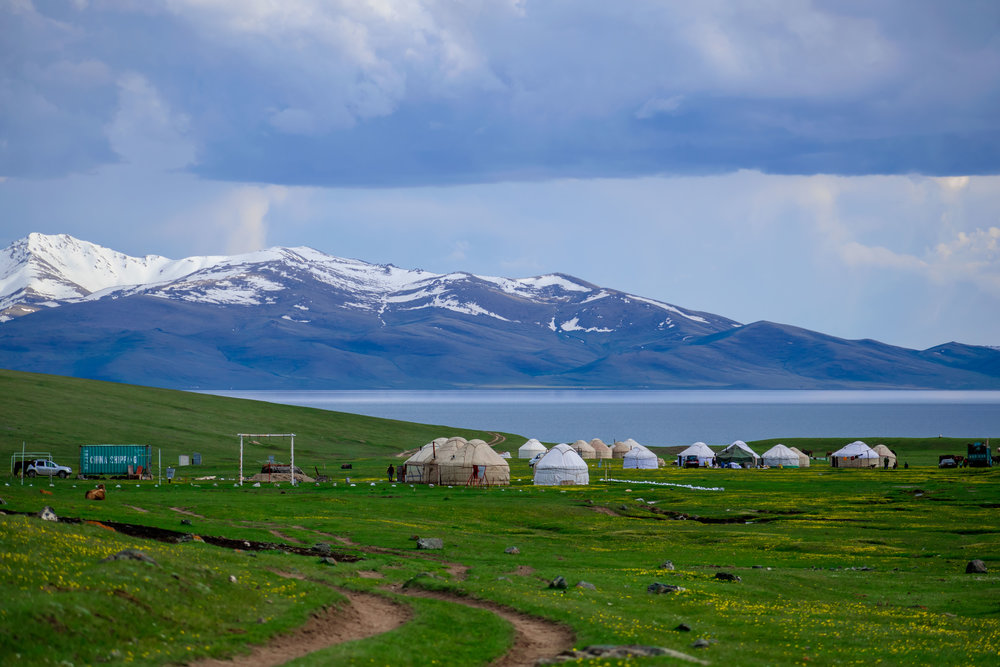 Song Kol is the largest freshwater, alpine lake and the second largest lake in Kyrgyzstan. And it is around 29 km long so you would never find it crowded.
But the best thing about the Song Kol Lake is that it is situated at an altitude of 3016 m and surrounded by mountains. So, it is not easy to reach this place.
As a result, you can enjoy a couple of days, living with the locals in a peaceful and beautiful environment. And I am not kidding but this will turn out to be one of your favorite experiences in Kyrgyzstan. It certainly was for me.
Currency Used in Kyrgyzstan
Kyrgyzstan Som (KGS) is the currency most prevalent in Kyrgyzstan. So, make sure that you have enough cash when going on the trek as there won't be any ATMs once you leave the city.
Also, very few places accept credit cards here so it is always a good idea to carry cash with you.
100 INR will get you 97.5 KGS while 100 USD will get you 6978 KGS. The conversion rate mentioned in this post is as of

August, 2019.
Where is Song Kol Lake?
An alpine lake, Song Kol is situated in the Tien Shan Mountains of Kyrgyzstan. It is located in the Northern Naryn region and is just 67 km from Kochkor. There are several places like Naryn, Kochlor, Ak Tal, etc. from where Song Kol Lake can be reached.
But the most popular route is from Kochkor to Kyzart and then Song Kol Lake. This route can be done on a small budget as well which is why it is so popular.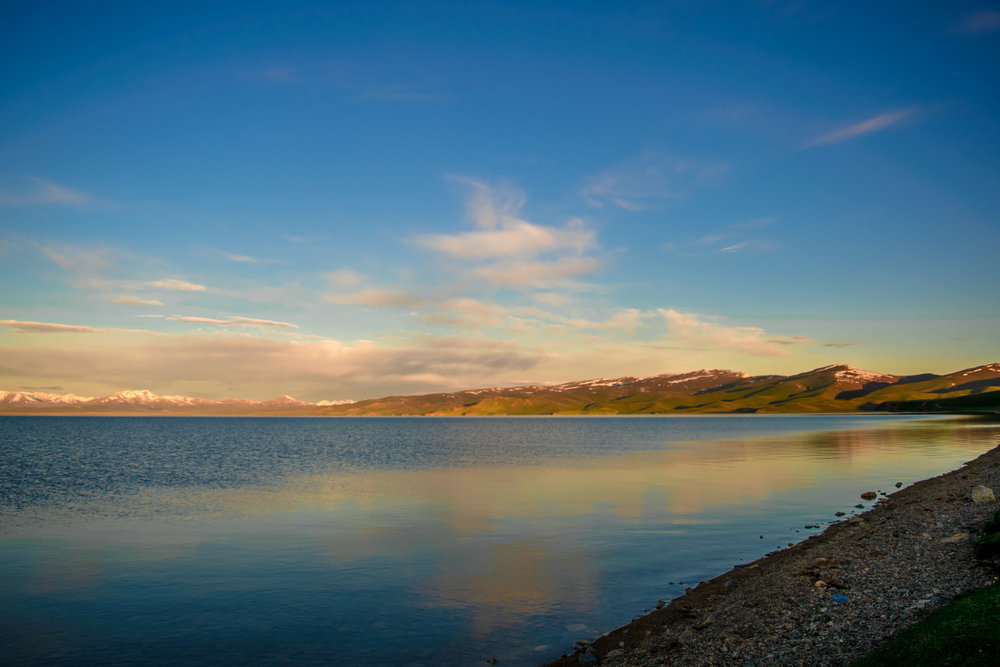 How to Reach Song Kol Lake Starting Trek Point
For the Song Kol lake trek, we had to reach Kyzart Pass first from Kochkor.
Thankfully, there are many shared taxis heading this way which can cost anywhere between 200-300 KGS per person. It will take around 45-50 minutes from Kochkor to reach here.
You can also take a private taxi but that will cost around 1200 – 1500 KGS for the entire vehicle.
Below is a picture of the board that you will see from where the trek starts.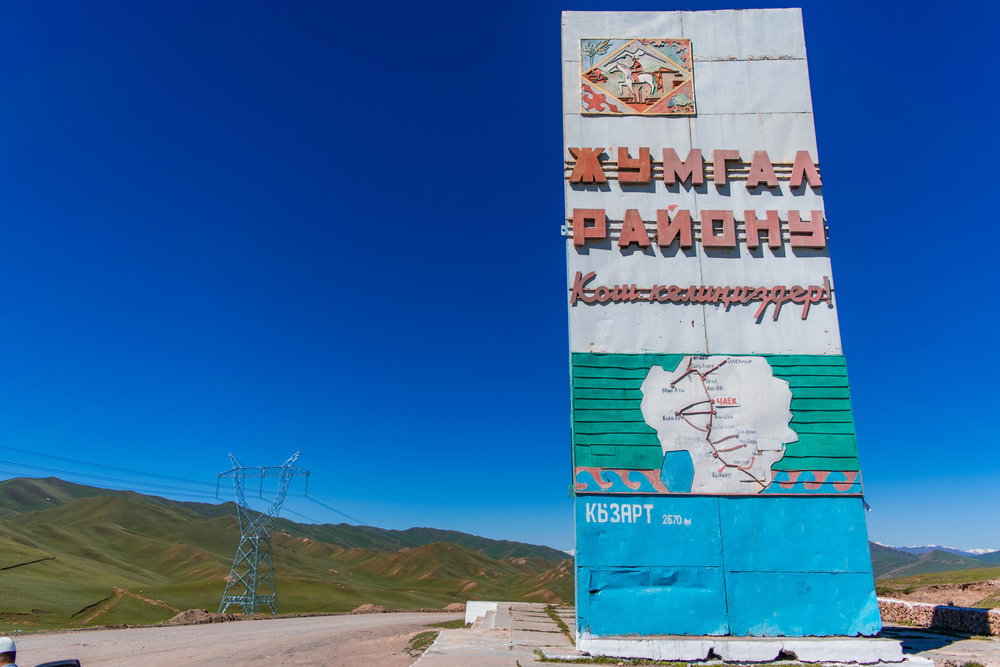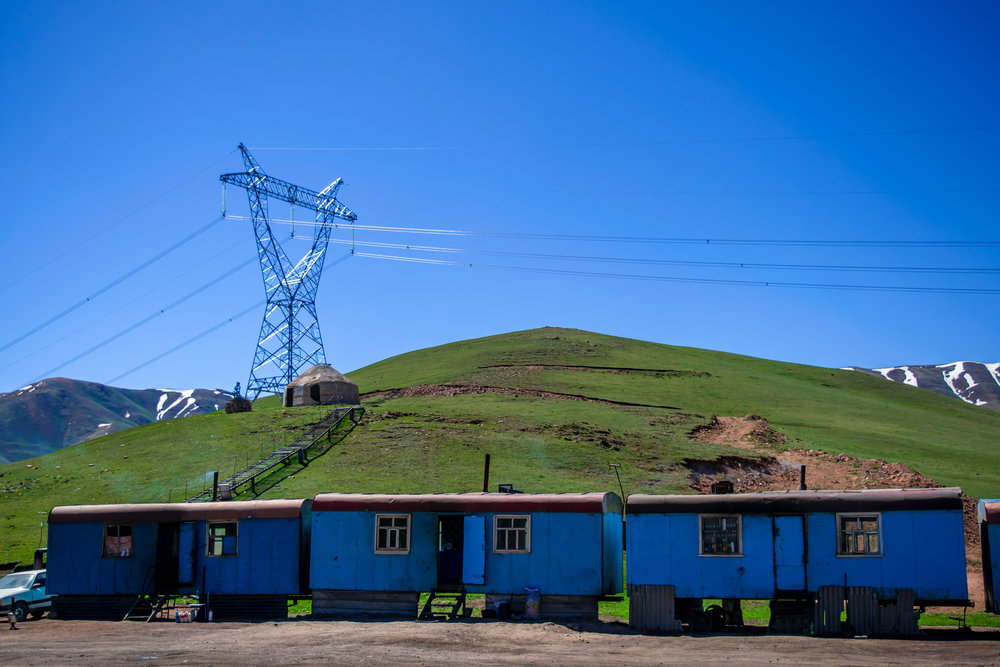 Best Time to Visit Song Kol Lake
Although it can snow here anytime throughout the year, the best time to visit Song Kol lake is during the summers. The lake melts by May end or mid-June so you can enjoy the lake anytime between June and September.
Visit the lake after it melts. Ask the locals if it has melted in May or June.
And if you plan a trip here during the last weekend of July or August, you can watch the traditional Kyrgyz horse games as well here!
Personally, I traveled to Song Kol in June and it was a good choice. It wasn't too cold during the day so I could enjoy the landscapes and scenery. And the lake was not frozen as well. Although it was still cold to jump inside, so I didn't try that.
If you like cold water, then you should definitely swim in this lake.
Itinerary for Song Kol Lake Trek
Here is a day-wise itinerary that we followed to reach this beautiful lake and then return back to Kochkor.
Day 1
We started from Kochkor and reached Kyzart Pass around 9.30 a.m. in the morning. It took us 1 hour 30 minutes by car to reach.
After that, we started walking towards the mountains and took the well-laid out trail which turned right.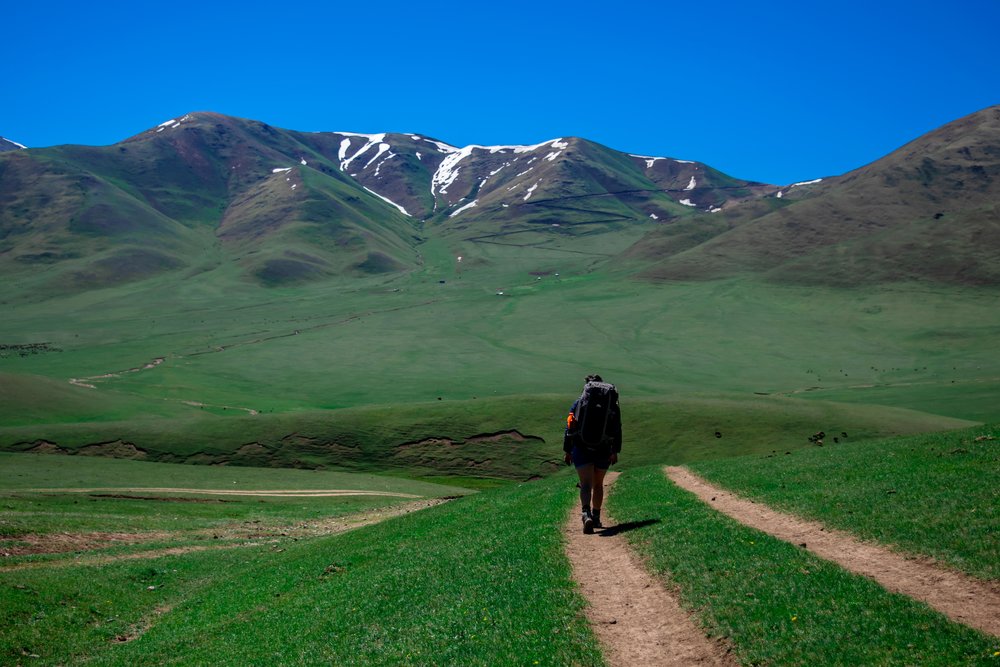 We walked for around 2 km and then we saw a flock of sheep and a few horses and cows as well. We continued on the same trail for a while.
And then after another 2-3 km, we had climbed our first pass and came across this gorgeous view.
Here, we rested for a while and then it was another 2 km walk before we came across a village. On the way, we had to climb downhill again through slightly rocky terrain.
After 10 minutes of that, we came across the below valley. Here, there was a stream of cold water that we used for drinking. And after a 10-minute rest, we were on our way again.
Now, this is the tricky part of the trek. Because here we had to find a small trail going uphill through the shrubs. This is a really narrow trail so we had to be careful to not fall down from here.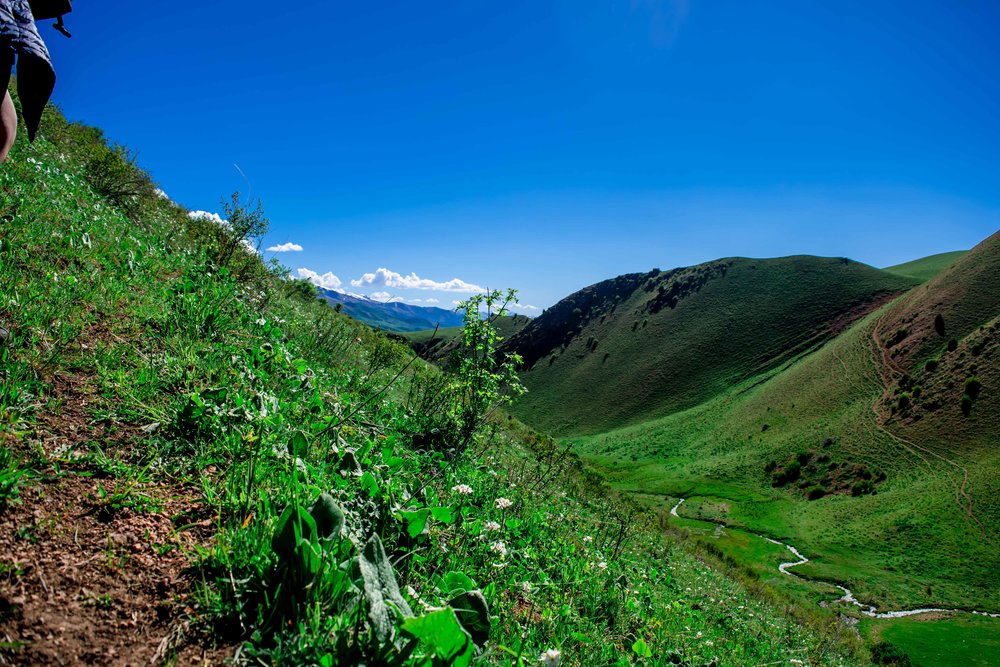 After walking for 15 minutes on this narrow trail, we came across this amazing viewpoint.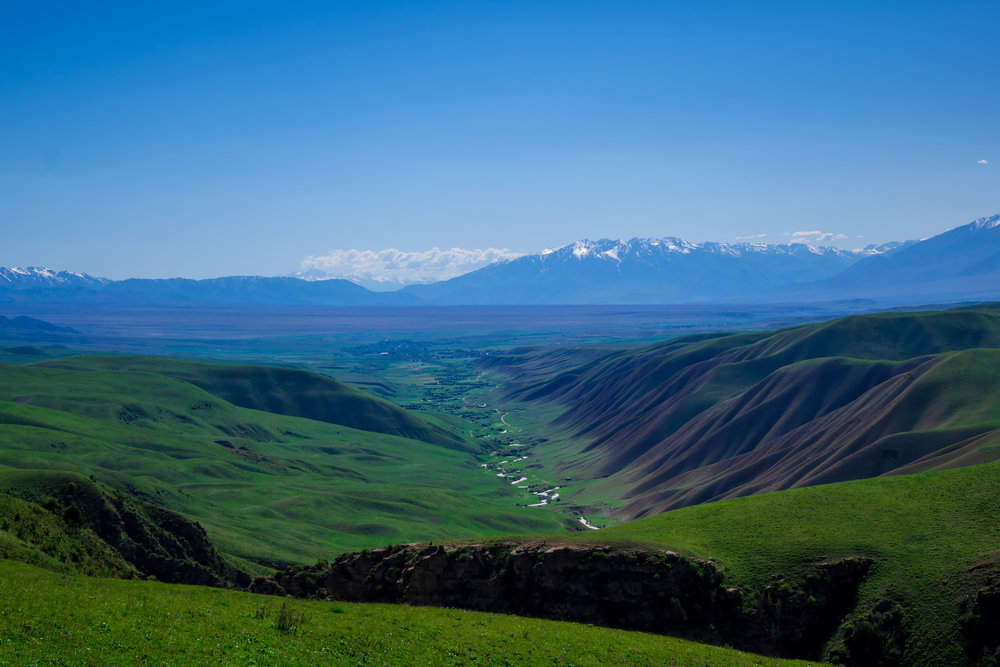 So, we decided to camp here for the night. The actual CBT Kilemche campsite was around 5 km from this place.
While we did enjoy amazing views, we were also disturbed by a wild animal here at night. And since we had no stick or fire or anything sharp, we were scared out of our minds here.
Don't camp at random spots. And if you do, carry a knife or stick with you.
We slept here for the night and then the next day, we started around 8 a.m. for the lake.
Day 2
On the second day, we didn't have to endure much climbing. But the trails were narrow and the descend was steeper at a couple of places.
After around 2-3 km of trekking, we came across a stream where we freshened up.
From here, we walked another 2-3 km before we came across the CBT Kilemche campsite. But we didn't make our way towards the campsite and instead headed straight for Song Kol Lake.
On the way, we also met a local family who was here for picnic. So, I talked to their kids and played for a short while with them.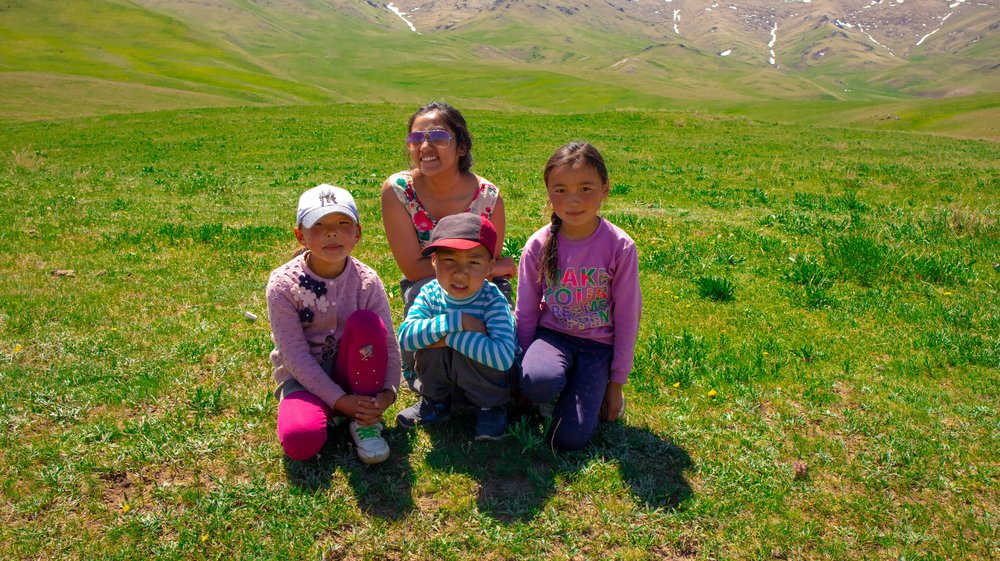 After that, we were on our way and for the next 1-2 km, we were walking on plain ground. After that, we had to climb for 1 km which was slightly steep. Here, we saw an amazing mountain and canyon views.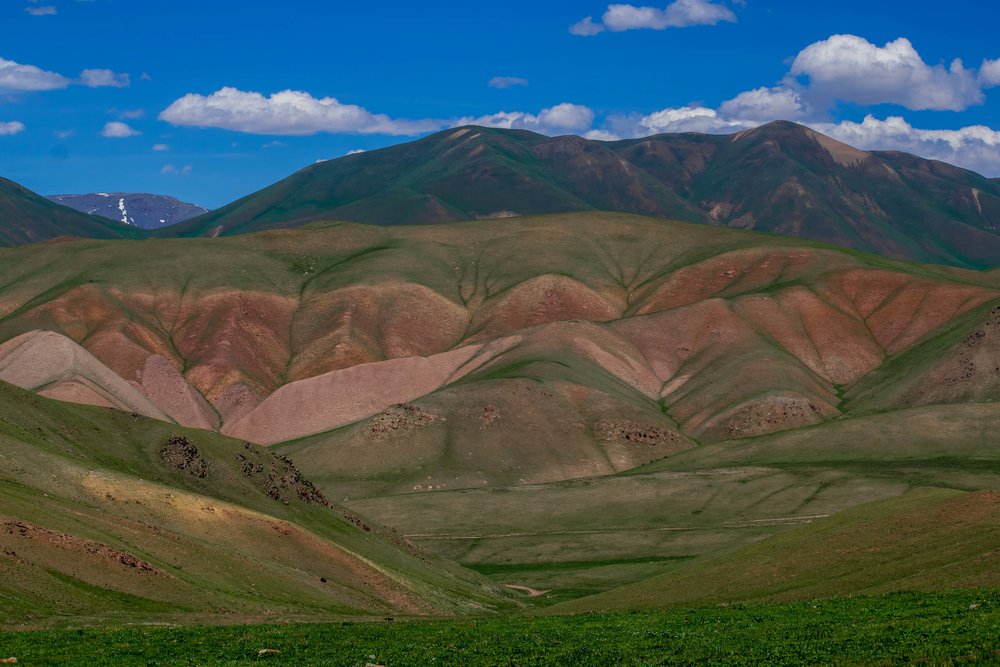 But Song Kol lake was still 5-6 km away.
So, we bucked up and started climbing slowly but steadily with our backpacks. We saw a couple of people on horses making their way to Song Kol too.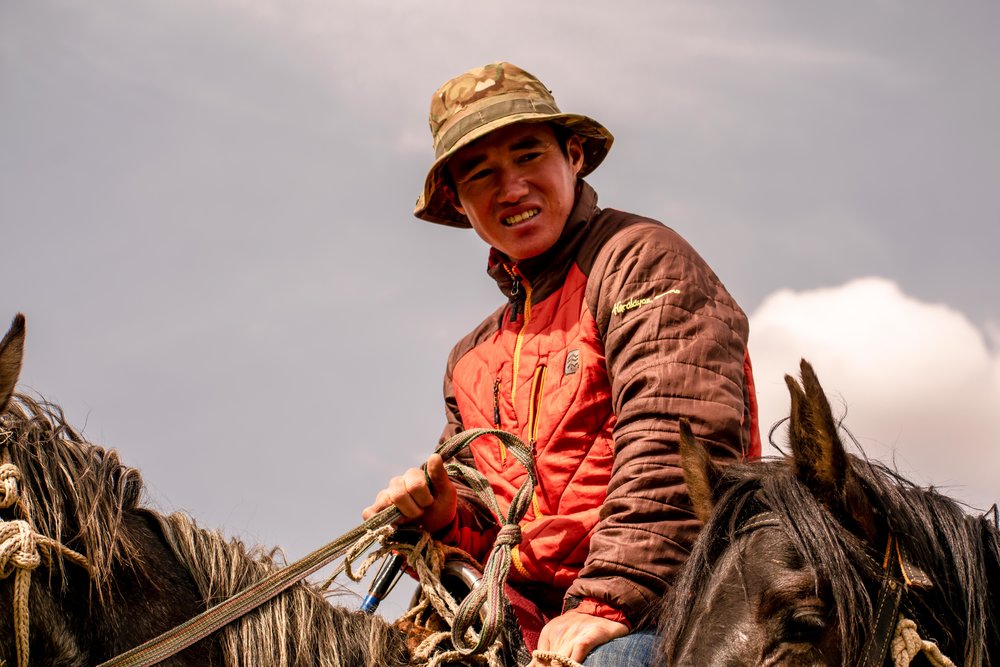 Finally, after what seemed like an eternity, we got the first glimpse of Song Kol lake from above. The alpine lake looked absolutely gorgeous.
After this, it was a downhill walk for another 1-2 hours. We finally started seeing the yurt camps from afar and sped up a little.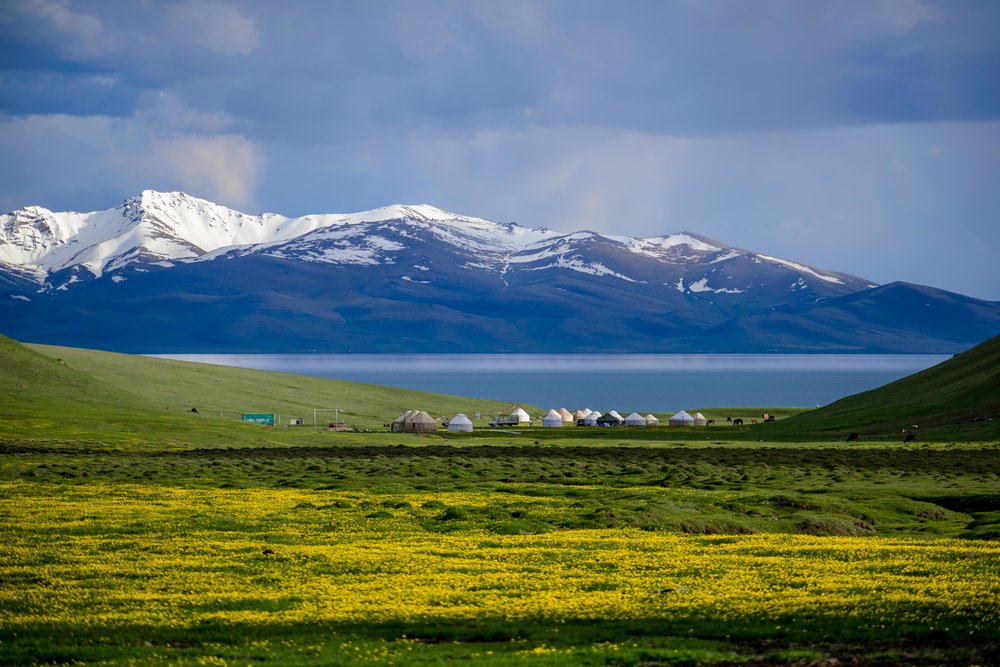 Around 5 p.m., we finally reached the lake. We decided to stay in the yurt and not our camp and had a delicious, warm meal here.
We also met so many other solo and group travelers here. And I really had a blast talking to them and sharing our stories with each other.
Day 3
After trekking for 2 days continuously, we were completely exhausted. So, instead of trekking back, we decided to take a taxi from there.
Thankfully, there was a taxi with only 1 person traveling in it. So, we arranged our return with that traveler as well and paid 300 KGS per person for Kochkor.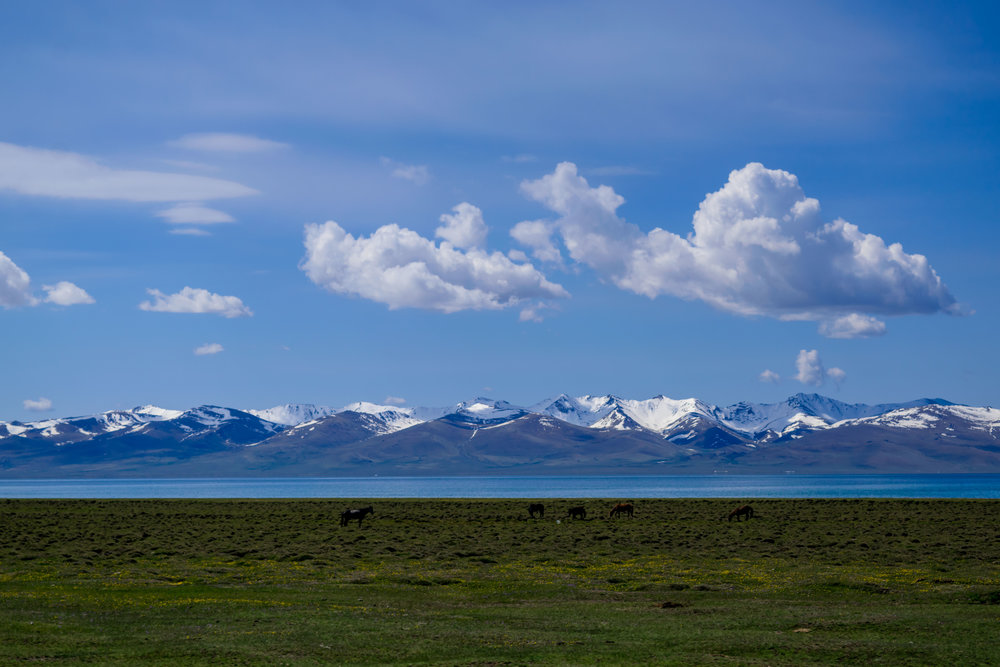 On the way, we finally got to witness the actual length of this magnificent lake. And we also saw many snow-covered mountains and roads on this way.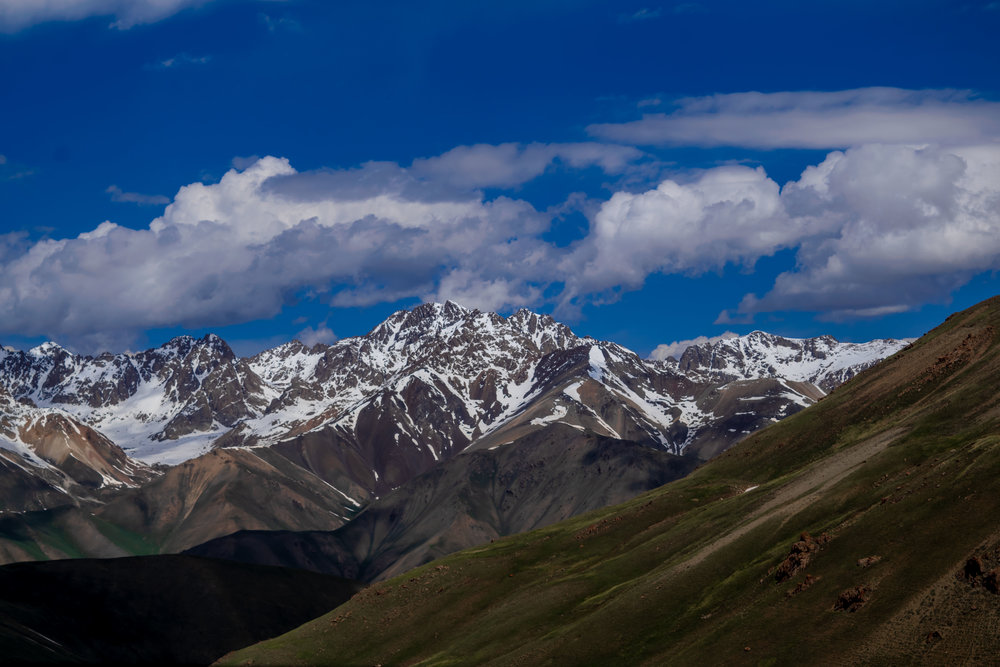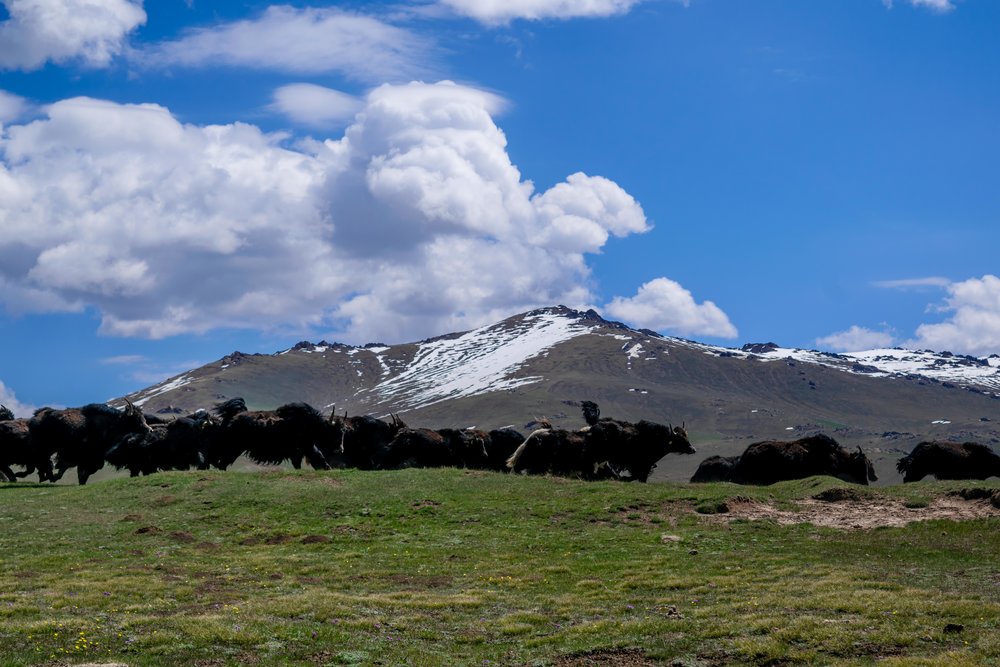 There was also a herd of Yaks just roaming around freely. Finally, around 2 p.m., we reached back in Kochkor. From here, we took a shared taxi to Bishkek and ended our amazing trip to Song Kol Lake.
How Much it Costs to Visit Song Kol Lake
It will cost around 4000 KGS to complete the Song Kol Lake trek if you are starting from Bishkek. Here is a breakdown of the costs so that you have a better idea and can plan your trip better.
All the costs mentioned below are as of August, 2019.
Transportation
It will cost around 1500 KGS to reach and Song Kol Lake and return back to Bishkek. A shared taxi from Bishkeke to Kochkor and back costs around 600 KGS. From Kochkor, you need to take another taxi to Kyzart which will cost around 300 KGS as well.
And from Song Kol Lake, you can trek back to Kyzart and take a cab back for 300 KGS. Another option is to take a shared vehicle from Song Kol Lake to Kochkor for 300 KGS.
If you don't wish to trek, then you can get a shared vehicle for the to and fro journey for 2000 KGS as well.
Stay
If you have your own tent, then you won't need to spend anything on the stay.
But if you choose to stay in the yurts then you can expect to pay around 800 – 1500 KGS for a night. This often includes your meals as well.
Food and Drinks
You can carry food from Kochkor to cook and prepare on the trek. It will cost around 150 – 200 KGS per person for the grocery.
If you choose to have meals in the yurts instead then expect to pay around 200 – 300 KGS per meal.
Where to Stay near the Song Kol Lake
If you have your own camping equipment, then you can pitch your tent anywhere besides the lake.
Else, you can also stay in one of the Yurts here. There are a lot of Yurt camps beside the lakes which cost around 1000 – 1500 KGS per person including all the meals.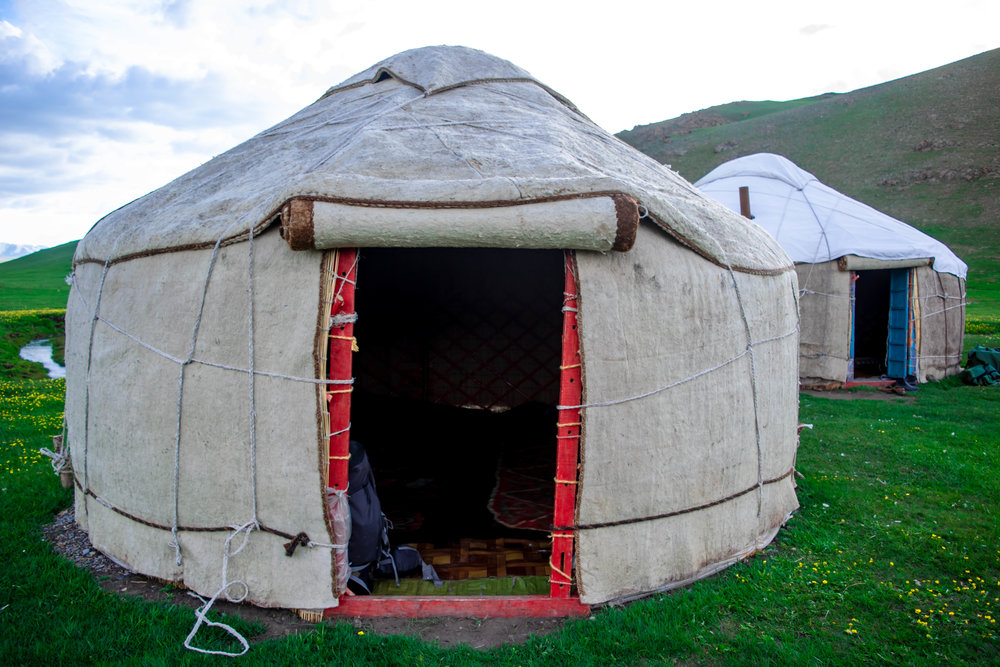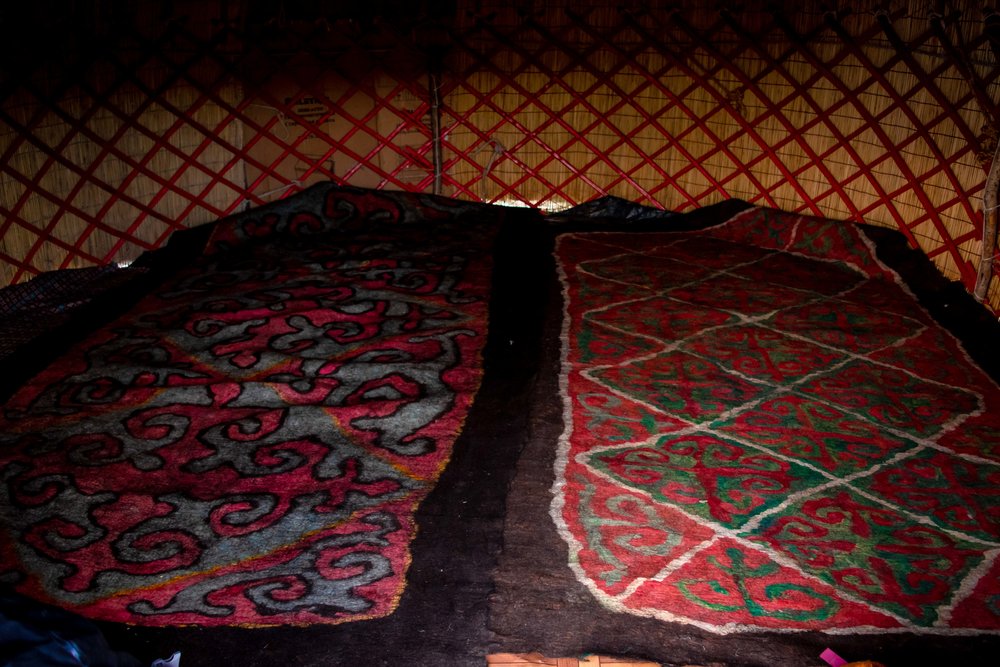 And these yurts are really comfortable and warm. So, you won't feel cold here at night as well and can enjoy a good night's sleep.
You don't need to make any bookings beforehand if you are visiting in May or early June. However, do book a yurt prior to arrival if you are coming here post-mid-June as it is the peak season to visit this lake.
Food and Drinks Options on the Song Kol Lake Trek
There aren't many foods or drink shops on the trek. We came across only 1-2 yurts on the way as it was still not a busy season for Song Kol.
The only place where you would find food is in the CBT camp in Kilemche Valley. Here, there is a CBT Kilemche camp where you can stay for the night and enjoy a warm meal as well. It will cost around 1000 KGS for a night stay with breakfast and dinner.
Beside the Song Kol Lake, you can get food from Yurt camps only. If you aren't staying in a yurt, a single meal would cost you 300 KGS.
These places mainly serve Kyrgyz food and drinks like horse's milk (kumis), lagman, etc.
The food served at Song Kol is the best in entire Kyrgyzstan!
Transportation Options for Reaching Song Kol Lake
Although trekking is a popular way to reach Song Kol Lake but it is not the only option. You can choose to horse ride to Song Kol Lake or come in a 4×4 vehicle as well.
It will ideally take 2 days to reach Song Kol Lake on a horse. On the other hand, you can reach the lake in just half-day using a vehicle.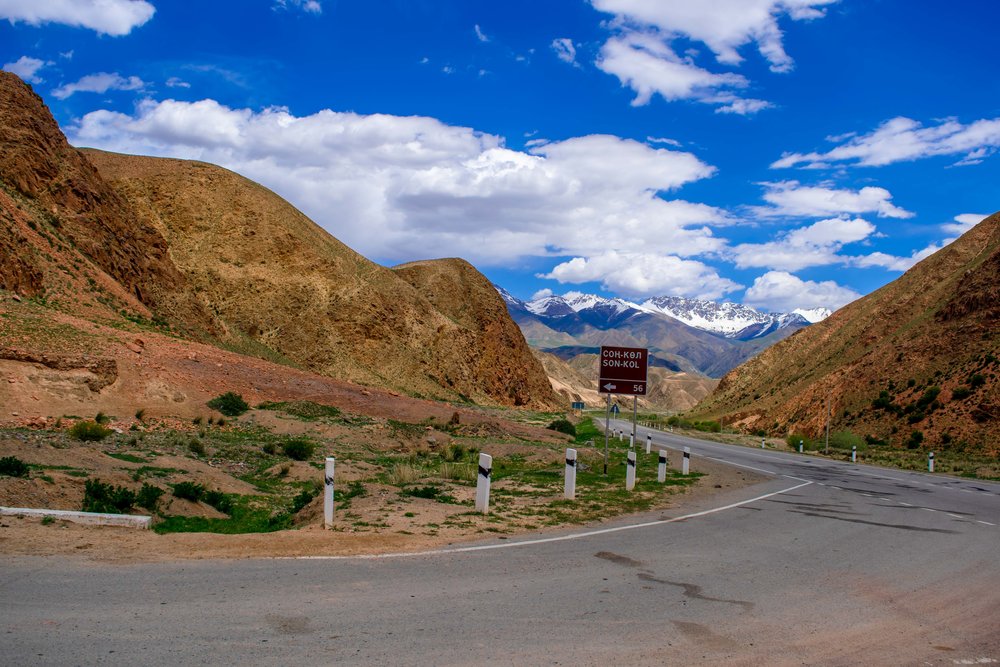 A horseback tour to Song Kol Lake will cost around 5000 – 6000 KGS. However, you can get a vehicle to pick and drop you off for just 2000 KGS in a shared taxi.
But if you take a vehicle, you will miss out on the amazing views on the trek.
Who to Contact for Arranging Song Kol Trek
In case, you are traveling alone or you don't wish to trek on your own, then no worries. There are many local companies and tour operators who can arrange transportation or the entire trek for you.
Two such famous local companies in Kochkor to contact are:
CBT Kochkor
CBT (Community Based Tourism) is a project which is popular all over India. So, they have many centers around Kyrgyzstan. One such center is in Kochkor as well where they can arrange trekking, horse trekking, and jeep tours to Song Kol Lake.
They also have hostels and yurts, so you can arrange your stay with them in Kochkor as well.
Here is their contact details:
Website: CBT Kochkor
Email: cbtinfokochkor@gmail.com
Phone Number: +996 777 265559
Jailoo Tourism Community
Another popular organization to contact for treks and excursions is Jailoo Tourism Community. Their office is in Kochkor as well and they offer relatively cheaper services than CBT.
So, you can get your Song Kol Trek arranged by them or you can stay at their hostel in Kochkor too. Here are the details to contact them:
Website: Jailoo
Email: jumabaeva@gmail.com
Phone Number: +996 771 008482/+996 555 494203/+996 707 336525
Essential Things to Carry on the Trek
Song Kol Lake Trek is no joke. You have to endure different climate and conditions on this 26-km trek. So, make sure that you carry a few of these important items with you:
Warm Clothes – Climate at Song Kol is unpredictable. So, make sure that you carry a warm jacket, warmers, sweater, etc. with you for the night.
Raincoat – Also, it can rain here suddenly so carrying a raincoat is a good option.
Food and Drinks – There are barely any yurts on the way for food so carry your own snacks and drinks.
Money – Obviously, there is no ATM here. So, withdraw enough cash before starting the trek.
Trekking Shoes – You will need good trekking shoes as there are many rugged and tiny trails on the way.
Torch – Carry a torchlight for the night time as it can become pitch dark here.
Fire Starting Device – Also, make sure you carry a lighter or matchsticks to start a fire. There are wild animals in these mountains. So, you can protect yourself with fire.
Swiss Knife – Also, carry a swiss knife for protection and other uses. You can use it for preparing food or making anything in the wild.
Long Stick – Finally, do carry along trekking pole or stick with you. This will be a great way to scare the animals from a distance.
My Song Kol Lake Trekking Experience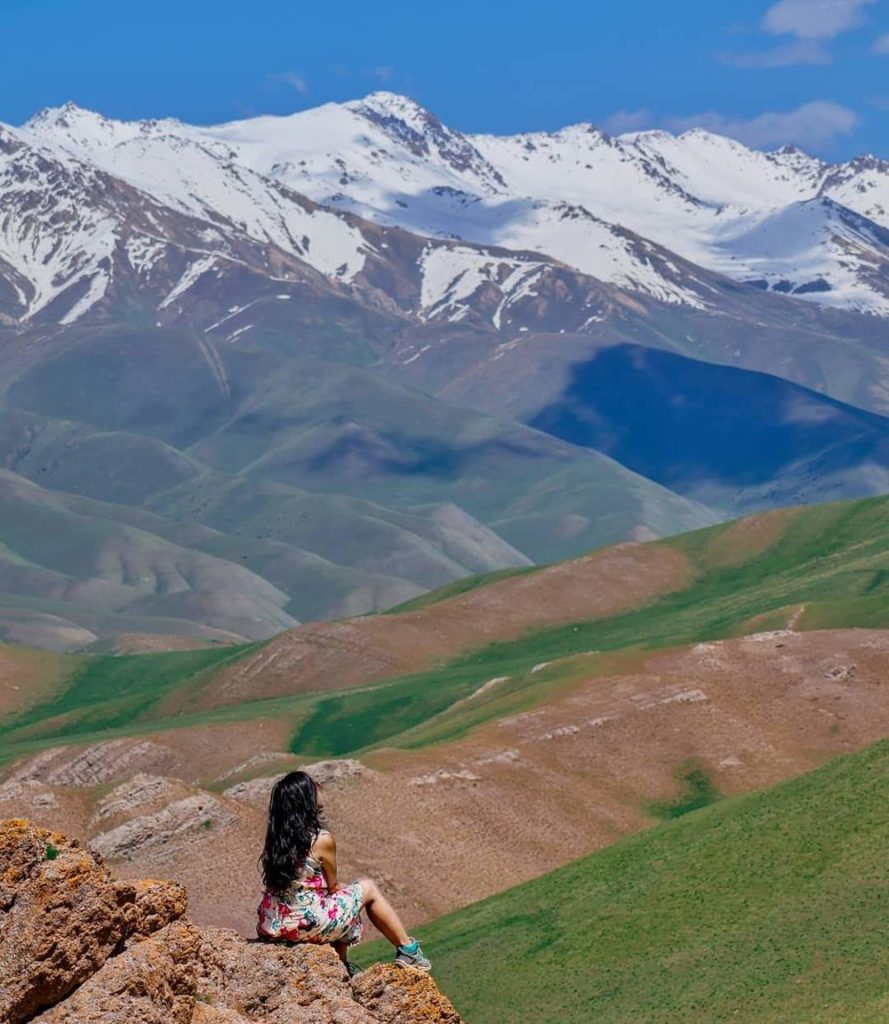 Now, there are actually several directions from where you can reach Song Kol Lake. But most of these paths are difficult to cross if you don't have a 4×4 drive.
Ideally, there is a trekking trail from Kyzart Pass which takes around 2 days to complete. It is a 26-km trek and you have to camp 1 night on the way.
A lot of people also directly cross the Kyzart Pass and do the trek in one day. But unless you are really fit and an experienced trekker, I wouldn't suggest you try that.
Why should you trek when you can drive to Song Kol?
Well, because the views on the way to Song Kol Lake are just mind-blowing! I am not kidding or exaggerating!
You come across gorgeous meadows, lakes, passes, and so on! Honestly, it is just a series of amazing views! So, don't miss out on the chance of trekking here.