No slow SEO, No heavy advertising, No BS. In this article, I will share 30 hacks I've used in 2019 for high-return, low-investment lead generation. Use these actionable strategies in your marketing campaigns to fill your lead funnels without burning all that cash.
Ready?
Let's roll..
30 lead generation hacks:
1. CTA in the email signature
Add a call-to-action and link to one focus product, service, or offer you are currently running campaigns or growth hacking experiments on.
Add this just below your signature. Here's an example: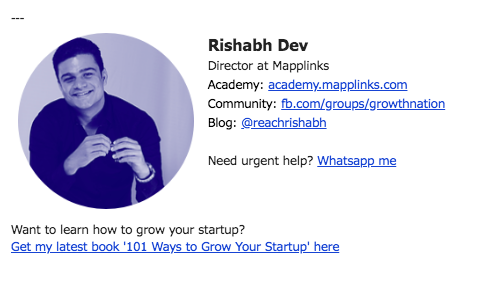 2. Hello Bar on website
The Hello Bar is a simple CTA bar on the top of your website which gets the attention of your site's traffic without locking away the rest of your website content.
This is usually a better alternative to pop-ups and other distracting CTA collectors you usually see on over-marketed web pages.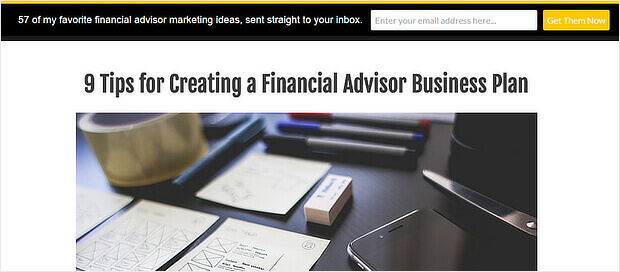 3. Webinars hosted on other platforms
OPNs (other people's networks) are key to hacking growth. Use other people's networks by being the guest on their webinars. This gets you to access to a big audience which has been following them.
The only requirement is to be really good at what you do in order for you to get these webinar gigs.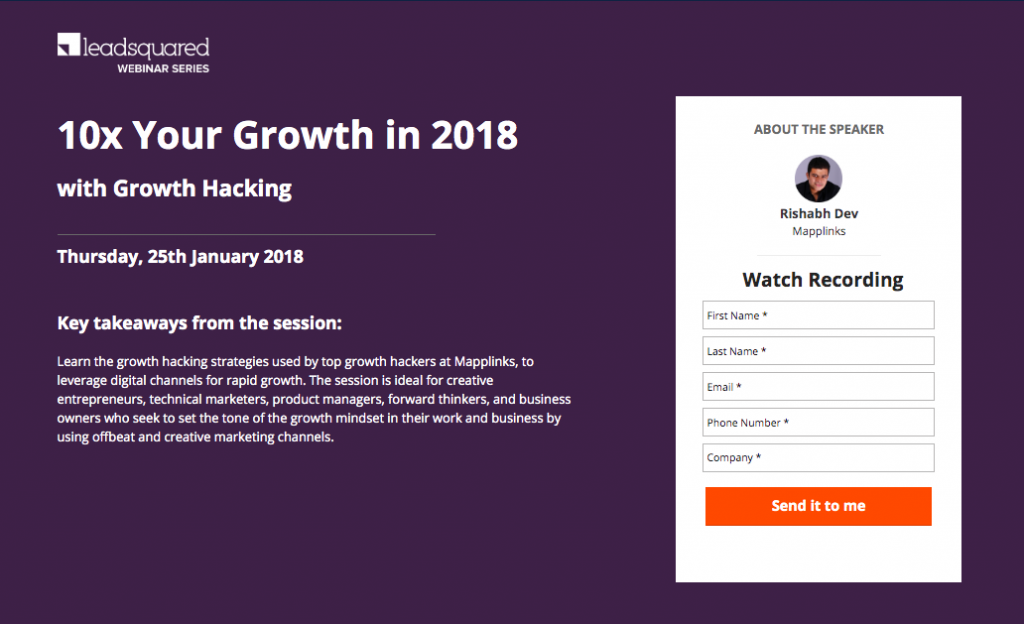 4. Pay with a tweet or Pay with a post
This hack gets you leads from shares. The idea is to package an ebook or resource that can be given away in exchange for the user posting about it on social media.
This gets you visibility and gets your users high-value content assuming that you can create high-value content which is key.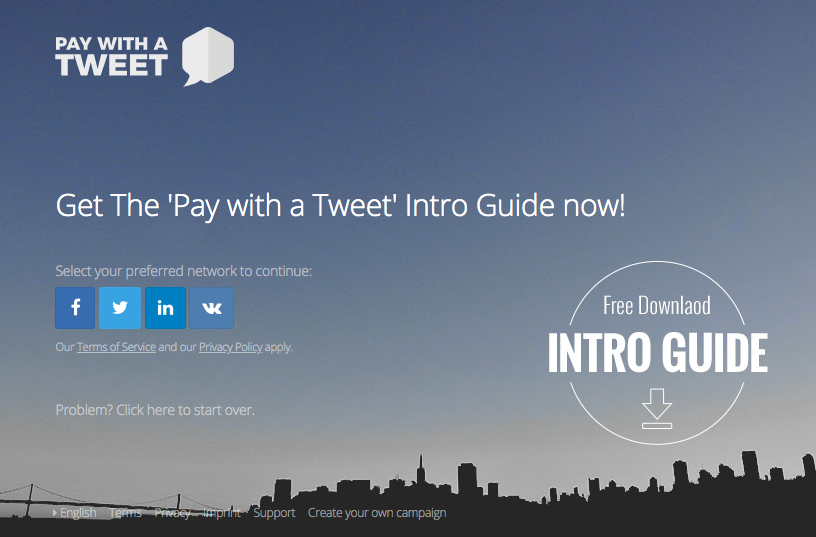 5. Sign up form above the fold
You can boost the number of leads you generate from your landing page by keeping the signup form above the fold. This is the part of the website that can be seen without scrolling by the users landing on your page.
Keeping the form below the fold means the users have to take the additional action of scrolling down.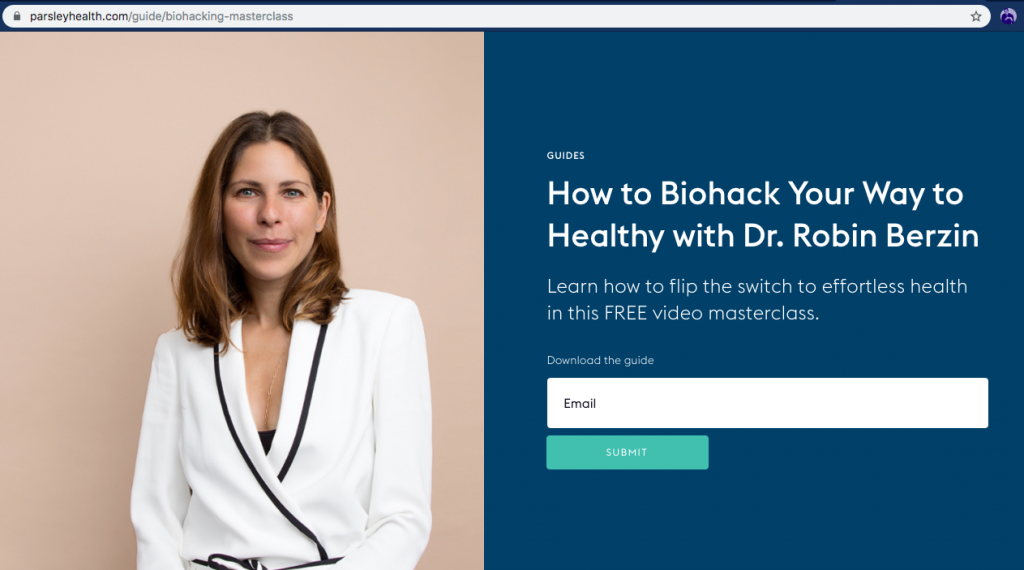 6. Lead generation using the thank you page
You need to start changing how you think about thank you pages. Thank you pages are also meant to be lead generation pages when done right.
Use social shares, up-sells, cross-sells, and additional offers on the thank you page to get the most out of the users who've already brought in to your free or paid landing page offer.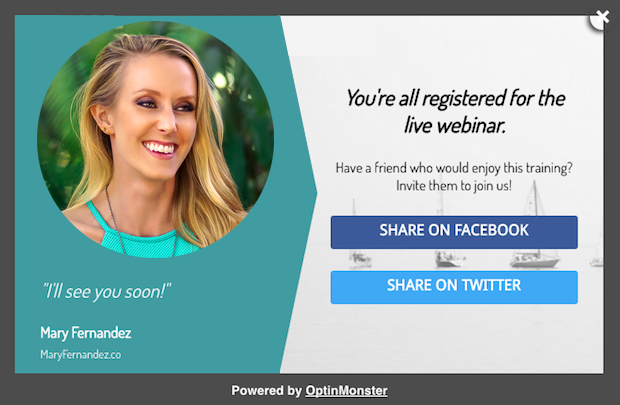 7. Downloadable blog posts as PDFs
For long-form blog posts and checklists, let users download the blogs as PDFs in exchange for an opt-in.
You can also split your content into public and gated content. For instance, I wrote an article on common growth hacking terms and their definitions. At the end of the article, I added a link to a PDF with the complete growth hacking dictionary I had created as an ebook. This generated close to 1000 leads in the first month.
You can find this example in this article.
8. Free ebooks
Free ebooks are one of the popular ways to generate leads without ads.
If you think you don't have enough content to write a free ebook, Do this:
Read 5 best ebooks on a topic, make notes, compile yours and put it up for free download. Share this on a few communities and start improving your email list.
Here's an example from Mapplinks Academy.
9. Free online courses
Free online courses are a great top-of-the-funnel lead generation hack. It also builds your credibility in your ecosystem as well as makes you an "expert" or "teacher".
This has to be accompanied with high-quality actionable content which actually helps your target audience grow.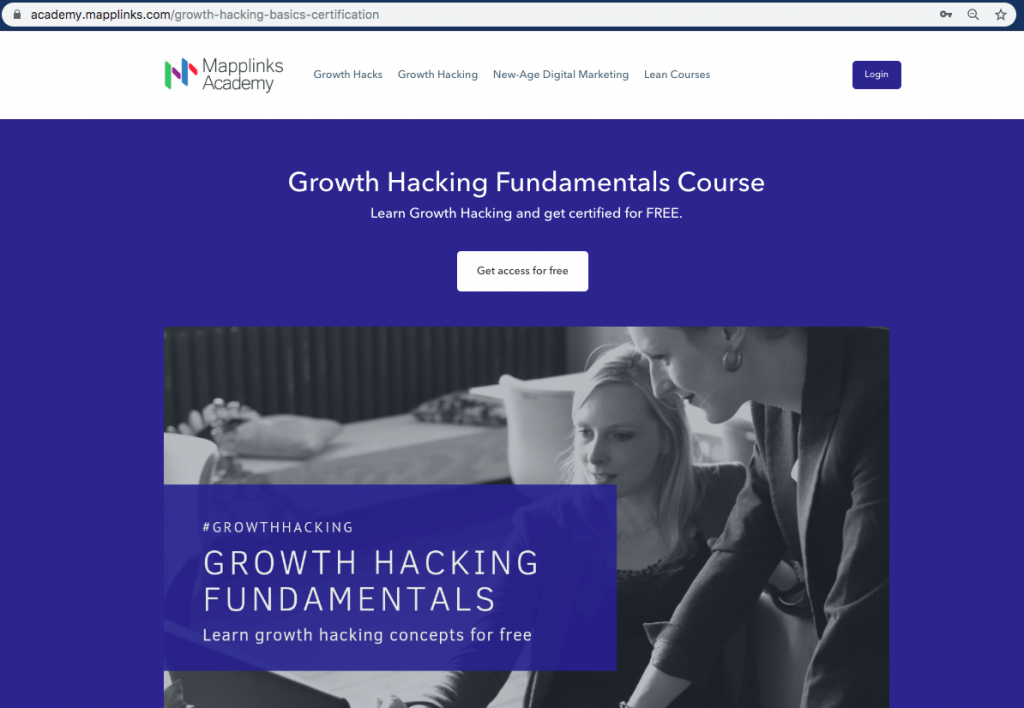 10. Online courses as drip campaigns
Instead of creating the same, boring drip campaigns like every other product or service. Do this: Disguise a drip campaign as an online course.
Put all your drip emails in a format which looks and feels like a free online course. Within the course content, including the links to paid offers you want to point to.
This will be a low-resistance hack to getting people to stay with you through your marketing emails.
11. Periodic newsletters
I have a monthly growth hacking newsletter which sends out my top hacks of the last month for free to the list of subscribers from Mapplinks Academy.
This includes actionable hacks with links to tools that I've used in the past month. It also includes around 10% of my own links which act as lead magnets to my products.
A good hack is to use a P.S. line at the end of the newsletter with a sale initiator as shown in the example below.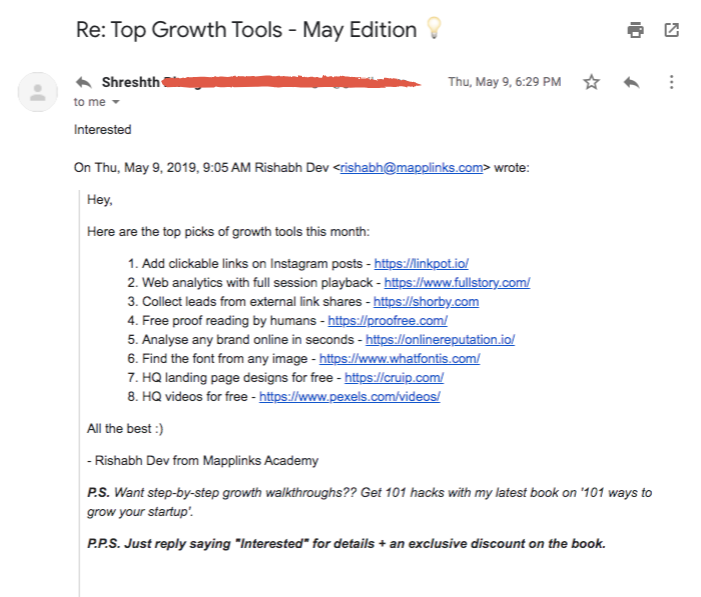 12. Side-projects and calculators
Create side-projects or side-products which can come from your own product. For example, a free version of your paid product with 10% of the features can be a side-product. It could also be a side-product your target audience is interested in.
This should guide the funnel to your paid product eventually.
13. Typeform-based surveys and tools
Typeform is my favorite go-to tool to capture leads. However, there's much more you can do with Typeform.
It can be used to create startup MVPs, create side-projects (refer to hack #12 in this list), build surveys, get feedback and a lot more.
I built a survey and a personalised wealth reporting tools along with a startup client I was consulting. We did this just using Typeform. The tool got us new leads for the wealth management service and the survey got us the data we needed to make the service better – all within Typeform.
14. High-value content sharing on social groups
Social media communities are like hubs of leads someone else has already setup for you to tap into. The idea is to deliver high-value content until you come one of the top contributors on the community.
Once you're in, it'll be easy to share new content which has organic opt-ins and if you're really good at what you do (which is an assumption if you're here reading this blog!) then you would've already started getting inbound enquiries from the groups to your profile.
15. Public slack communities
Similar to #14, slack communities are more genuine with higher engagement and valuable conversations.
It's important to identify the right communities and step in on the right foot by starting to engage with the members with value additions.
Slofile is a great place to start looking for communities you can join.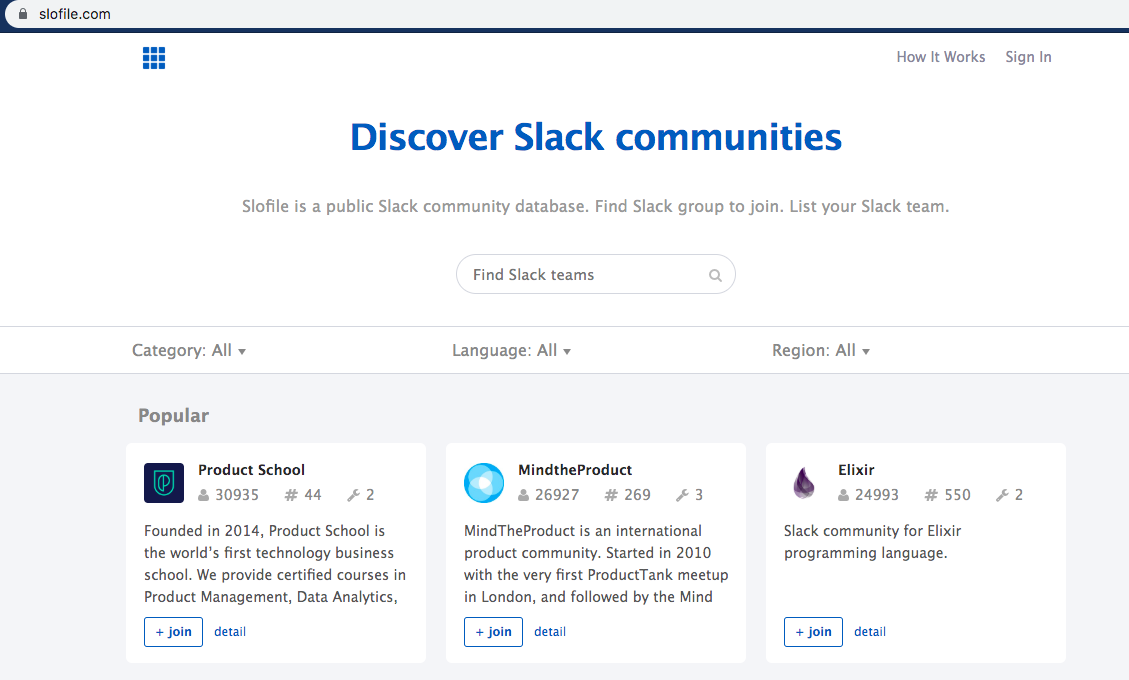 16. Quora Q&As
An authoritative presence on Quora attracts the right kind of audience. One hack I've used in the past is to rank on the top authors list for "growth hacking" which generated a lot of leads.
The method I used is featured in an article on Entrepreneur and the complete step-by-step guide is available as an ebook here for free download.
17. Reddit threads
Reddit has often been labeled as "not so marketing-friendly" and this is exactly why it's a great channel to use. Growth hackers like to leverage channels which have not been populated by marketers.
To get your Reddit game on, start by joining sub-reddits that are more focused and also allow you to engage in conversations and share links.
Start by adding value and earn karma points and follow by pointed interested people to your product or service. You'll be amazed by your conversion rates.
I drove all the initial conversions for my productivity course via this reddit thread which I posted and it went viral on the productivity sub-reddit.

18. LinkedIn conversations
Start conversations on LinkedIn and guide them through your funnel. I engage between 10-20 conversations high-value exchange conversations on LinkedIn every week which leads to around 20% conversions to paid courses and books and around 30% conversions to free courses.
I usually start engaging with new connection requests after accepting their invites. I've setup an automated process which initiates the same post which I take it forward manually.
Here's an example: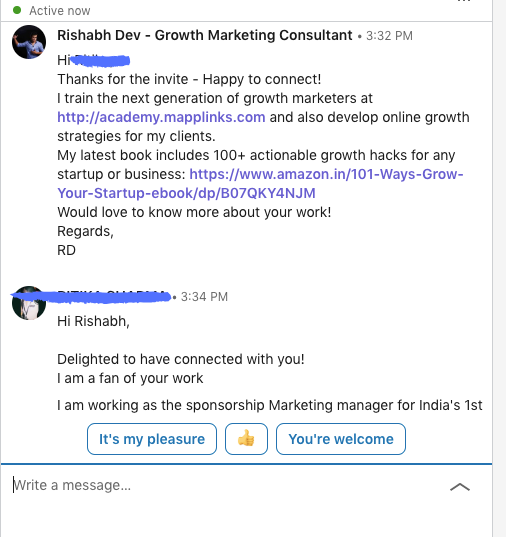 19. Speaking at events
Everyone's listening to you. This is all you need to exchange money for value. You've been fighting for their attention all along and now they're at your event. Or even better, someone else's event. It's a great idea to use other people's events to make your sale.
At your event, when you have face to face attention of many people, you can actually guide them through your entire sales funnel as long as you know what you're talking about.
I do at least one event each month (either online or in-person) to ensure high-quality, highly-engaged leads in my funnel.

20. Collaborations with co-working spaces
To generate leads without using your own budgets, a good approach is to use other people's networks and tap into their lead databases.
Think of co-working spaces as huge lead databases where your target audience works from can visit for a free event.
Get them in your funnel through a free event or workshop and funnel them down through your high-value content.
I've collaborated with 50+ co-working spaces for my growth hacking and marketing events.
21. Targeted job portals like AngelList
If you're looking for clients in a specific niche, look for job portals catering to your skill and role. For instance, I use AngelList to find growth hacking jobs.
Once I have a conversation with them and they're happy with my profile, I ask them if they're open to consultation. I also pitch them my value add as a growth hacker on demand.
Every match on AngelList is a lead opportunity.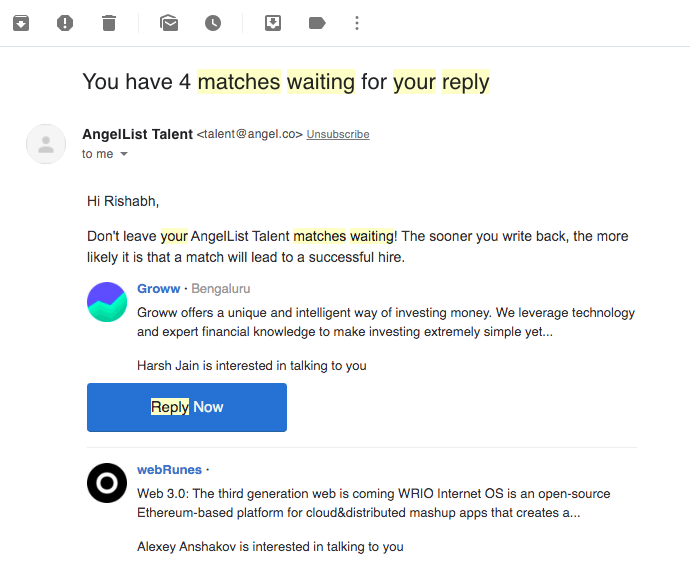 22. Pre-product polls
If you have a community or if you have access to other people's communities, you can turn poll voters to customers.
Think of every poll voter as a potential lead who can be driven through the funnel once their requirement matches your offering.
Try this:
Create a poll on groups and communities asking them for some product feature options which would help the way they work. (Make sure your product has most or all of these features)
Once they've voted, initiate a conversation with them (as you now know they're already interested in the product) and send them a free trial.
This works like a charm as the voters feel you've catered personally to them and their needs.
For me, this really works well and I run the polls even before making the product. Pre-product polls act like opt-ins for future sales.
Here's an example of leads generated via polls for my courses – this is also a great validation marketing example: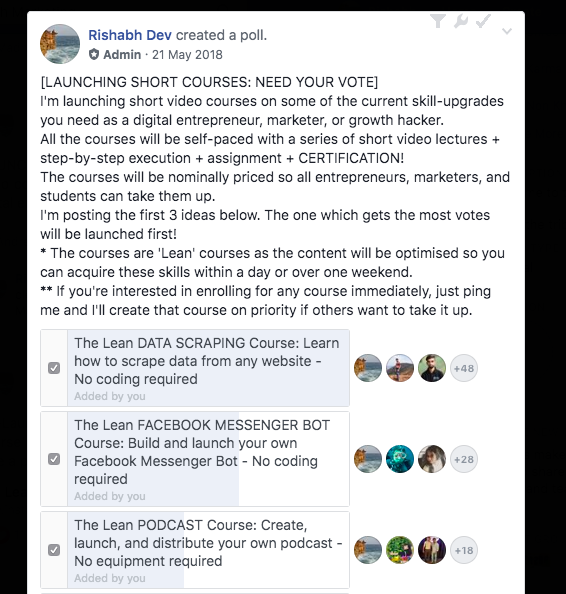 23. Pre-launch offers and discounts
Before you launch your product, always run a short pre-launch campaign at a discounted price or with a combined product bundle which users can get access to exclusively if they purchase before launch.
This can be done with any digital or physical product.
24. Bundled product offers
Similar to #23, increasing the perceived value of the product makes for a very attractive offer and gets people to buy your product or service. Even if they don't make a purchase yet, it's great for generating leads by making people join your funnel for future updates.
For a limited period of time, I offered a free consultation session with me for anyone who purchases my growth hacking masterclass. This lead to a lot of new lead acquisition as the promoted offer looked quite attractive when shared on promotion channels.
25. Facebook Messenger Automation
Messenger is a great way to deliver your marketing messages with extremely high open rates.
Compared to an average 30% open rate on my emails, I get 80%+ open rates through Messenger drip campaigns. This means a wider top-of-the-funnel with more engaged users.

26. Crisp, digest-able, short video content
Short videos are extremely lead friendly and can help you fill your lead funnels quickly. They get the most value of $$ spent on advertising and can also get amazing results in your organic marketing strategy.
You'll notice your Facebook feed is full of marketing campaigns with short videos which may or may not be high quality. A simple video from your phone in selfie mode can go a long way as Tai Lopez shows us with his 'Here in my garage' video on YouTube ads.
27. Community-based Discount coupons
As we discussed before, we need to: Join a community, engage with it, become a top contributor.
What's next? You want to sell but you don't want to break the rules.
Do this: Create a special coupon with the name of the community and share it exclusively with the group. This will personalise the experience and add value to the community specifically.
I usually share the code with the community admins over direct message first before sharing the same with the community. And if the admin can post the code on your behalf, that's going to get you the best results.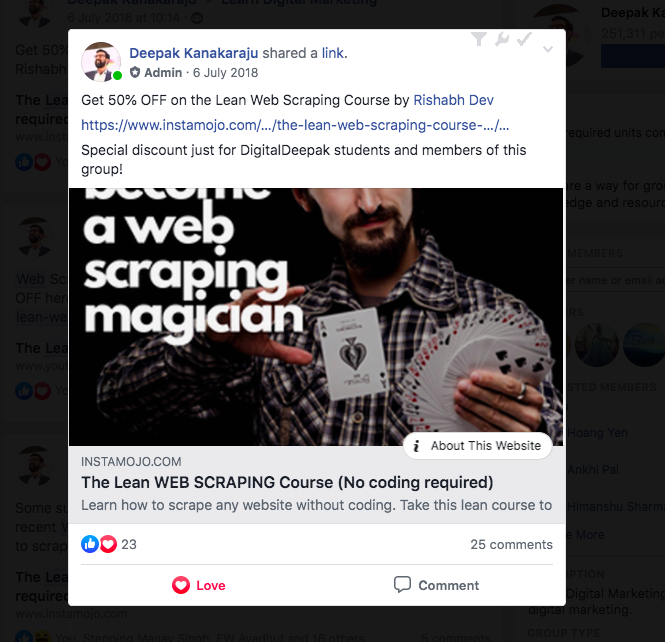 28. Referral campaigns
Similar to #27, you can further extend the engagement between you and the community admins by providing them referral commissions on your product sales.
There are many Facebook pages and groups where admins are looking for additional ways to make revenue and turn their members to revenue-generating leads.
This kind of campaign is a win-win for both you and the community admins.
29. Live chatbots
A simple chatbot on your website instead of a boring contact page can increase your lead generation from the site by 40%.
This is data based on 100+ product and service business websites reviewed in the past 6 months.
Your chatbot can also be a combination of a lead collector and a support provider as in the example below: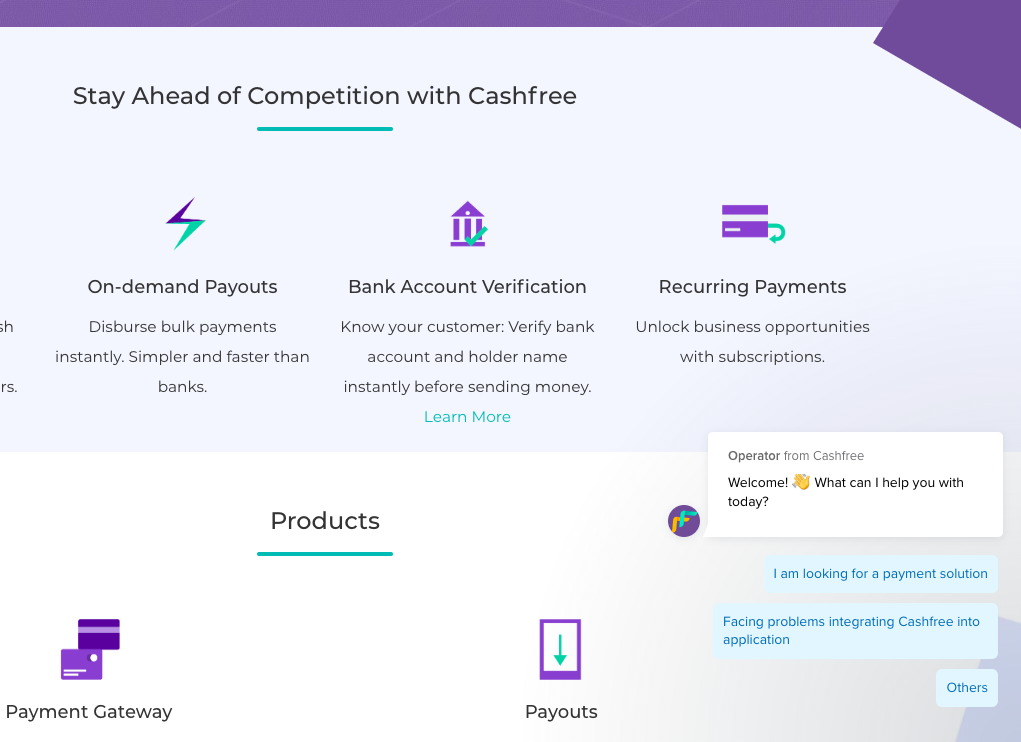 30. SlideShares
SlideShare can be used as an opt-in form with their promotional options. Just creating and publishing a SlideShare will not help. Make sure you enable the lead collection form at the end of the slides and those who find it valuable can reach out to you through the form.
A good hack to improve SlideShare conversions is to add a CTA on the last slide and a reason for people to leave their email IDs there.
Another hack is to use Autofill with LinkedIn with SlideShare to collect more, genuine leads.
Want more lead generation hacks?
Here's some news:
I'm putting together all my best lead generation hacks in my upcoming book '101 Ways to Generate Leads'.
Get the Book 101 Ways to Generate Leads