This is a guest blog by Rachita Saxena. Photography credits go to Rachita Saxena.
Camping for a night beside the most gorgeous lakes of Almaty.
This year, I spent around 2 months exploring Kazakhstan and Kyrgyzstan. And the most favorite part of this Central Asia trip was the numerous gorgeous lakes that I came across on the way.
One such lake was the Kolsay Lake which is such an amazing shade of blue. It makes you feel like you are straight up in heaven.
And well, camping beside this gorgeous lake is an even better experience.
So, if you love camping and hiking to reach gorgeous locations then Kolsay Lakes should definitely be a part of your list.
Trust me, exploring this lake in Kazakhstan is one of the most unique experiences that you can ever have!
About Kolsay Lakes National Park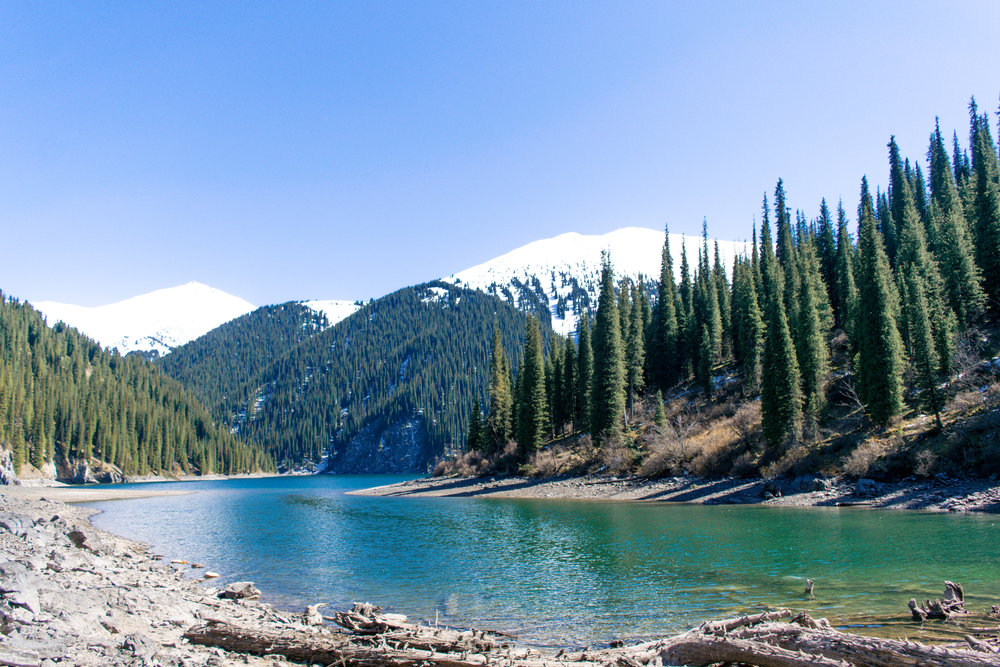 Located in the Southeast region of Kazakhstan and on the northern slope of the Tien Shan Mountains, Kolsay Lakes National Park is a Kazakhstan highlight. It is home to 3 lakes: Kolsay Lower Lake, Kolsay Middle Lake, and Kolsay Upper Lake.
These three lakes are known as the 'Pearls of Tien Shan' and are under the protection of the government. As a result, only 13% of the park is actually open to tourists. But trust me, this 13% is more than enough to experience the beauty that this place has to offer.
There are around more than 700 species of plants found here, out of which 12 are rare species. And there are more than 200 species of animals and birds which are inhabiting this park including some majestic species like the Snow leopard, Turskestan lynx, Tien Shan Brown Bear, and so on.
A perfect place for nature lovers and hikers, Kolsay Lakes National Park has a lot to offer. So, if you are into some offbeat adventurous activities, then make sure you include this place in your itinerary.
Where is the Kolsay Lakes National Park Located?
Kolsay Lakes National Park is around 300 km from the Almaty city and can take around 6-7 hours to reach with a personal vehicle. It is situated near the Saty village which is one of the major stops here for hikers and trekkers.
Inside the Kolsay National Park, you will need to hike or ride a horse to reach the three lakes which are located at different altitudes.
Facts About the Three Lakes of Kolsay Lakes National Park
Lower Kolsay Lake was formed due to a landslide which blocked the Kolsay River. It is 1 km long and is located at a height of approximately 1800 m. This is the easiest Kolsay Lakes to reach and has a few campsites and guesthouses beside it where tourists can spend a night.
Middle Kolsay Lake is the largest lakes of the three Kolsay lakes and is also said to be the most scenic one. It is around 6 km from the Lower Kolsay Lake and is at a height of around 2850 m.
And finally, the Upper Kolsay Lake is near the border of Kazakhstan and Kyrgyzstan and is a 4 km hike from the Middle Kolsay Lake. It is surrounded by beautiful alpine trees and spruce trees but is mostly frozen till June end.
Check at the Kolsay Lakes National Park Check Post if it is allowed to go to to Upper Kolsay Lake. Since it is situated near the body, it is usually not accessible to tourists.
Best Time to Visit Kolsay Lakes National Park
Since these lakes are at a high altitude, it stays frozen for the most part of the year. It is only accessible between the months of May and October so plan a trip during this time.
If you come outside of these months, you will most likely find all the three lakes frozen. Also, it becomes harder to reach and stay beside the lake as well. Plus, it will be severely cold so you will need to carry a lot of warm clothes with you.
Also, during the summer months, this national park observes an influx of tourists. So, plan a trip during the weekday if you wish to enjoy a peaceful hike in this area.
How to Reach Kolsay Lakes National Park
It is not easy to reach Kolsay Lakes National Park if you don't own your own vehicle. So, usually, people opt for group tours or individual tours which can be pretty expensive.
Another popular way to reach Kolsay Lakes National Park is by using a mixture of shared cabs and hitchhiking. You can take a shared cab from Almaty's Sayakhat bus station to the Saty intersection. Any cab which is going to Kegen village can drop you off at this intersection.
The cost of this ride is usually 2000 KZT per person and takes around 4-5 hours to complete. From the intersection, you can find a lift to the Saty village. If you are traveling on a weekend, it will be easier to find a lift. Apart from that, you might also come across taxi drivers here which will ask you around 1000 – 2000 KZT for dropping you in Saty.
From Saty, it is another 12 km to the Kolsay Lakes National Park. So, you can either take a taxi for 1000 KZT or you can ask for a lift from anyone headed that way.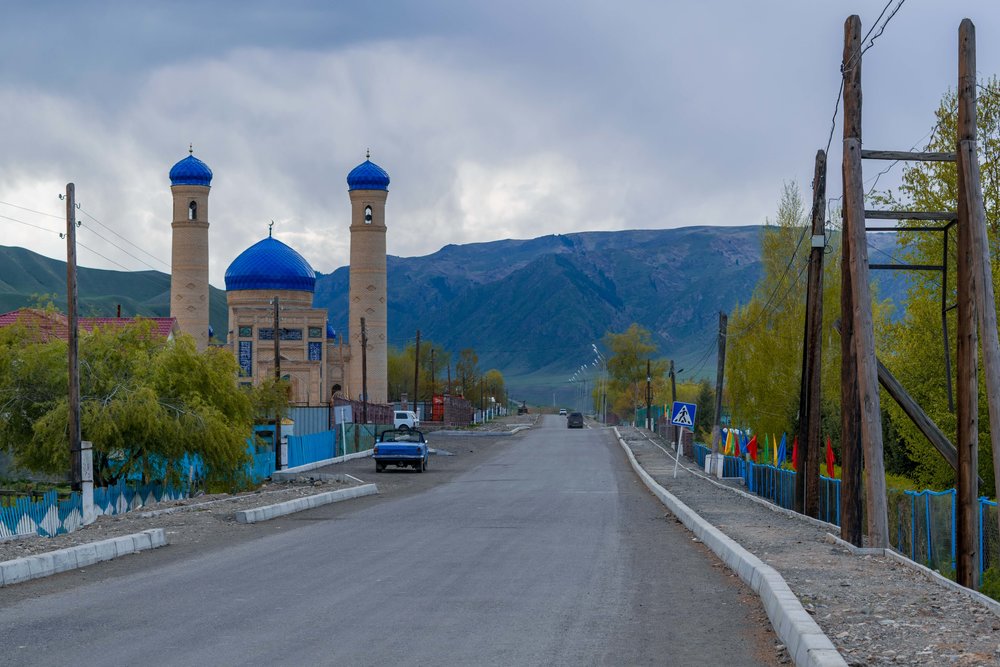 Itinerary for Exploring Kolsay Lakes
Here is a day-wise itinerary of how I reached Kolsay Lakes National Park and camped here for two nights.
Day 1
So, we started from Almaty early in the morning and reached the Sayakhat bus station. From here, we found a shared taxi to drop us at the Saty intersection point on the way to Kegen village.
We had to wait for the shared taxi to get filled up which took another 1.5 – 2 hours to happen. Finally, around 3 p.m., we reached the intersection point where the shared taxi driver dropped us at.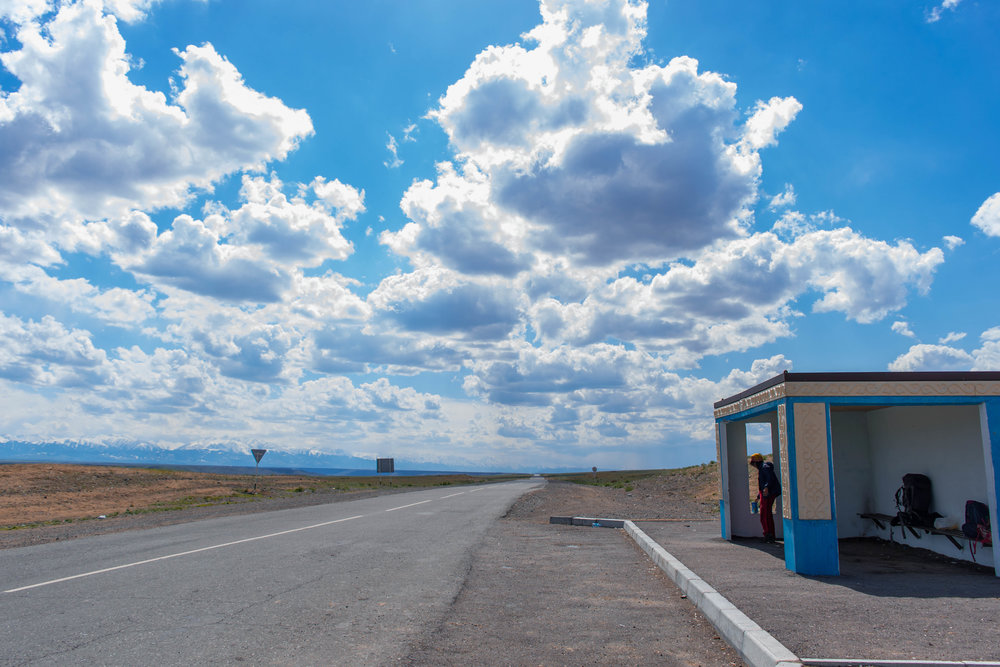 Here, we had to wait for 30-45 minutes before we got a lift with a local Kazakhstani couple who were on their way to Kolsay Lakes as well.
It is another 2-hours ride from this point to Saty village and on the way, you get a clear view of the Tien Shan mountains as well.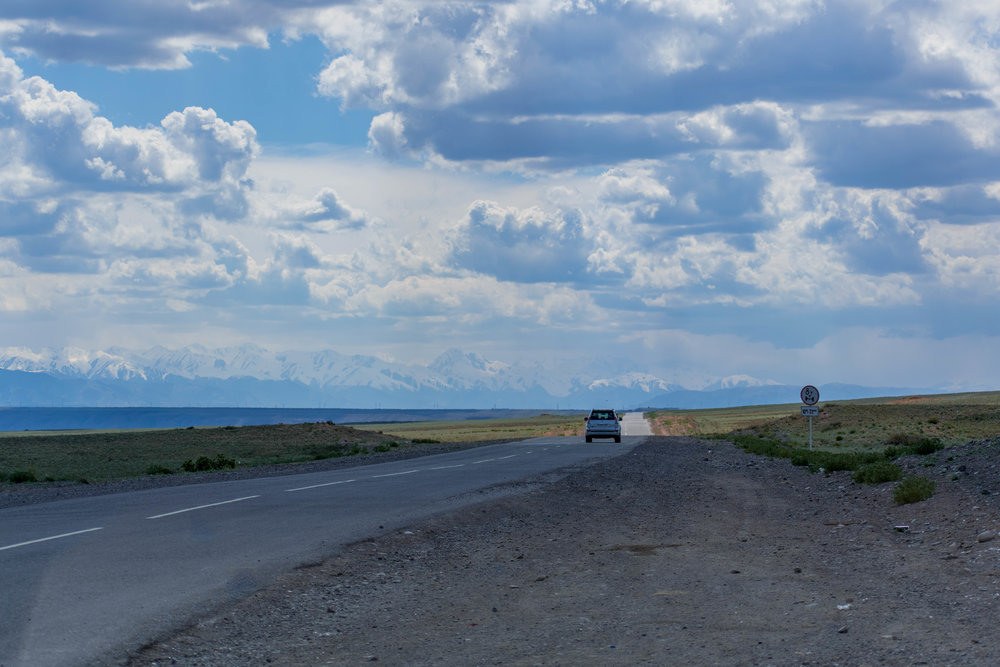 Finally, around 5-6 p.m., we reached Saty village from where it was another 12 km to the Kolsay Lakes National Park. We tried to get a taxi but since it was evening, everyone was quoting a high price.
So, we thought that we will camp here for the night and then take a taxi the next morning. Luckily, a local villager was driving in the same direction and offered to drop us at the Kolsay Lakes National Park.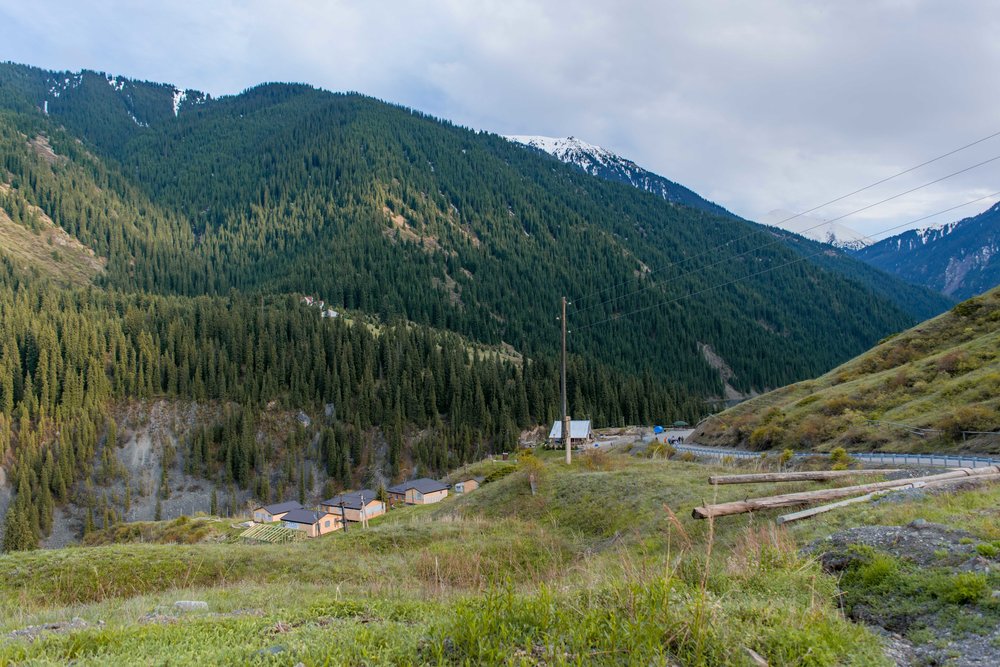 It took us around 1 hour to reach the Kolsay Lakes National Park entrance. So, we reached there by 7 p.m. and started pitching our tent. The lower lake looked absolutely gorgeous at this time and the water was quite cold as well.
After pitching our tent, we had some food and rested for the night as we planned to hike to the Kolsay middle lake the next morning.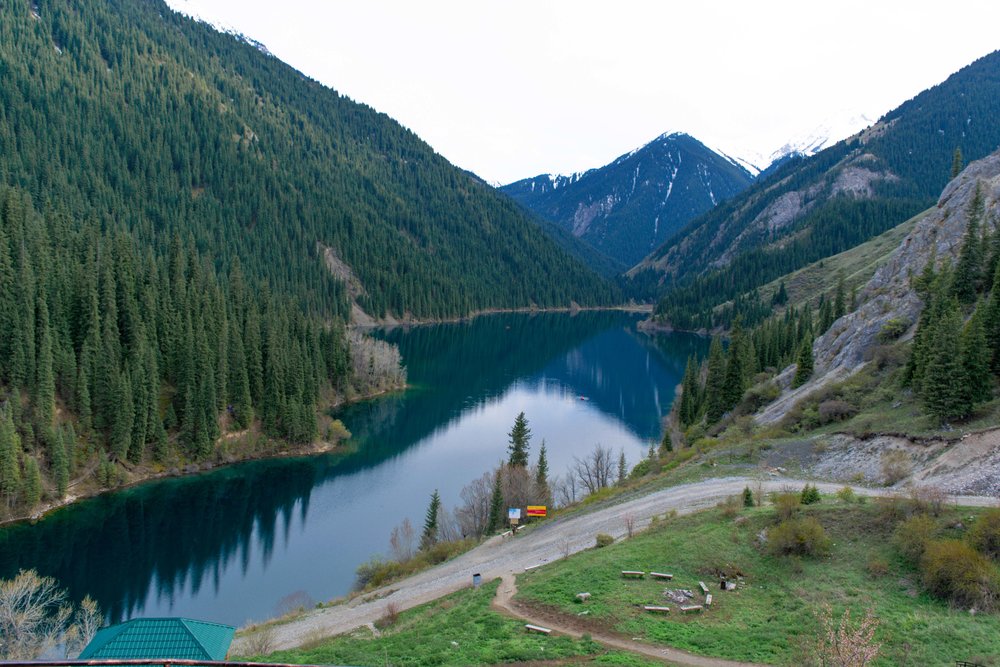 Day 2
We got up early in the morning on our second day but there were a lot of tourists around the lake by 8 a.m. itself. So, we got ready quickly and then made our way to the second Kolsay Lake which was 6 km away.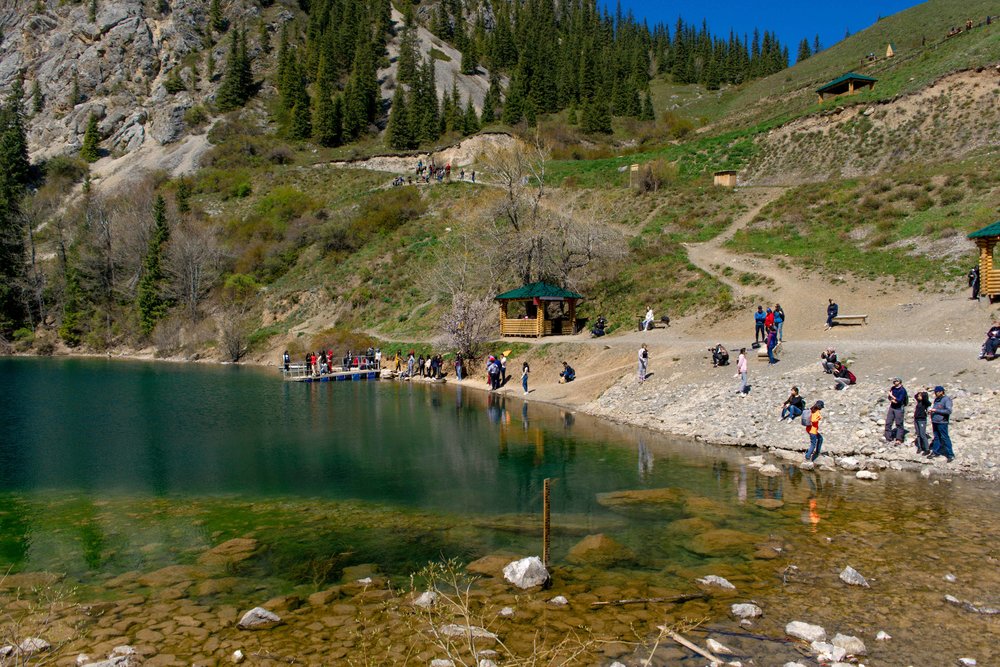 The hike to the second lake isn't very difficult but there are a couple of narrow patches. And you spend a lot of time walking under the sun so make sure that you carry sufficient water with you.
The trail is quite straightforward for the first kilometer as you are walking beside the Kolsay lake 1.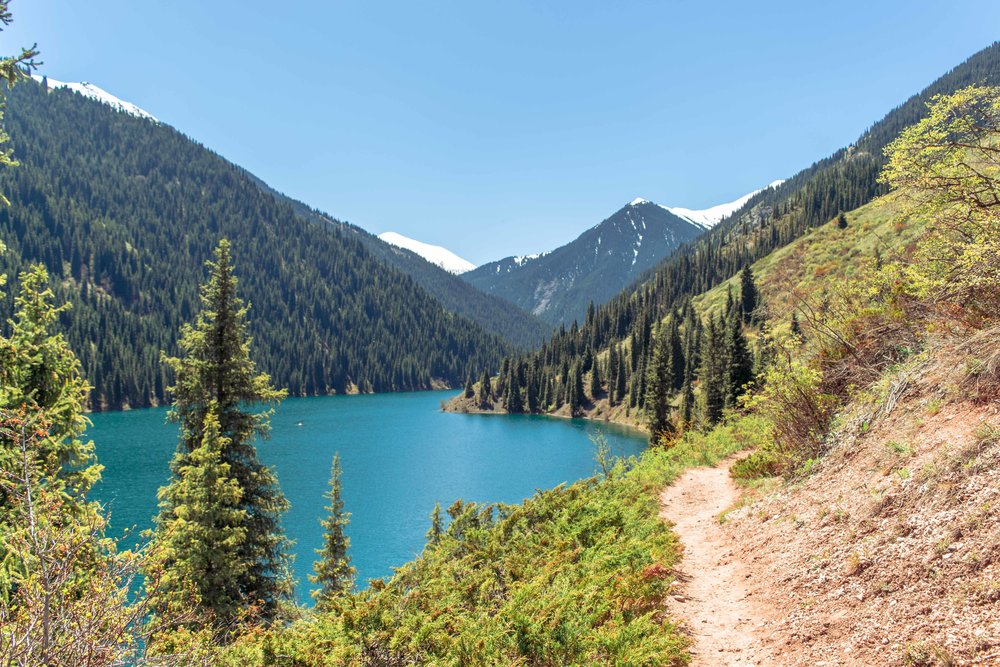 Once you cross the lake, you come across a meadow from where you can observe a stream of water. This is the Kolsay river stream which you need to follow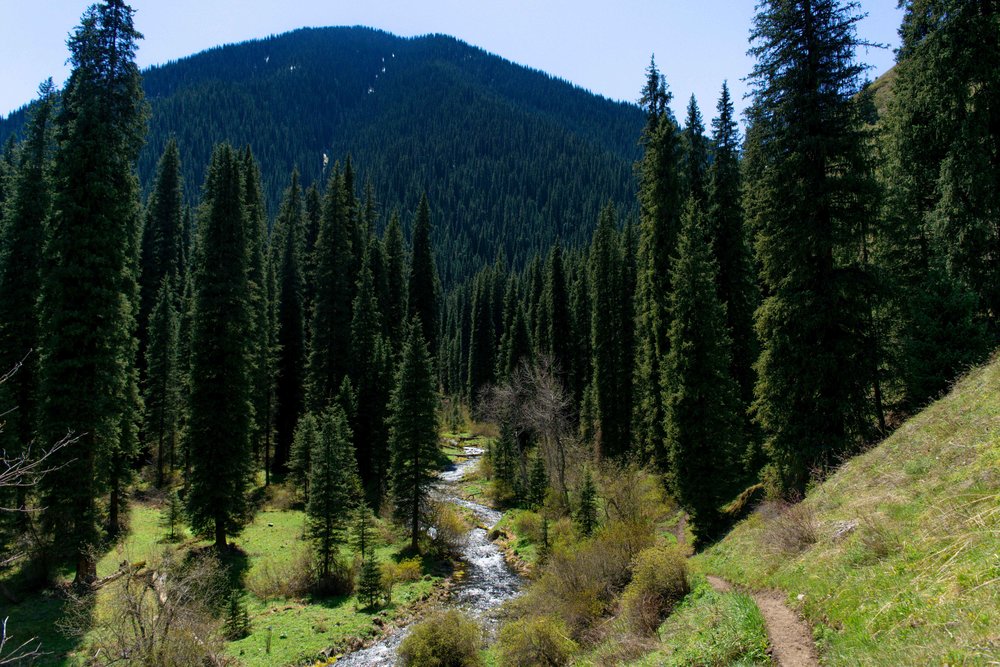 After another 1 hour of walking, you will come across a forest patch which will give you shade and will be easy to walk through.
You will also see a few signboards on the way which will help you keep a track of your destination.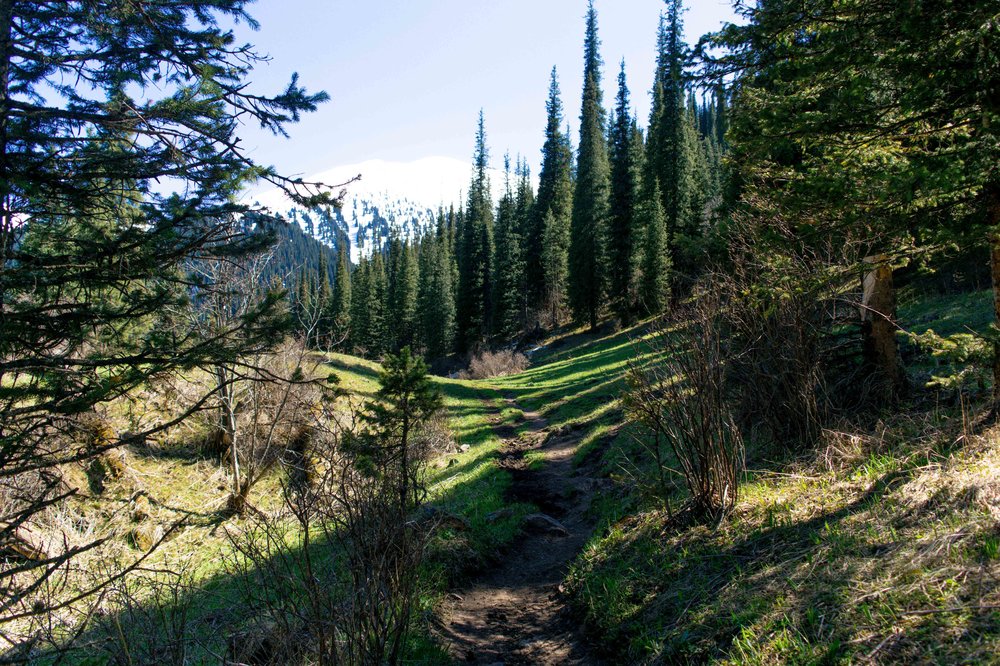 After walking through the forest for 1-1.5 hours, you will finally see Kolsay lake 2 in the distance. Here, there are barely any people as most people avoid the hike to the Kolsay Lake 2 and 3.
So, we could truly enjoy the peace and solitude here and easily stayed here for an hour or two. A few people had even carried their picnic baskets here and were planning to stay the night here.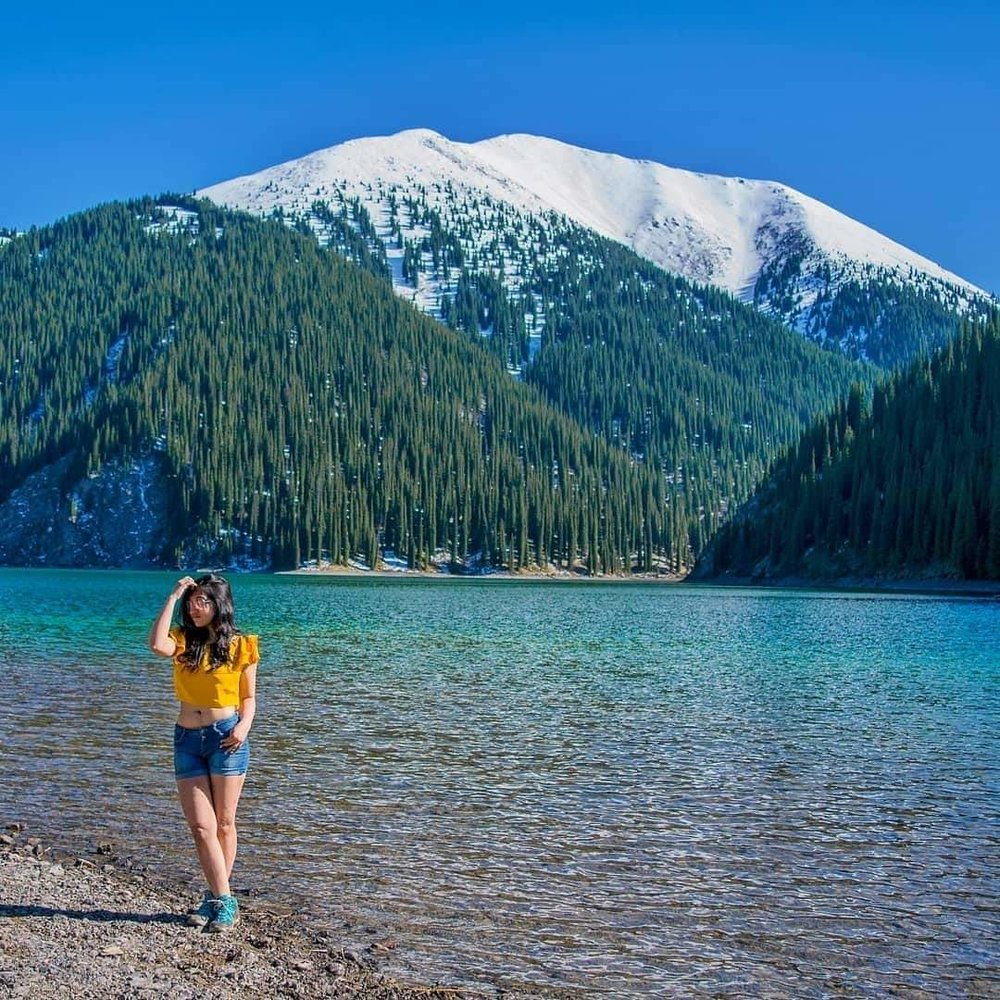 It took us another 2 hours to return back to our camp, after which we were too tired to do anything else.
Day 3
Finally, on our last day, we packed up our bags and the tent and started towards our next destination.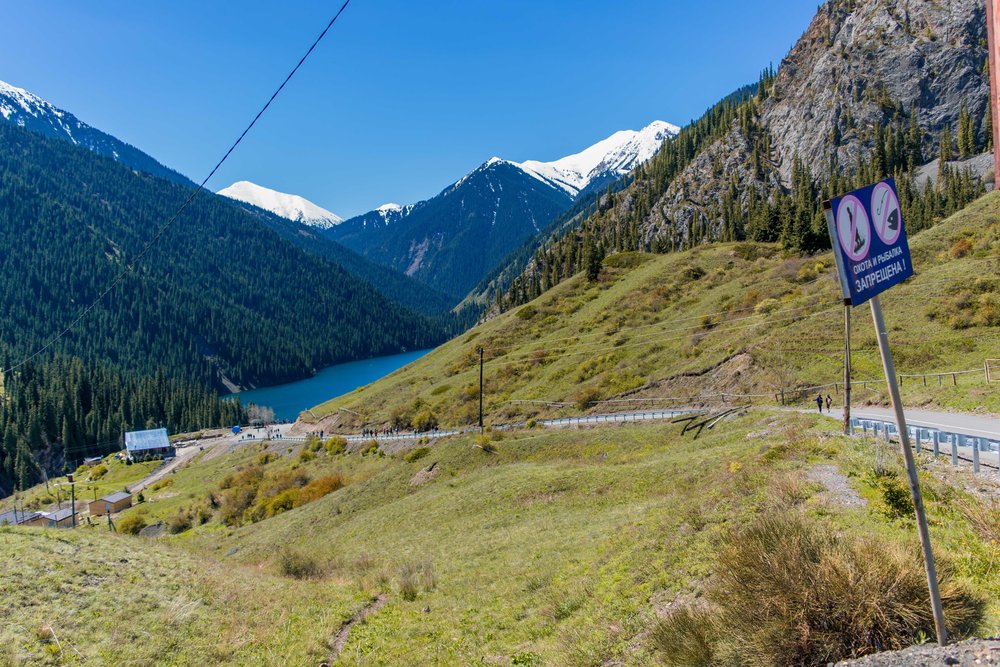 Luckily, we found another local Kazakhstani couple who gave us a lift back to the Saty village from where we made our way to our next destination.
Where to Stay in Kolsay Lakes National Park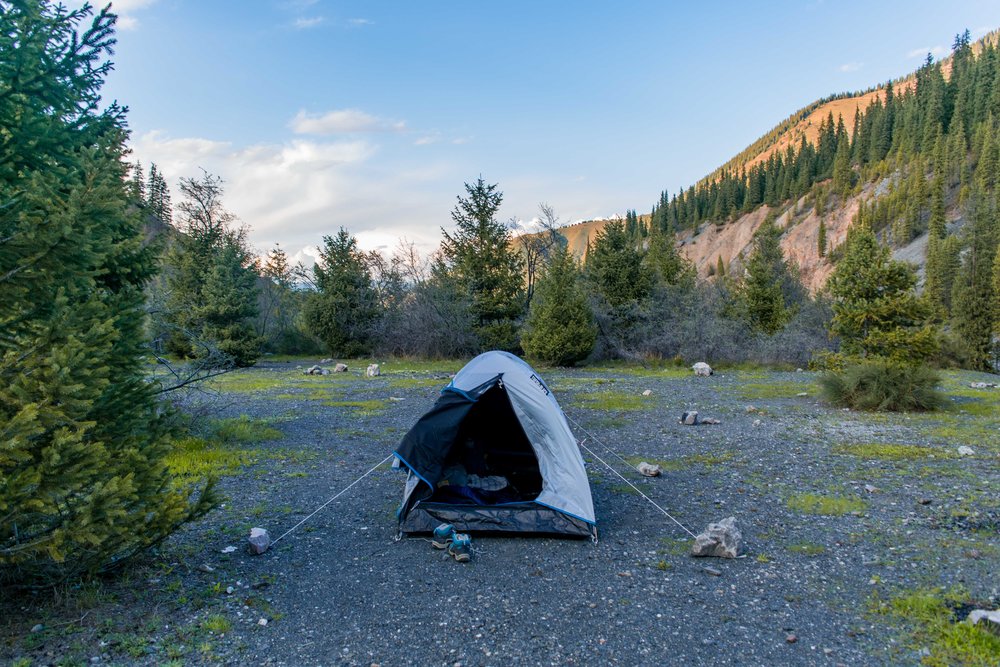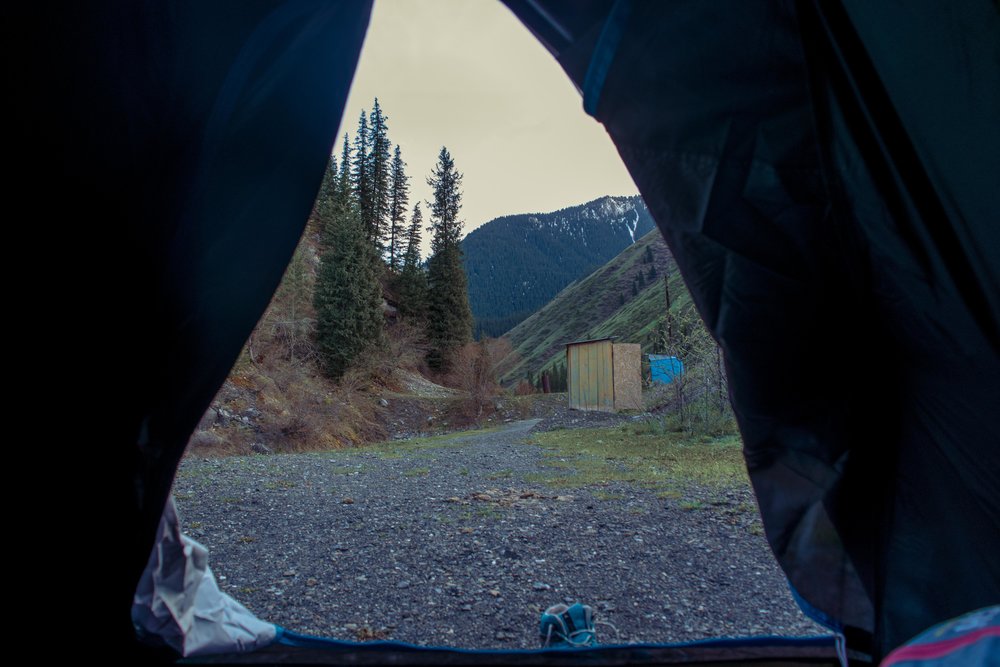 You can easily camp in the Kolsay Lakes National Park free of cost. All you need is the camping equipment to erect a tent.
Apart from that, there are a couple of guesthouses here as well which will cost you around 1000 – 2000 KZT per night along with dinner.
Another option is that you stay in the Saty village itself where you can expect to pay around 2000-3000 KZT with breakfast and dinner. You can simply go on a 1-day trip to the Kolsay Lakes from the Saty village.
Food and Drinks in Kolsay Lakes National Park
It is not a surprise but you won't find any food shops in the Kolsay Lakes National Park. So, you need to stock up your food and drinks from Saty Village itself.
There are a couple of grocery shops in Saty from where you can buy items like bread, butter, chips, etc. Make sure that you have sufficient water for drinking otherwise you will need to reach the Kolsay River stream to fill the water.
Total Cost for Exploring Kolsay Lakes National Park
You can expect to spend around 15000 – 20000 KZT for a round trip to Kolsay Lakes National Park from Almaty City.
Here is a cost breakdown for you to refer to for your own Kolsay Lakes trip.
All the costs mentioned are as of September 2019.
Transportation
It will cost you around 8000 – 10000 KZT for a return trip to Kolsay Lakes National Park from Almaty city. The shared taxi to Saty village intersection will be 2000 KZT and the taxi to Saty village will be between 1000-2000 KZT.
From Saty village, you can get a taxi for 1000 KZT to the Kolsay Lakes National Park.
Entrance Ticket
Thankfully, the entrance to this national park is free for everyone. So, you won't have to pay for anything here.
Stay and Food
If you are camping beside Kolsay Lake, then your stay is free. For food, you will need to get your own groceries which will cost around 1000 – 1500 KZT per person.
But if you are staying in a guesthouse near the Kolsay lake or in Saty village, then you can expect to pay around 2000 – 3000 KZT for a night including your meals.
Local Organization for Kolsay Lake Tour
Reaching Kolsay lakes independently is not an easy task. So, if you are short on time then it is always a good idea to hire a local private or group tour.
For group tours, you can contact Visit Almaty. They are the official tourism organization in Almaty city and often help solo and budget travelers with group tour information. Below are their contact details in case you want to inquire about a group tour to Kolsay lakes anytime.
Website: https://visitalmaty.kz/en
Email: info@visitalmaty.kz
Telephone Number: +7 727 393 52 30