This is a guest blog by Marky Ramone Go. All Photos courtesy of Nomadic Experiences.
Not even fully explored, yet already considered as the biggest cave in the Philippines
Just when I thought I've seen the best caves the Philippines can offer, especially the ones found in Cordillera Mountains in Northern Luzon—a cavern system that remains an offbeat destination in Samar—proved me wrong. Langun-Gobingob is a dual cave system that spans approximately 2,970 hectares underground, and it requires spelunkers to camp for the night when exploring it. The two days I spent inside here instantly became the highpoint of my caving experiences in my country.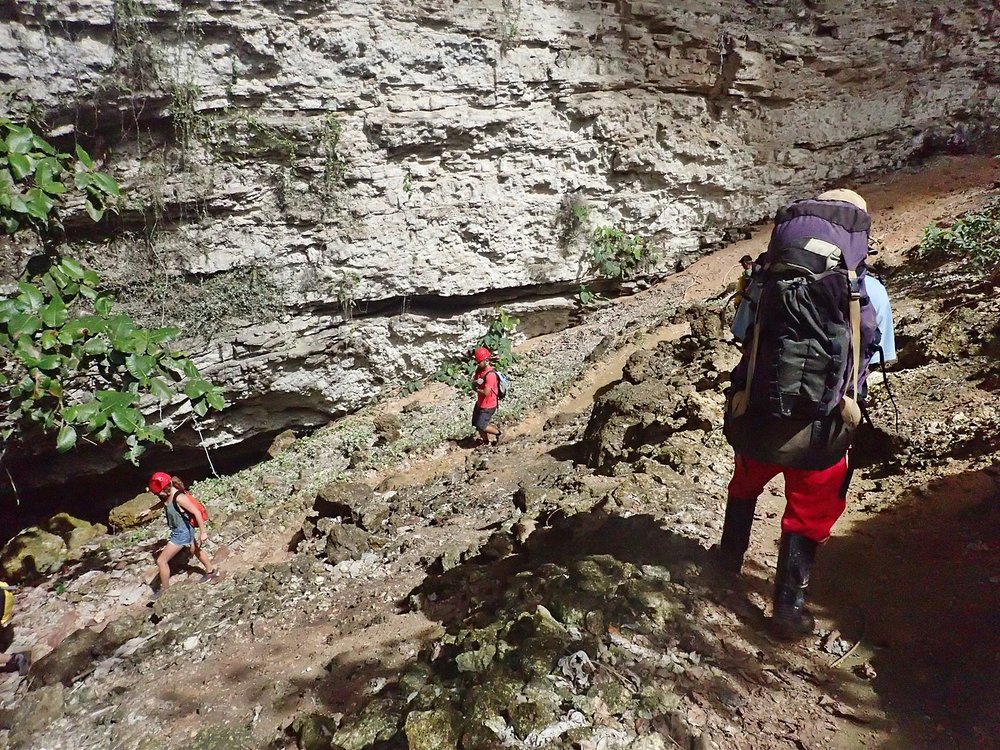 Langun-Gobingob at a Glance
To date, there are two main gateways to enter the cave: the Gobingob entrance (E1) and the Langun entrance (E2). Another entrance, the E3-6 is used only by advanced spelunkers as it requires the use of rope. The main chamber is measured 340 by 140 meters and is reachable after 3-4 hours of cave trekking.
Spelunkers spending the night inside usually camp at the "Football Field"—a giant section of flat terrain surrounded by a natural pool inhabited by the endemic blind fish species.
After the football field, there are more chambers to explore for an additional 3-4 hours. The second day is spent on exploring the connecting Langun Cave where it requires another 4 hours to exit through the E2. Average spelunking time inside the cave if you will cover all the accessed chambers is 12 hours.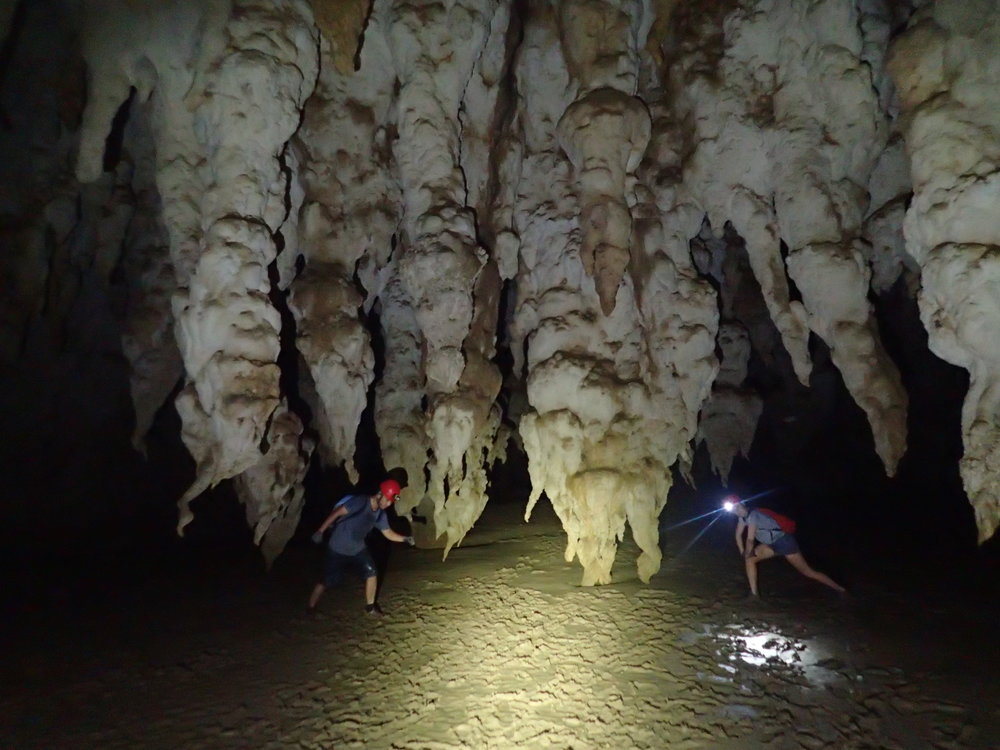 Where is Langun Gobingob Located?
Langun-Gobingob cave situates in the town of Calbiga in the province of Samar. Despite the many great outdoor attractions such as waterfalls, river rapids, mountains, surfing spots and caves—the island of Samar—remains as one of the most offbeat destinations in the Philippines.
How to get here:
Daily flights from Manila flying to the nearest airports in Calbiga: Calbayog Airport in Samar (2 hours away) and Tacloban Airport in Leyte (1 hour and 30 minutes), are available from the leading airlines in the Philippines like Cebu Pacific Air, Air Asia and Philippine Airlines. Air travel time is 1 hour.
If you are traveling by land from Manila, you can enjoy a scenic road trip to Matnog, Sorsogon (12-14 hours) and from there board a ferry to Allen, Samar (1-2 hours). From there you can continue traveling by land to Calbiga (2hours).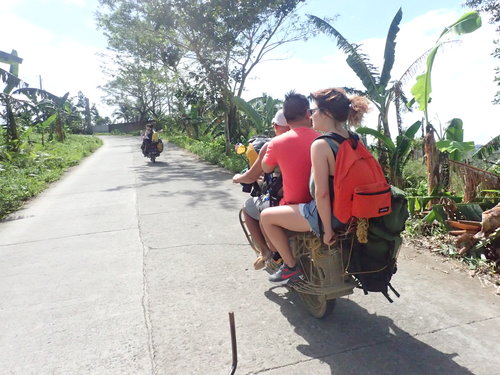 Getting to the cave needs another 20 minute motorcycle ride and an hour of hiking into the forest.
Local Contacts
Since do-it-yourself exploration is not yet allowed because one can easily get lost inside the vast cave, I highly endorse you avail the services of the Lonely Planet-recommended adventure outfitter Trexplore Adventures for a guided spelunking tour. You can contact them to inquire about the rates at their official website.
Cave Spelunking Budget
Current published rates are $140 per person for 2 days/1 night and $200 per person for the Extreme caving 3 days/2 nights. A single day package will cost you $70 per person.
My Experience Inside the Langun-Gobingob Cave
Sleeping inside a pitch-black cave is something new to me. It came as no surprise to wake up the next day disoriented at where I was. As I stared at the dark ceilings I wondered about the lack of stars thinking I spent the previous night at a beach. It took a few more seconds before realized I had been inside a deep cavern where we camped out for the night. Rousing back to consciousness, I pointed my headlamp at my surrounding and immediately, stalactite and stalagmite formations—all shimmering like extravagant jewels—caught my attention. "I am really inside this marvelous cave" I told myself.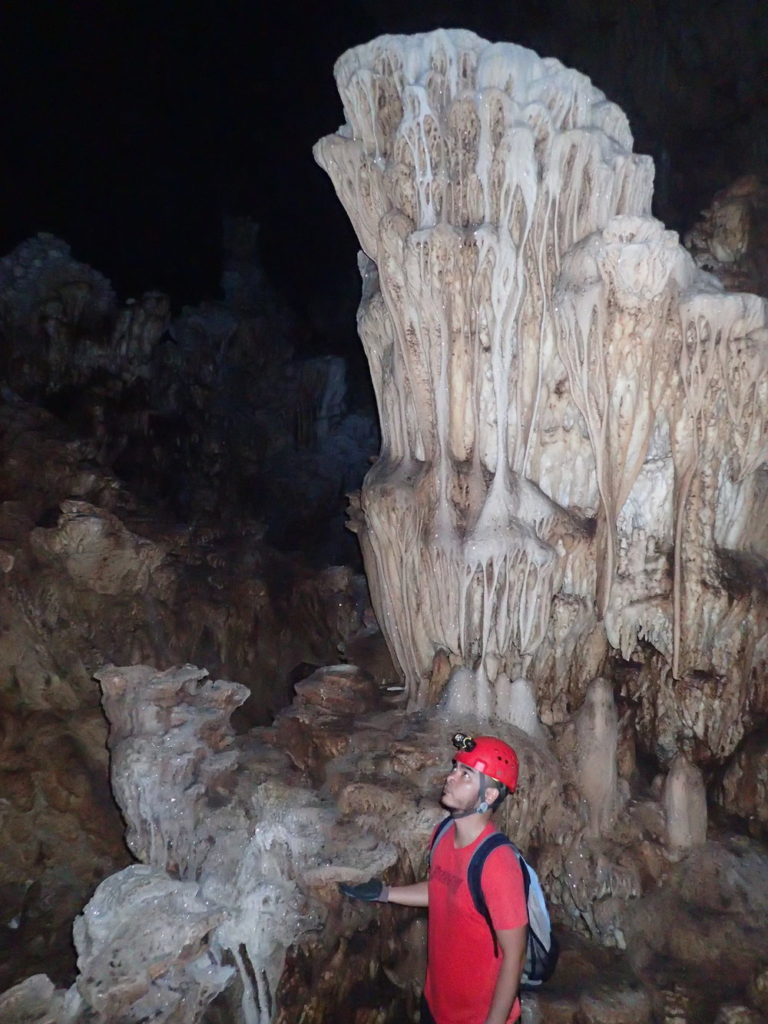 As we prepare for breakfast, I recalled the previous day adventure and images of tangled maze of spectacular chambers flooded my mind with each having a name of their own. For example, there's a chamber called "Giant Chandeliers" because the stalactite formations hanging from the cave's ceilings appear like dripping crystals of chandeliers.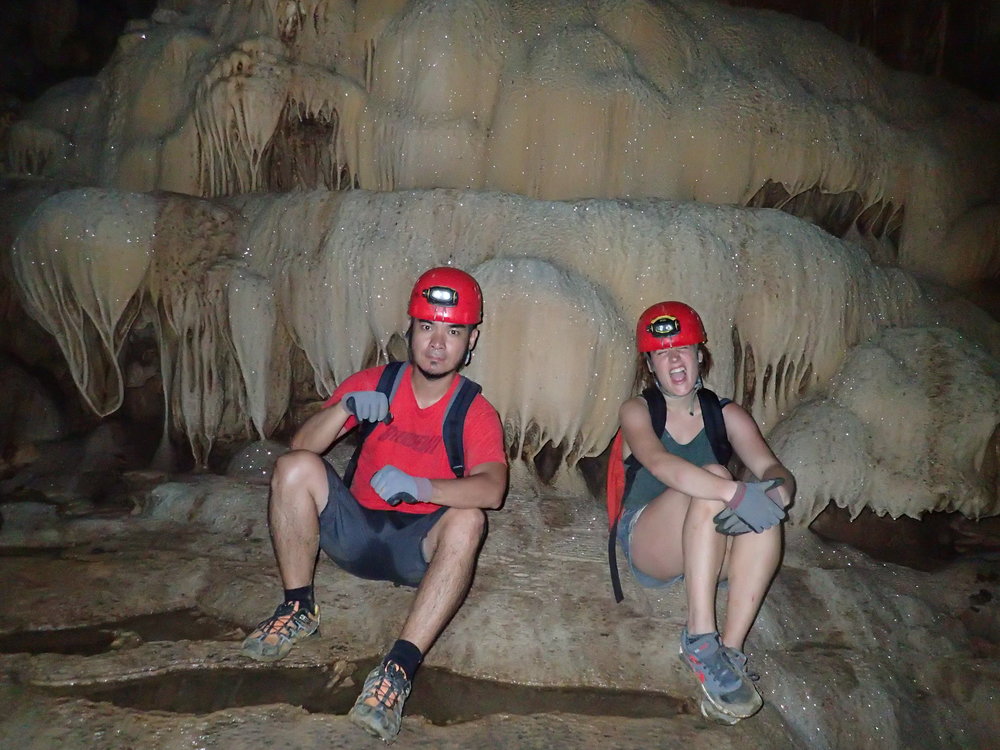 On the second day, as we make our way towards the exit of Langun Cave, we were still fortunately blessed with more spectacular chambers—with each having distinct appearances. It was a fun adventure consisting of having our bodies weave through tiny holes, rappelling down from a 50-meter high wall, sliding down mud-filled cavernous passageways and swimming under chest-deep natural pools.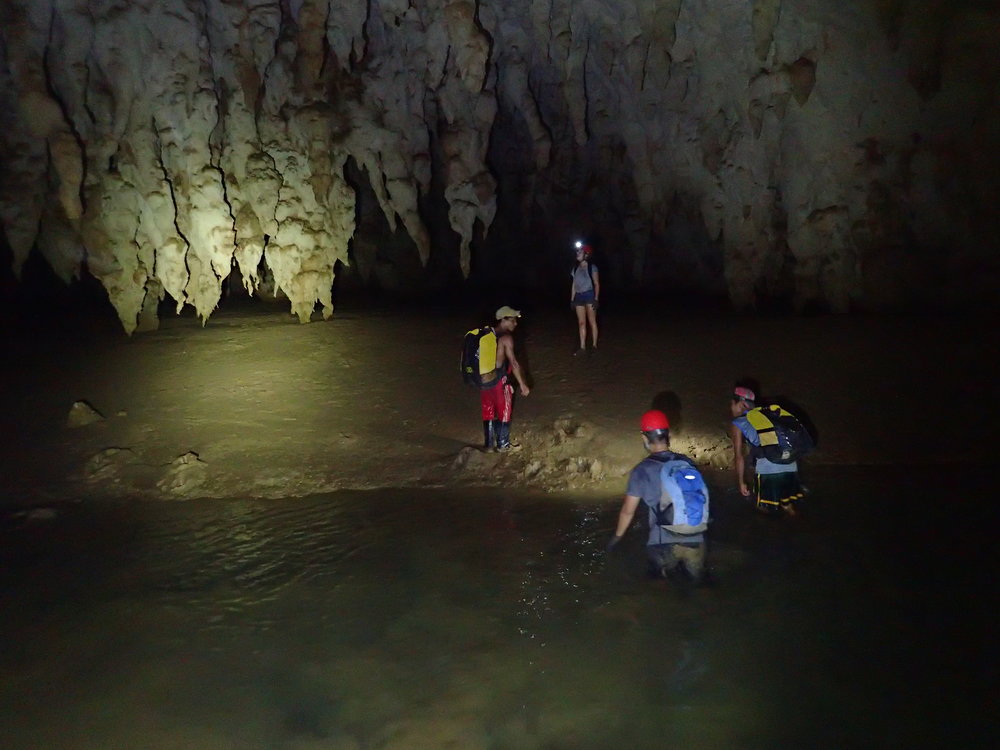 Upon seeing the ray of light emanating from the exit mouth of the cave, a feeling of relief reigned over me, but I also felt a little sadness at leaving such magnificent creation of nature that fully satisfied every bit of my adventurous soul.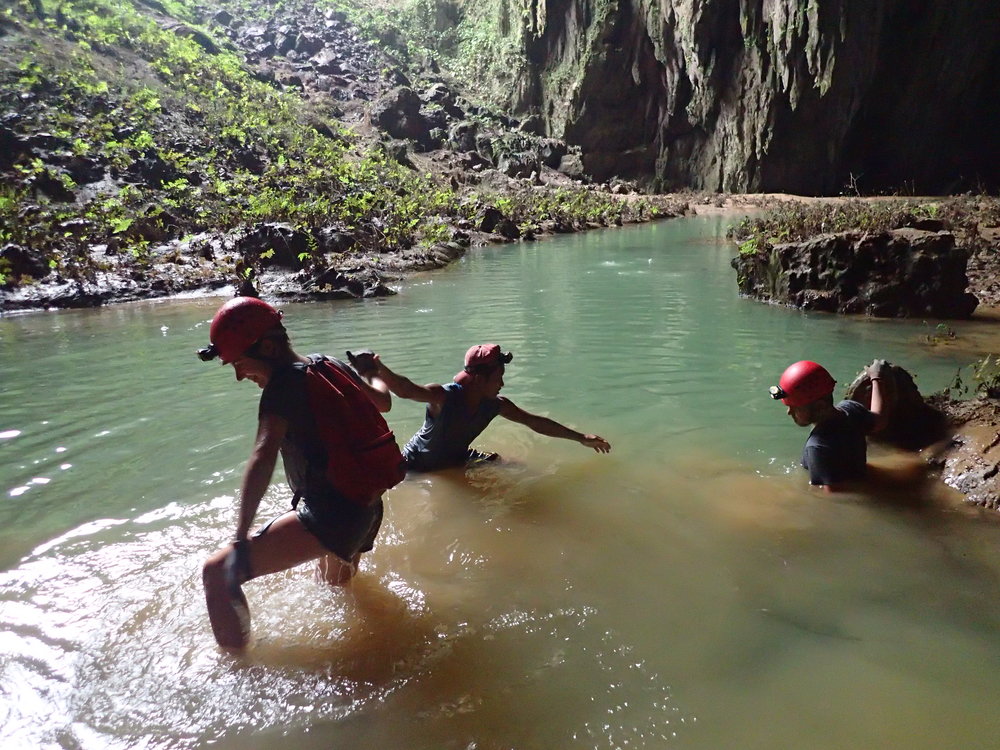 Accommodation
Accommodation inside the cave is on tents or—in my case—a hammock. Despite sleeping over flat portions of rocks, since the "Football Field" was muddy when we visited, my companions slept soundly same as I was on my hammock. The air inside the cave has enough coolness so you won't have to worry about the heat.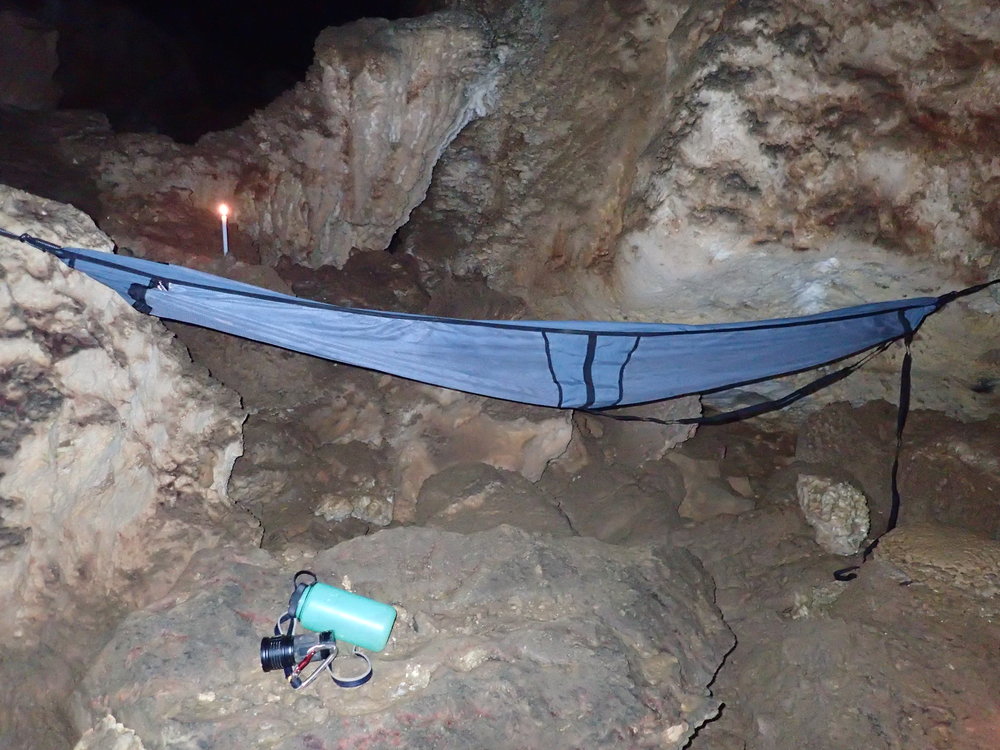 In Calbiga town, you can choose to stay at the homestay managed by Trexplore the Adventures for $10 a night. Other accommodation options include: Novo Hotel ($20), GV Hotel Catbalogan ($15) and Casa Cristina Hotel ($10).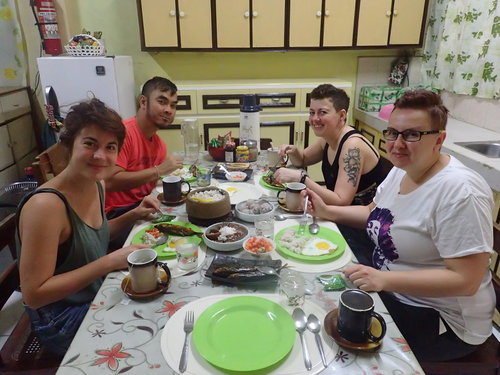 Transportation
Public buses, jeepneys and tricycles (local version of a 'tuktuk') are always available in the whole of Samar, so you won't find it difficult to travel around this island province. Minimum fare starts at 8.00 pesos ($0.12) and goes up according to distance.
Currency
The Philippine Peso is the national currency of the Philippines. The town of Calbiga, Samar has many ATM outlets where you can withdraw your money in local currency. As of today, the Peso-US Dollar rate stands at 1 US $ = 52.00 PhP.
Language
Most Filipinos can speak the English language so communicating with the locals won't become a big problem. Some local phrases to remember include: "Kamusta ka" (how are you?), "Salamat po" (thank you), "Magandang umaga" (good afternoon), "Magkano po ito?" (how much is this?).
Food and Drink
Food is generally cheap in the Philippines and cheaper in Samar. The average meal would cost you from 50 pesos (around $1). If you buy ingredients at the market and cook at your homestay—you will save more money if you are a traveling party of around four people.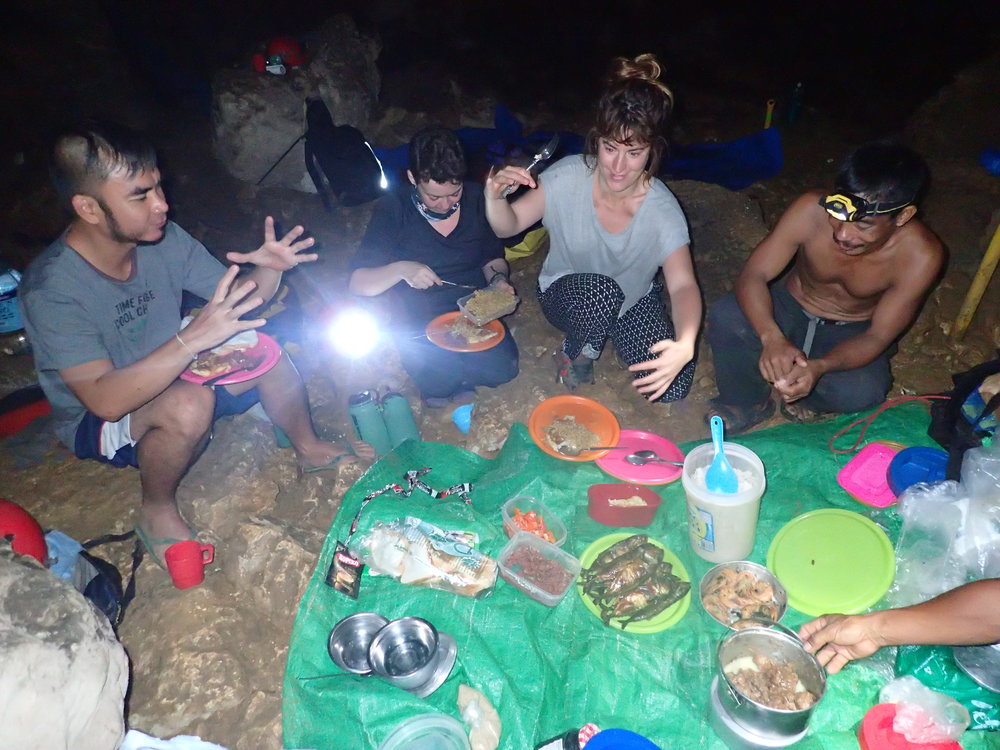 The cave tour package already comes with food for lunch, dinner, breakfast and lunch the next day. The spelunking tour strictly follows a "Leave no trace" policy so every call of nature should be stored into a plastic container or bottle—yes even for the number 2.
Things to Bring
All the technical items such as ropes, tents, hammocks, cooking utensils, headlamps and helmets are already provided by the tour outfitter. You just need to bring every basic things you would need such as medicine, proper hiking clothing, extra flashlights, water container and whatever else you can't travel without.