‎Cola Beach
This place hosts the wonderful combination of a beach and a lagoon, making it the most relaxing beach in Goa.
You can alternate your beach swims with lagoon dips, thus cleaning the salt water and getting you ready for your next swim.
The sea here is not for everyone and beginner swimmers are recommended to stay in the lagoon.
The lagoon is surrounded by coconut trees on either sides which keep the temperature of the lagoon perfect for relaxation. It is also possible to kayak in the lagoon here.
To reach Cola, you have 2 routes:
If you're coming from South (Agonda side):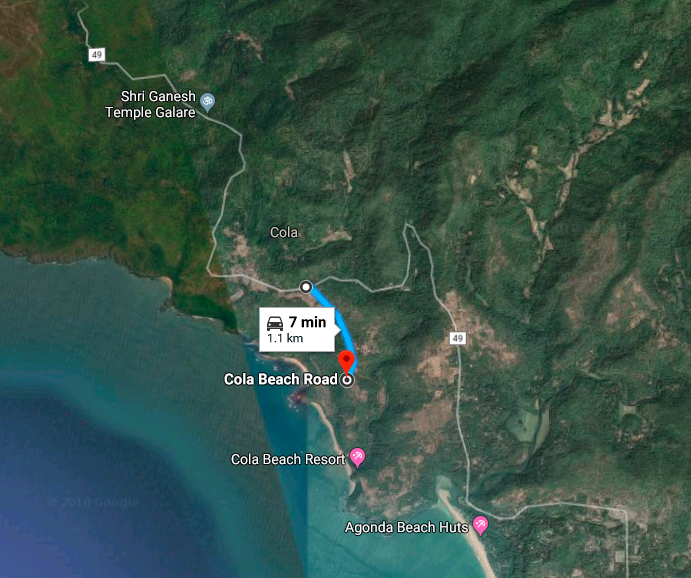 You need to leave Road 49 (MDR49) at a turn next to a house. To find this, just search for 'Hill Top, Cola Beach' on Google Maps and follow the directions. Do not put 'Cola Beach' or 'Cola Lagoon' as that would take you to the other road.
If you're coming from the North (Varca side):
You need to leave Road 49 (MDR49) at Rupraj Bar to find Cola Beach. Just Look for 'Rupraj Bar' on Google Maps and the turn to Cola Beach is right opposite the bar. At the end of the road, from the parking, you need to take a few steps down to enter the restaurant and cross the restaurant to hit the beach.
The lagoon is easy to spot and I don't need to explain you where that is.
Where to stay and eat:
There are a few resorts offering huts alongside the Cola lagoon though I prefer carrying my own food and beer.
The beer can be cooled in the lagoon's fresh water. No matter how hard the sun.