Before you introduce your product, the validation marketing must be done first. And in this article you will have an introduction that can help you to know how.
Startups need to stay lean & agile in everything they do.
The business model has been replaced by the Lean Startup and the MVP.
Validation is key to any new idea.
But what's the equivalent of full-blown marketing campaigns for validation? Enter Validation Marketing.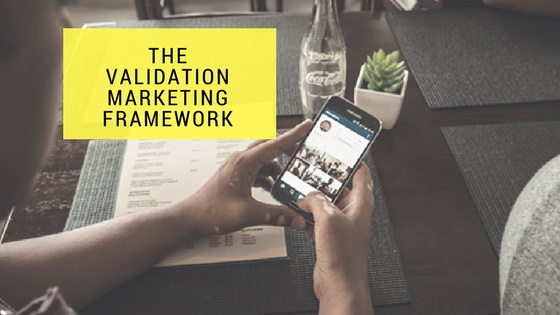 The Problem Statement:
Firstly, there is a lack of process-oriented marketing methodologies during the validation phase. While marketing campaigns need high budgets, growth hacking usually comes in only once the startup has a product-market fit.
Secondly, Growth Hacking solves the time and budget problem as defined by the growth hacking triangle. But entrepreneurs and marketers still don't have the right approach, toolset and skillset to validate.
The Solution: Validation Marketing
Let's set the founding principles:
Validation Marketing relies on lean marketing strategies to test and validate an idea or product.
Validation Marketing works well with the concepts of a lean startup to validate ideas, messaging, features and product design.
Validation Advertising, a part of Validation Marketing, involves setting up low-budget micro-targeted tests on digital ads to validate a specific marketing hypothesis.
Growth hacking happens after you find a product-market fit. Validation Marketing is what helps you find the product-market fit.
Validation Marketing can able be used to find the best performing growth hacks for your startup or business.
Validation Marketing results are an important input to the future Inbound marketing campaigns too.
Validation Marketing can be used as a tool to refine your digital marketing strategy.
Validation Marketing is a tool to help market research and market validation.
Validation Marketing uses A/B testing for validating results and campaigns.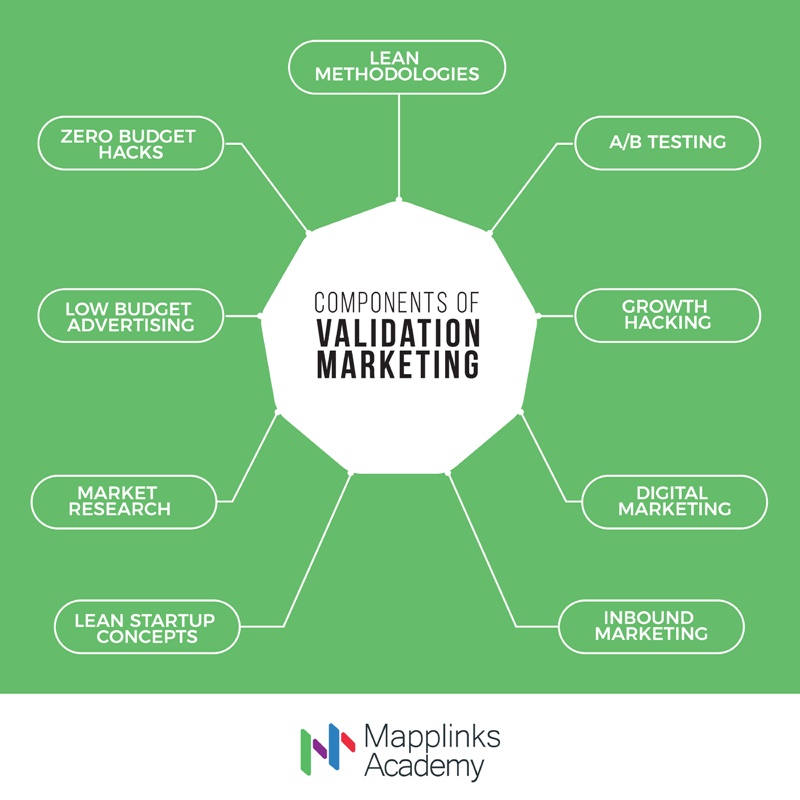 Now, let's see a few examples where can use validation marketing. These examples are not just from startups, but any size of business.
Validation Marketing can be used for the following:
Finding the right market for your product or service
Finding the right features to build for your product
Finding the right target audience for your product
Finding the right title for a book
Finding the right headline for a blog
Finding the right content buckets for your marketing calendar
Finding the right audience for your blog
Finding the right messaging for your campaigns
Finding the right brand messaging
Finding the right brand colors, logos, and other collateral
USE CASE 1: How to use Validation Advertising to decide whether to build an MVP or not
This is a classic startup situation. You build an MVP and get feedback from the market. You go agile. So you build, you get feedback, and you change until you're ready with something to ship to the world.
Here's a step-by-step guide on how to use validation advertising to validate your startup idea:
The core idea is.. Instead of building an MVP, showcase an MVP.
Step 1: Make a landing page showcasing all the features of your MVP and treat this landing page as your MVP (or pre-MVP).
Step 2: Now, run validation advertising campaigns on this landing page with as low as $10 per potential target audience and decide 3 likely TAs.
Step 3: Include an early bird on each landing page and track % conversions to early bird email ID fills. Pick the target audience with the highest % conversions.
Step 4: Next, ask them to pay a small amount to confirm their early bird. Include screenshots of the MVP at this stage. Note that these are dummy screenshots made by a designer since your product doesn't exist yet.
For one of our clients, we decided to hit a 20% email to payment conversion. And if we hit 20% we would develop the product MVP else we would refund the money and plan a revised product.
USE CASE 2: How to use Validation Marketing for Blogging
The secret to our happy clients with low-budget growth hacking for their lead generation process, is again, validation marketing.
To be more precise, here's an actionable way you can use it for blogging:
Step 1: Create 3–4 blog posts to A/B test using Validation Advertising.
Step 2: Run small budgets (starting $10 per blog) and run ads on these blogs with a tracking pixel on each of the blogs.
Step 3: Once you have the stats of which blog performed well, create a landing page with offerings based on the problem statement addressed on the blog.
Step 4: Then run ads on this new landing page to the traffic tracked by the pixel. Or remarketing through emailers sent about the blogs.
In short, this is one of the best ways to reduce ad costs using validation marketing + remarketing.
USE CASE 3: Digital Marketing for our agency clients
Here's a specific application of Validation Advertising at Mapplinks for our digital marketing clients.
We get all kinds of clients at Mapplinks. But for the sake of simplicity, let's divide it into 3 types of clients:
TYPE 1. Clients focused on lead generation with immediate results (Read: Put in ad budgets and get results.. ON REPEAT)
TYPE 2. Client focused on building a long-term inbound marketing pipeline (Read: Create high-quality content and start distribution through various channels, ultimately get high quality long-term visibility)
TYPE 3. Clients who want a combination of content and leads from the first day (They want the whole deal)
Now, I personally love clients with focus #2. But I usually move or 'UPGRADE' them to somewhere between #2 and #3 using multiple growth hacking strategies and ensure they get the best of both worlds.
Here's how the validation budget comes handy:
Instead of running ads from Day 1 on content which the client or management likes, we validate the budgets with the target audience. And then we decide which content buckets should be promoted.
For instance, the first 5 weeks marketing calendar is a mix of all content types (blogs, infographics, videos, calculators, side-projects, creatives) under all the different content buckets.
Each combination of a content bucket + content type is treated as one validation set. We run multiple validation sets in the first 5 weeks (at least 2–3 each week) with a very small budget per advert (In some cases as low as $10 per advert).
We eventually know what works with our Target Audience in under a $100-$200 budget. With this information, we can continue to create a marketing calendar for 3 months. In between these 3 months, adding small validation budgets of $50 / month. Its to ensure that the best content is being distributed.
Next Steps for Validation Marketing:
We've seen amazing results when the principles of validation marketing guide validation campaigns and not just random interviews and questionnaires. There is no reason to limit validation marketing to startups as you would've seen in the use cases.
For more, I also shared a couple of real life validation frameworks you could use for your own startup or blog. Please share your results with me in the comments below. Have questions? Let's discuss them below.
To make it easy to deploy Validation campaigns, we're drafting our validation marketing process we've used with multiple startups and businesses.
Want to learn more about the process? Just send me a mail at rishabh@mapplinks.com.