The AARRR funnel worked really well. Until it didn't. A3R3 Framework
Yes, I've moved from the Pirate funnel to a new framework and I'm deploying this for all my clients and startups that I consult on growth hacking.
Before we deep dive into this new growth metric funnel, let's talk a little about the original Pirate funnel.
Here's how the Pirate funnel was introduced:
"In 2007, angel investor and now head of 500 Startups Dave McClure gave a talk at Seattle Ignite about a 5-step framework for startup growth he called Pirate Metrics." — Inc
This was in September 2007, exactly 10 years from now. And like most growth hackers and startup marketers, we followed this extensively until last year when we optimised all of our growth campaigns to think beyond and look at the big picture with each of our startups.
For the uninitiated, The AARRR funnel stands for the following:
1. Acquisition
2. Activation
3. Retention
4. Revenue
5. Referral
We've achieved amazing results with our startups using the above funnel and it's helped us come a long way. A big shout out to Dave for that!
But we started looking at it from a different perspective when we were faced by a common issue with multiple startups from time-to-time.
And this concern is NOT about Acquisition. It is about AWARENESS.
For a lot of startups we worked with, we were faced with the task of growth hacking awareness in the market rather than growth hacking acquisition of their target audience.
Consider a niche business where the actual need is to first educate the market and the customers. This could be an Augmented Reality app or a gamification-based product for HR teams.
The question asked by our startups was "Where do we fit AWARENESS into the Pirate Metrics?"
Let's go back to the basics. Startups are new innovative business ideas and business models which might have found a product-market fit but still need a lot of educating to create a mature market for themselves. So they feel growth is their main task at hand, their OMTM, and their North Star metric, but are not able to handle acquisition campaigns due to lack of Awareness.
This leaves them de-motivated in their acquisition experiments turning to blame lack of awareness as a reason for ineffective acquisition growth campaigns and growth experiments.
This is where the new funnel comes in. And we call it the A3R3 funnel.
The A3R3 funnel starts at the AWARENESS (education) level and is focused on a number of growth hacks and campaigns targeting Awareness. A3R3 Framework
This removes the pain-point for us and for startups. As long as it's a problem for startup growth, the growth hacking team should be able to adapt and able to solve it.
The pirate metrics need to evolve considering these niche startups. And here's what's working out really well for us: A3R3 Framework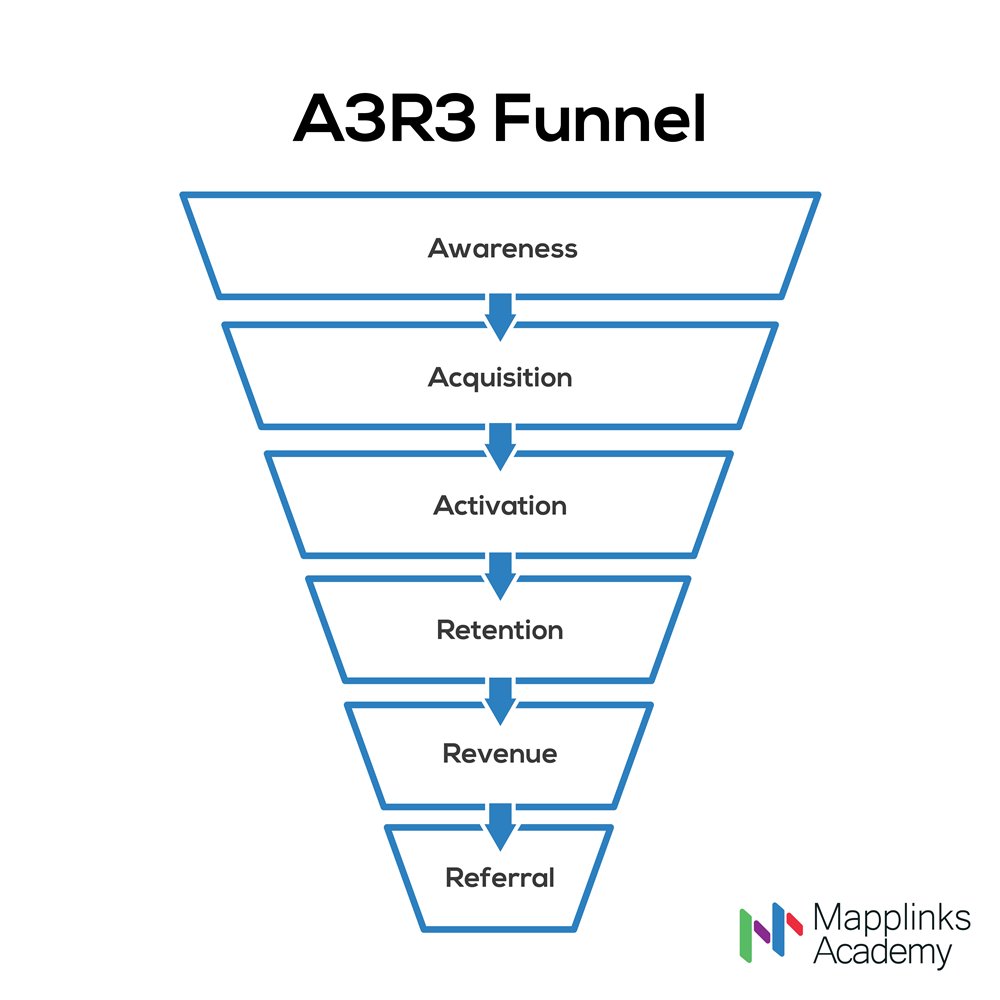 The A3R3 funnel:
1. Awareness
2. Acquisition
3. Activation
4. Retention
5. Revenue
6. Referral
We suggest the startups in the ecosystem this toolkit it fit the missing piece of their growth metrics and include Awareness within their current marketing funnel.
For any questions regarding growth experiments for Awareness or growth hacking case studies for hacking awareness, feel free to email me at rishabh@mapplinks.com.
To learn our entire growth hacking process, check out our academy.
A3R3 Framework A3R3 Framework