October 2019, Andaman Sea: I finally pulled off a coastal motorbike backpacking trip with my mom and also convinced her into becoming a nomad like me! This experience is from my mom's birthday trip in the first week of October in which we backpacked on a motorbike across the South Thailand coast with the beautiful Andaman Sea.
This trip was strictly no Indian food, no tour guides, no drivers, no taxis, no groups of friends, no WhatsApp, no forwards about which religion is better, no calls from neighbors, no cultural biases – only a lot of adventure and local experiences. Mom turned 57 on 7th October and this was very different than the way she used to travel. I'm proud of her as she drove the motorbike after 30 years and jumped from the kayak in the middle of the Andaman!
This article is a brief itinerary of our experience and also an idea for fellow millennials – Take out your mom for an offbeat trip for a change and also for a break from a, probably more demanding, girlfriend/boyfriend!). I promise you it'll be very rewarding to your soul. Precious moments you will probably not get a lot of.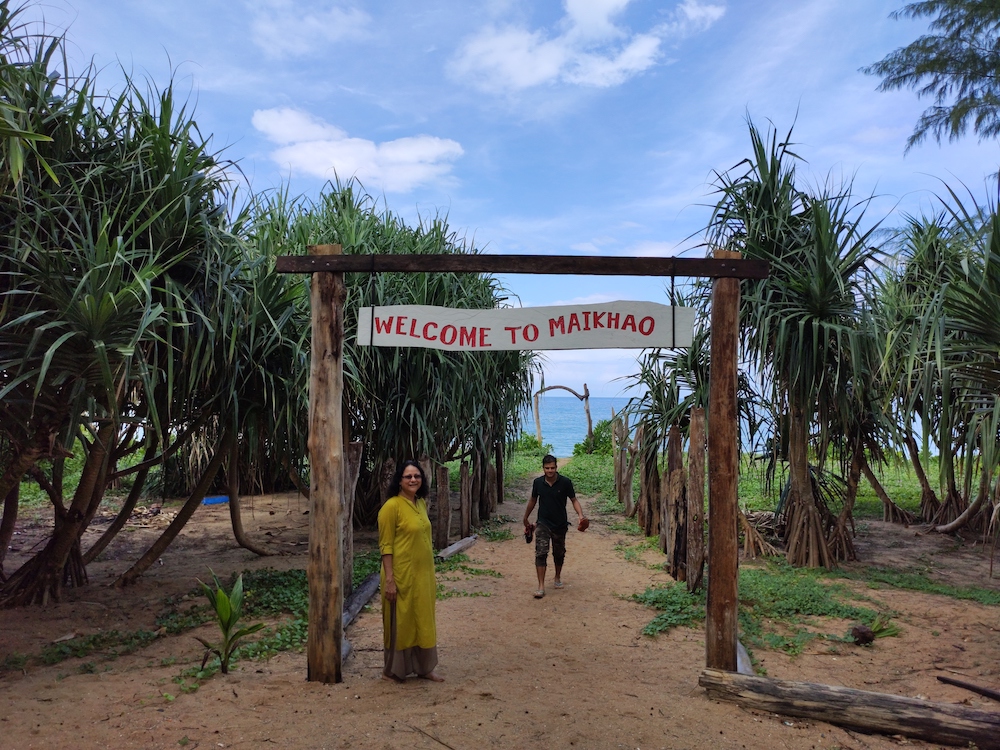 I also recommend leaving your spouse and kids (if you're blessed with those little cute things) at home and make sure it's just you and your mom! Remember: If your mom is 50+ and you take her out even once every year, you only have less than 20 of these short trips with her (going by the usual life expectancy of Indian women). Don't miss this chance and #travelwithmom 🙏
I've added the itinerary below.
Day 1: From Delhi Arriving at Phuket Airport, Mai Khao Beach Viewpoint
Mom arrived from Delhi while I came from Indonesia and came to pick her at the Phuket airport. From the airport, we directly went to the Mai Khao Beach viewpoint where you can witness planes taking off or landing.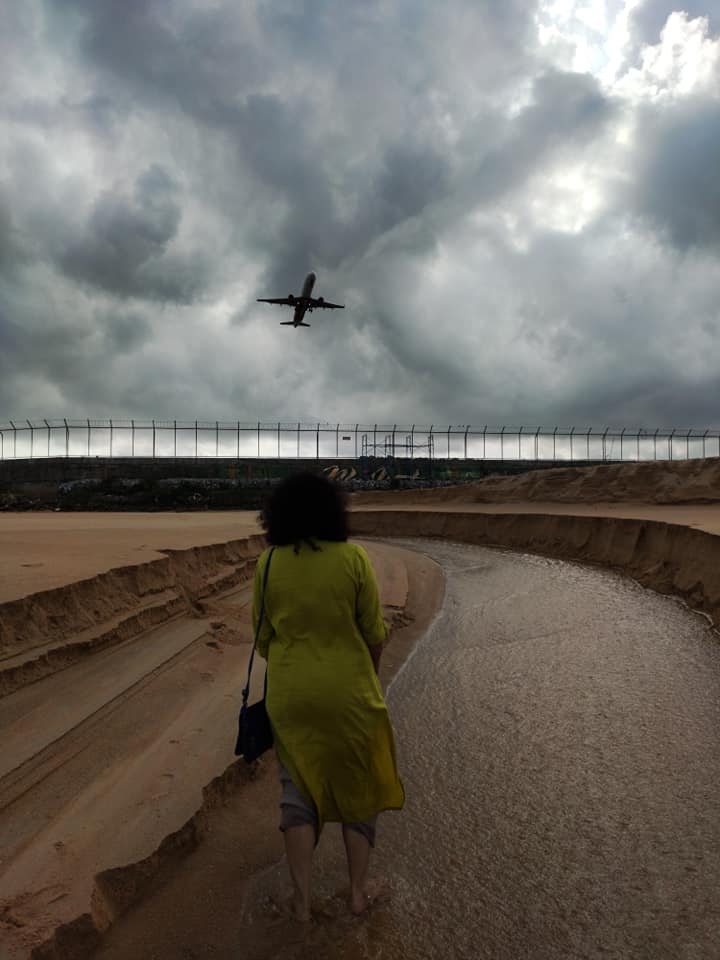 The beach at Mai Khao is also beautiful for long walks with not many people around. A great place to chill after a flight and very close to the airport. It also gives you the feeling of starting your beach holiday soon as you land!
Day 2: Watching the Sunset at Windmill Viewpoint in South Phuket
Toward the Southern-most part of Phuket, you can locate 'Windmill View Point' on Google Maps. This is a great spot for watching the sunset and also paragliding!
Mom and I enjoyed the dreamy sunset there in peace and also did some open-eye meditation. The view was too beautiful for us to close our eyes!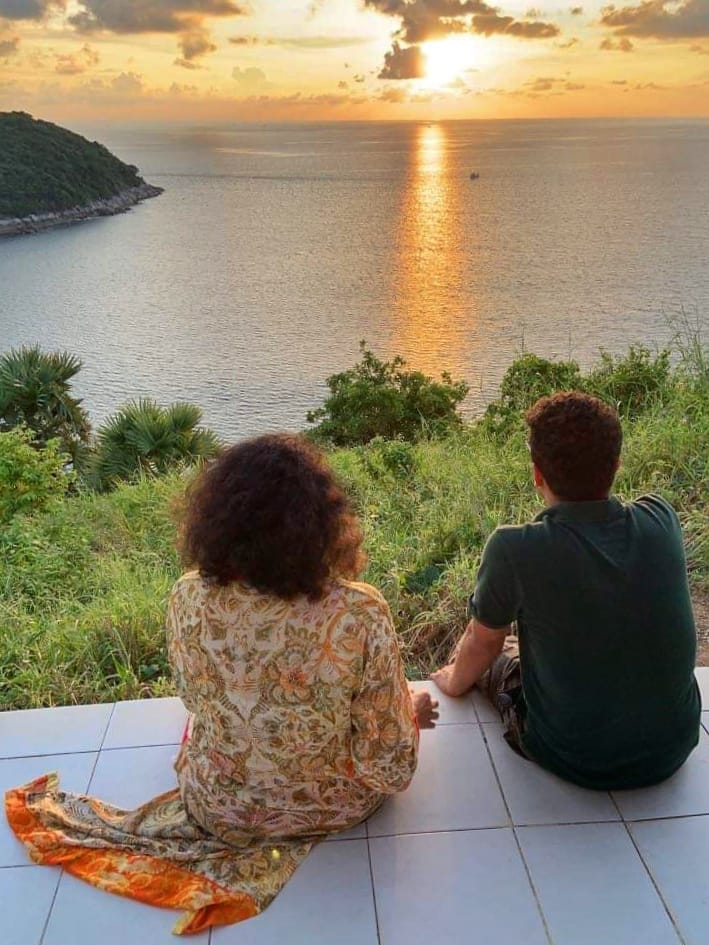 Day 3: Phuket to Phang Nga, Exploring the James Bond Island
The next day, we went to Phang Nga with local Thai friends I had made on my last trip to South Thailand. From Phang Nga we took a boat to James Bond island where Mom enjoyed exploring the caves.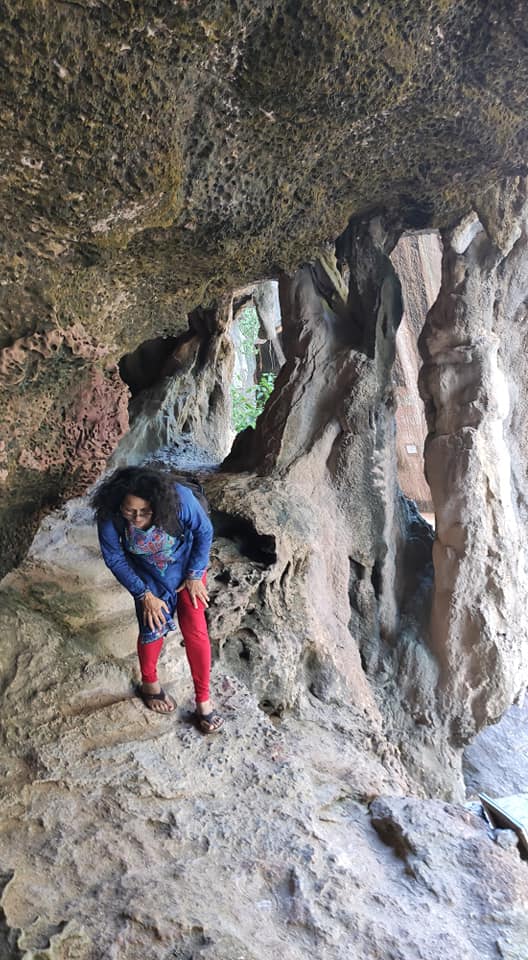 And of course, that mom lifting James Bond island with my Thai friend Lada. She loves these poses!
Day 4: Phang Nga to Trang, Vegetarian Festival in Trang
The next day, we reached Trang, a town in the province of the same name away from the tourist hotspots. It's further south of Krabi and can be reached within 2 hours ride/drive from Krabi.
There was a vegetarian festival, the Thai equivalent of Indian Navrati, in full-swing in Trang which we participated in!
Day 5: Trang to Ton Te Waterfall
We rode out a 20-year old motorbike to the Ton Te waterfall. Surprisingly, she was quite reliable and mom was also comfortable throughout the journey.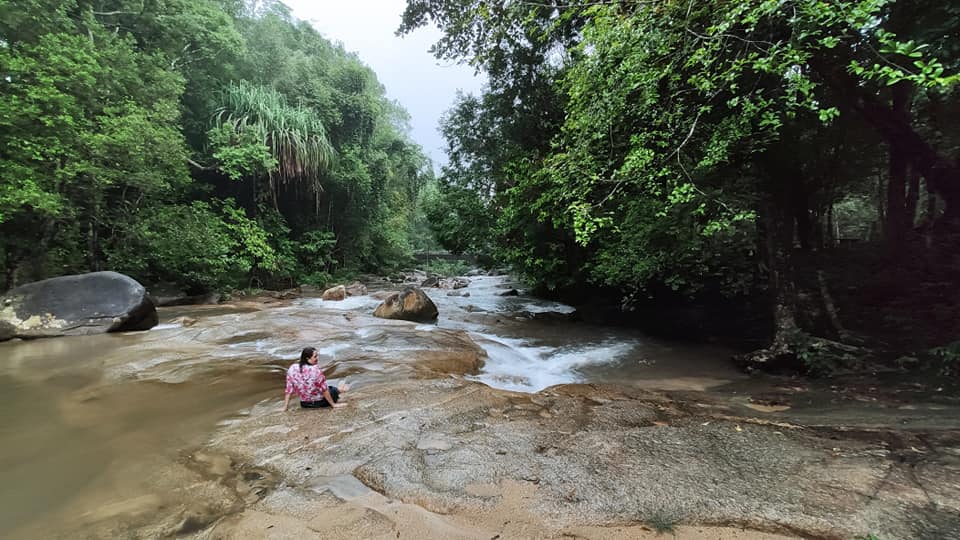 Day 6: Ton Te Waterfall to Yong Star Cape
From Ton Te waterfall, we rode to Yong Star Cape (also in Trang provide but a very hidden spot even for the locals). Yong Star cape is amazing for its lighthouse views, beautiful sunsets, and fresh seafood. The first day, mom wanted to climb the lighthouse and get some beautiful pictures 🙂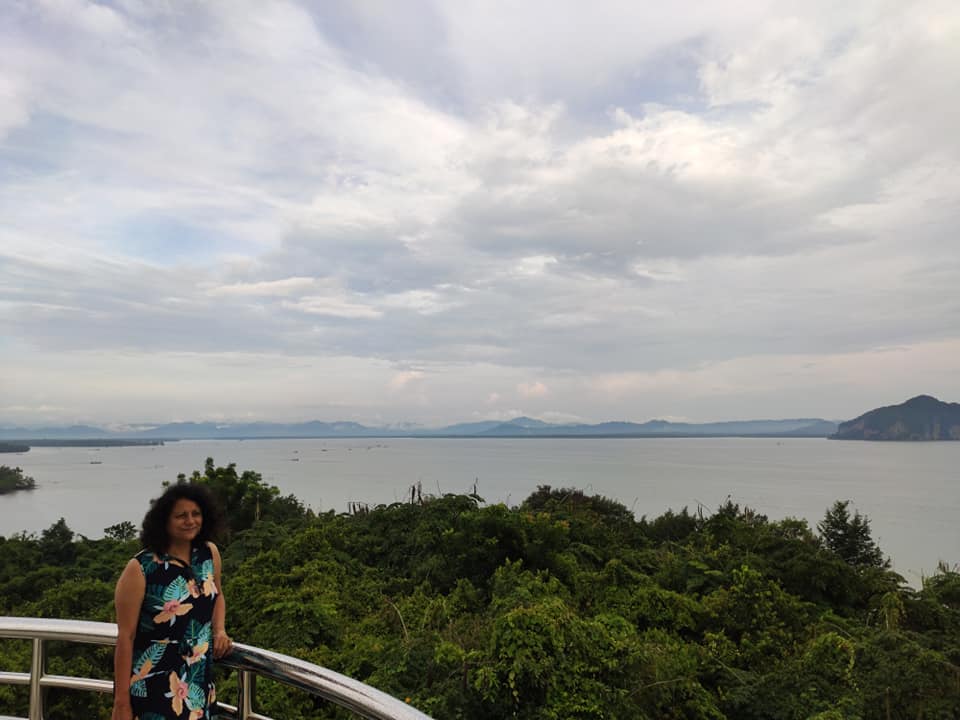 Day 7 & 8: Yong Star Cape Exploration
The next day, we decided to explore the beaches and food in the Yong Star cape and also witnessed the beautiful sunset. There were only 5 people there including us for the sunset!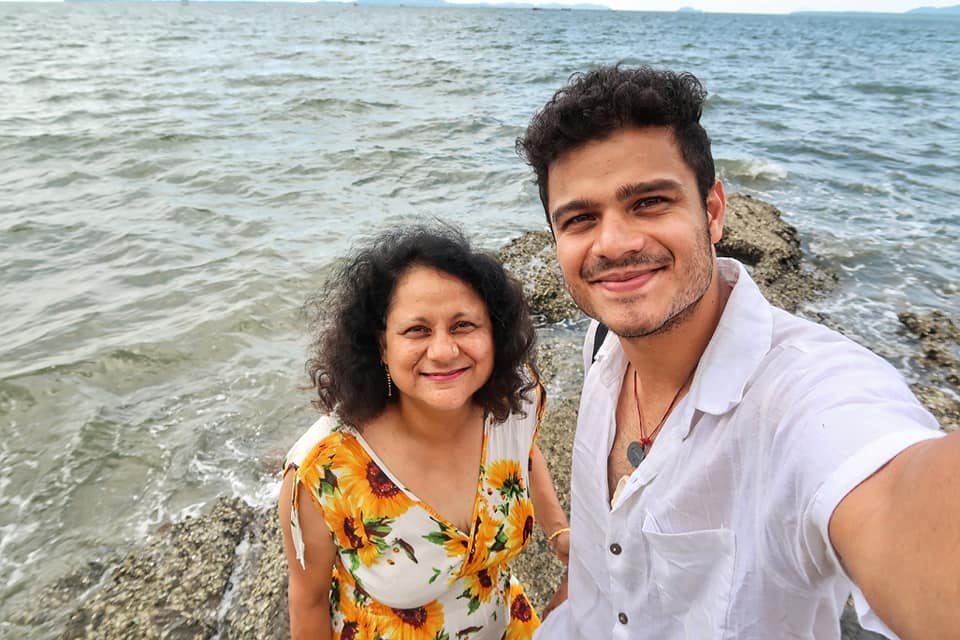 Day 9: Trang to Railay Beach, Krabi
The next day, we headed to Krabi from Yong Star Cape on our beautiful, rusty old bike.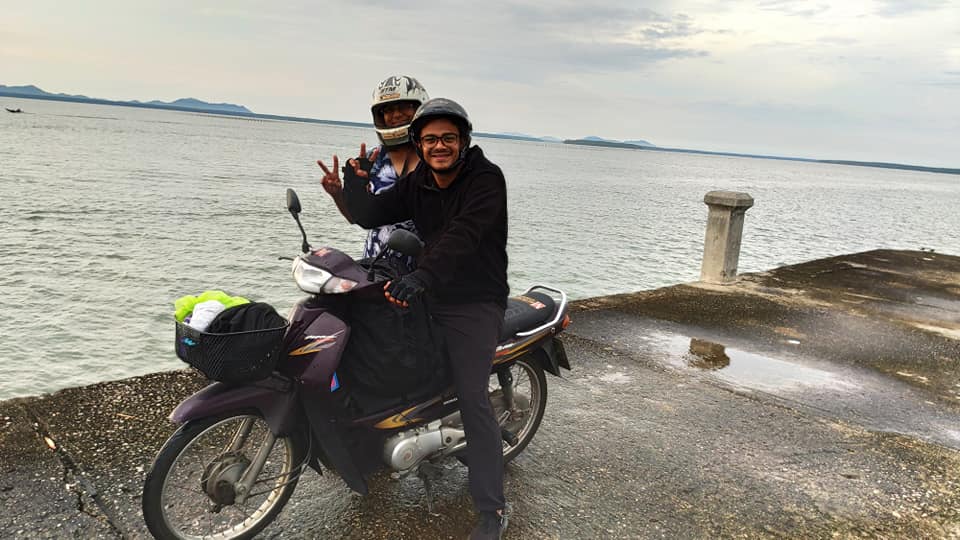 From Krabi, we were joined by our Thai friends and all 4 of us took a book together to Railay. Here's a picture of me and mom together at the Railay port (East side of Railay beach).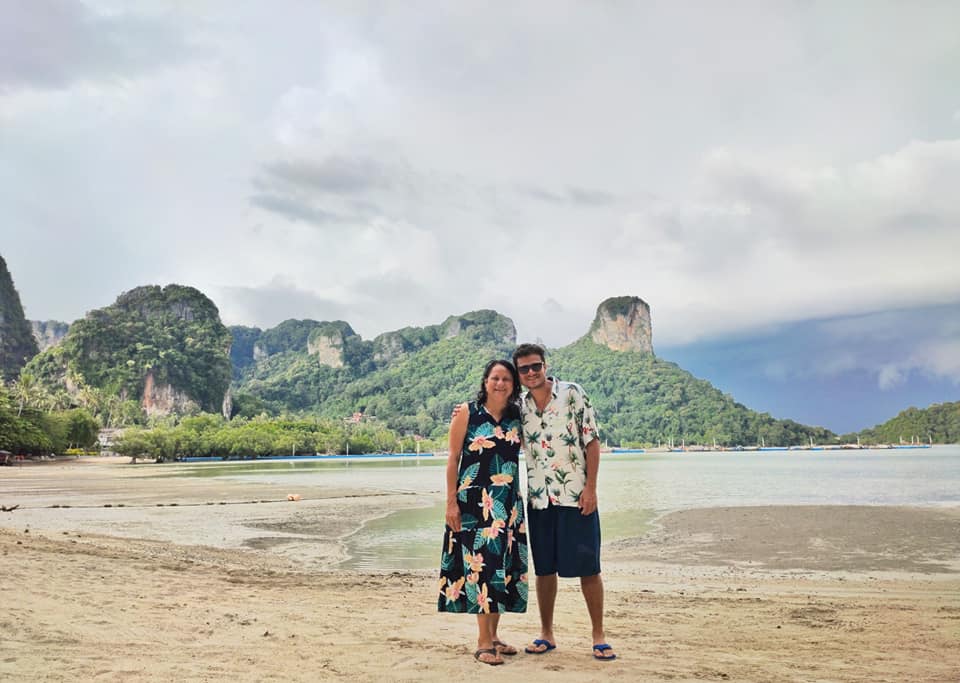 Day 10: Exploring Railay and Independent Kayaking
The next day, we explored the West side of Railay (the more beautiful side!) and also rented a Kayak to go Kayaking independently. This was the first time mom went kayaking without a kayak or guide. She was a little hesitant at first but I pushed her a little and later she even jumped in the sea for snorkeling after more than a kilometer into the sea! This was a proud moment for me 🙂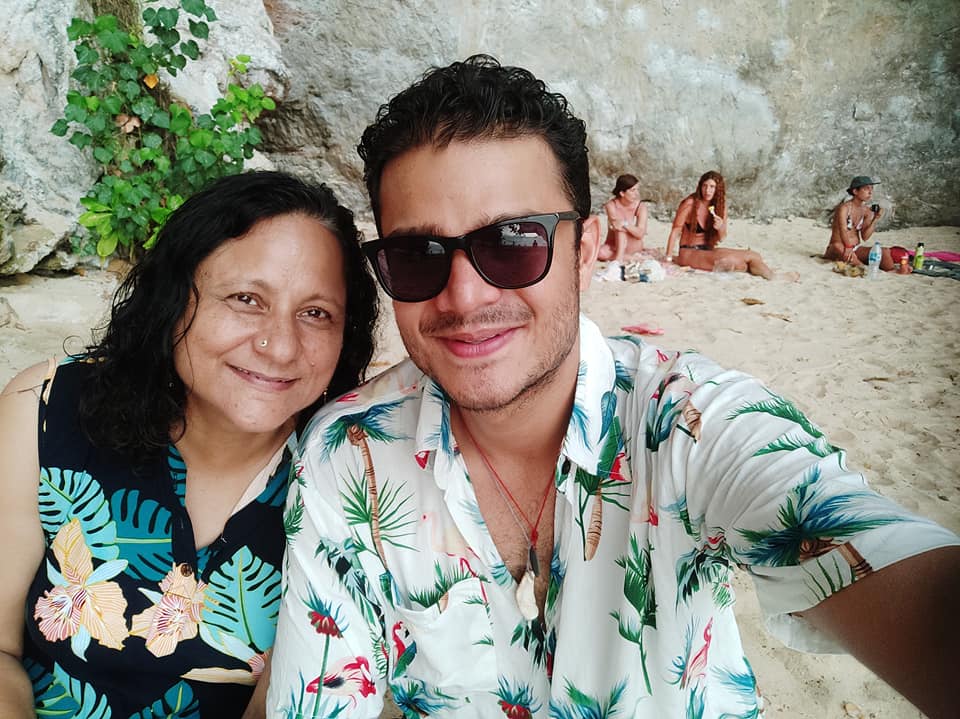 On day 11, mom flew back from Phuket airport to Delhi.
This was one of the most amazing experiences of our time together and I wish all of you reading this will also take your mom for an adventure.
The happiness on my mom's face was priceless and I clearly remember how good she felt after the cave exploration and the feeling of victory.
Thanks for reading and do share your comments below and let me know if you've gone on adventure trips with your mom and how it was like!
You can also see all my offbeat travel itineraries here.