This is the ultimate guide of everything I learned about life and travel in Vietnam.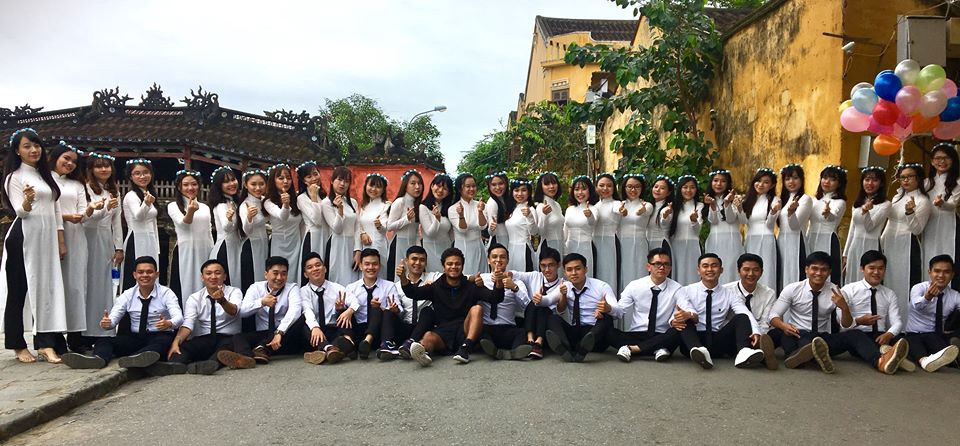 PART 1: VIETNAM TRAVEL
Vietnam is an easy country to navigate. You can either start from the South and work your way up to the North or the other way round. I prefer starting from the North.
If you're going to do multiple trips to Vietnam, break your trip into 3: North, Central and South, and spend atleast one month each. This is the ideal way to explore the country. However, most travelers with a shorter time duration can still enjoy Vietnam in a month from North to South. Anything shorter than that will be fast travel limited to sightseeing or just getting to know one side of the country. You'll need more time to get deep experiences.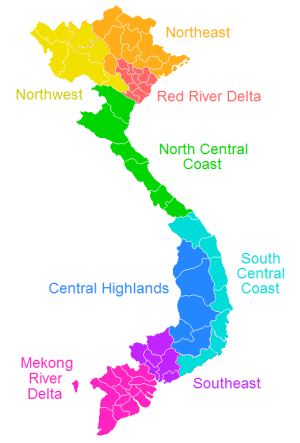 Note the actual geography of Vietnam is described in the chart.
However, for convenience and travel planning, we'll simplify it to just 3 regions i.e. North, Central, and South and define it as follows:
North Vietnam – Imagine Hanoi as the center
Central Vietnam – Imagine Da Nang as the center
South Vietnam – Imagine Saigon as the center
Basically, if you split the country into 3 equal parts, they would fall under these 3 areas.
I'll mention all the alternative and offbeat places you should visit as I love traveling offbeat and try to stay away from big cities and tourist spots.
To challenge myself and to keep this guide relevant, I'm going to my top 5 picks in either region. Here we go:
1.1. North Vietnam
If you're starting from the North, you're probably going to land in Hanoi. I suggest you explore the following the North: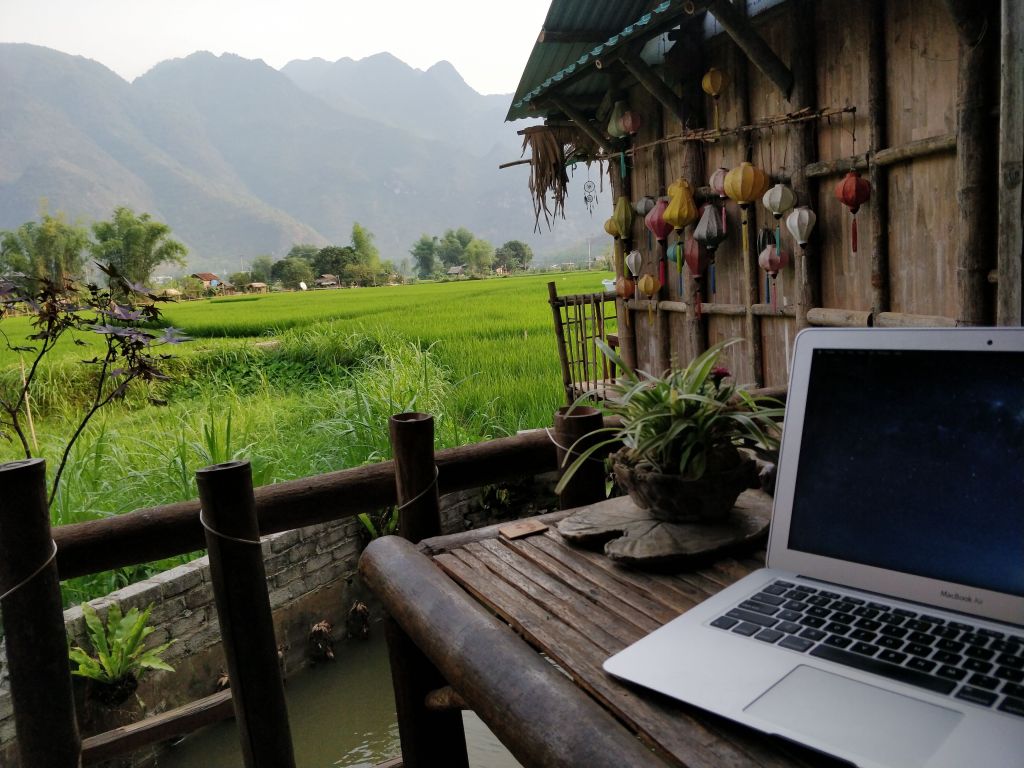 My Top 5 Recommendations in North Vietnam:
Mai Chau

(Relax in the green fields, small hills around, local homestay culture, small tribal markets)

Moc Chau (Sapa alternative, beautiful hills with plantations, local life, trekking opportunities)
Trang An, Ninh Binh (Tam Coc alternative, stay in Trang An and go for the boat ride in Trang An instead of Tam Coc. You can cycle around Tam Coc area to see the boats if you wish, visit Hang Mua cave)
Cat Ba Island and cruise (Ha Long alternative, similar views like Ha Long bay but without the crowd and garbage, much higher value for money)
Phong Nha (for the cave experience, camping in the cave is the real deal)
As you see, I recommend Cat Ba over Ha Long, Moc Chau over Sapa, and Trang An over Tam Coc. If you're a typical tourist, you might want to switch these and go for the more popular choices which are usually more crowded and lack the real vibe.
Recommended stays in North Vietnam:
1.2. Central Vietnam
If you're landing in Da Nang or any of the areas around it, this is the perfect itinerary for you. If you're coming from the North or South, use this to explore Central Vietnam.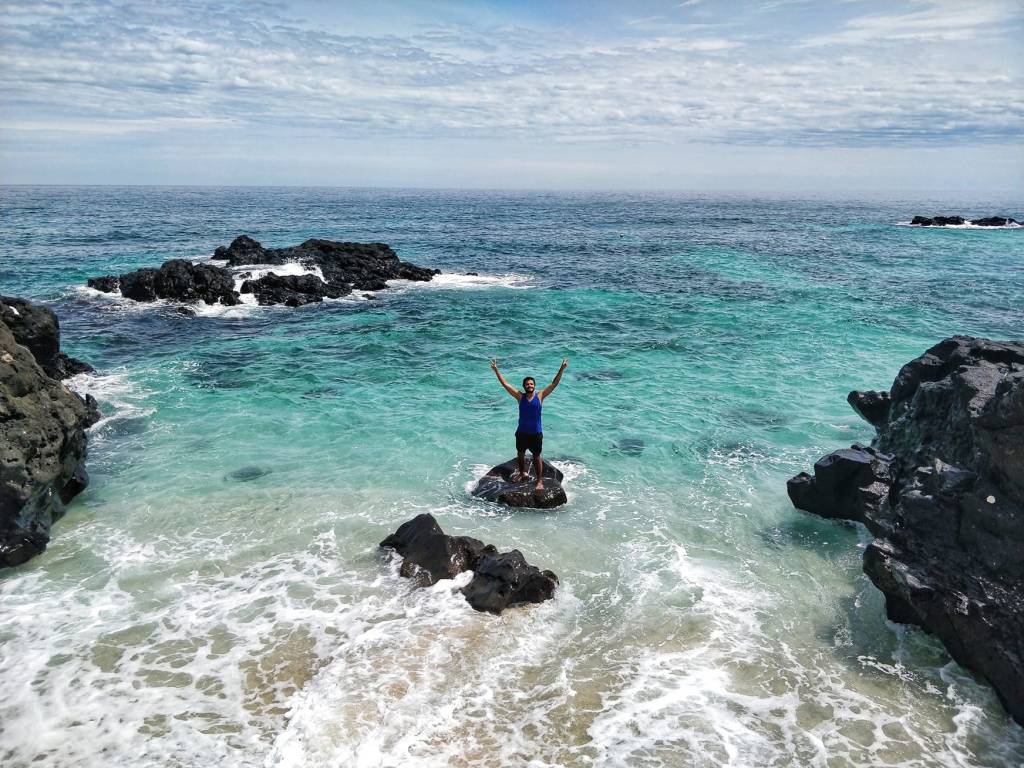 My Top 5 Recommendations in Central Vietnam:
Hai Van Pass (This is one of the most beautiful drives in Vietnam, to be done on the motorbike, you can hire bike drivers if you wish, You can drive from Da Nang to Lang Co and Chan May Bay)
Chan May Bay (Beautiful bay with crystal clear water, enjoy seafood at local prices, visit the point where the river meets the sea and watch the sunset over the small hill there, homestays and local hotels available)
Hoi An (even though touristy, this is hands down, the best place in Vietnam. You can enjoy local life soon as you get outside the ancient town and the ancient town is a beauty in itself, I've spent a lot of time here)
Dao Ly Son or Ly Son Island (this is an offbeat island you can get to with a short boat ride from Quang Ngai city. If you feel adventurous, take the next boat to Dao Be, which is a smaller island near Ly Son (considered as part of Ly Son)
Qui Nhon (I rate this as one of the top places to retire in Vietnam – much higher than Da Nang – with excellent quality of life, clean roads, parks and streets, beautiful long coast, cheap and local prices, untouched by tourism, also home to one of the most beautiful hidden beaches of Vietnam)
Hue is completely optional unless you have a thing for imperial palaces. Da Nang is a great city to live in or for traveling, spend a day or 2 if you have the time. Makes a great second home to digital nomads, South Koreans and the Chinese. Definitely a good option to retire but doesn't make it to my top 5. However, If I'd get sick in Hoi An, I'd surely head to Da Nang for the medical facilities.
Recommended stays in Central Vietnam:
1.3. South Vietnam
If you're landing in Ho Chi Minh city of heading south from central Vietnam, this is the guide for you. I'm listing my top recommendations for South Vietnam below.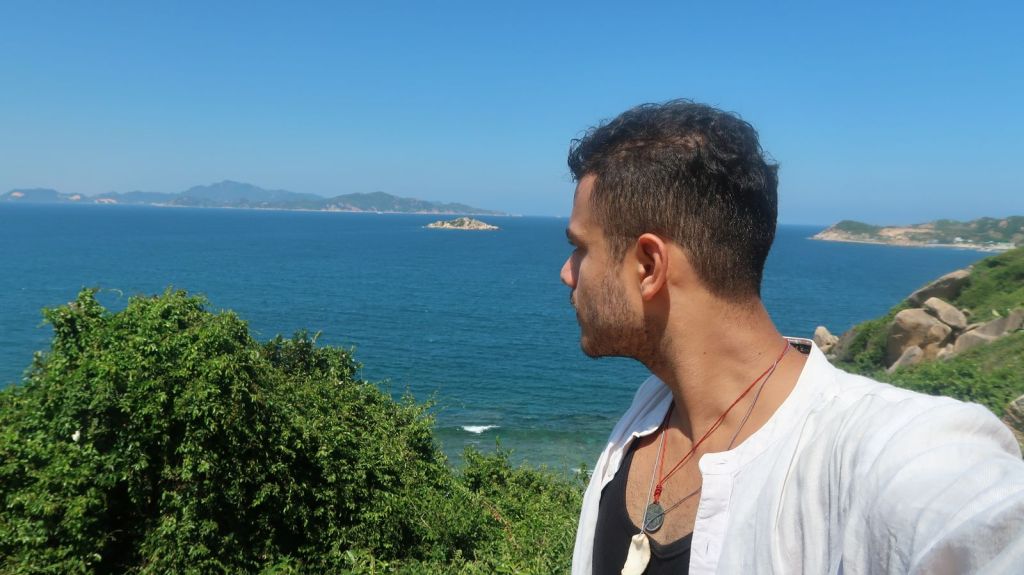 My Top 5 Recommendations in South Vietnam:
Vung Tau (take a bus from Saigon directly to Vung Tau, enjoy the seafood and a bike ride along the beach on the Halong 66 which outlines the coast)
Phan Rang (beautiful ancient city with a lot of history, a beautiful coastline, and some of the most well-designed Airbnbs in Vietnam)
Ben Tre (Can Tho alternative, just 1.5 hours drive from Saigon with direct buses running throughout the day, stay there and cycle around the coconut villages, a great place to relax and explore the local culture)
Phu Quoc (home to some of the most beautiful beaches in Vietnam, tourist destination but long coastline so there's something for everyone, interesting history with Cambodia)
Phan Thiet (less-visited coastal area with the beautiful and more popular Mui Ne alongside)
Da Lat is not my favorite but you can add it to your list. Most Vietnamese love Da Lat as it's their easy and close hills getaway. Tourists will enjoy the facilities there. However, the above 5 recommendations will give you a more local feel of Vietnam. You can also skip Nha Trang if you've been to Da Nang. You should not skip it if you're either Russian or Chinese! Just kidding – there is something for everyone.
Recommended stays in South Vietnam:
PART 2: VIETNAMESE LANGUAGE
When you hear Vietnamese the first time, it'll blow your mind. You'll feel you can never learn this language. But it's actually much easier than you think. I'm not an expert level Vietnamese speaker but I can have the most essential and some additional conversations with locals all over Vietnam. I can also read Vietnamese text messages, understand and reply to them.
Here's why Vietnamese is easier than you think:
No Genders: Vietnamese has no concept of "masculine" or "feminine" words
No articles "a" and "the": It's usually obvious from the context which one you mean.
No Plurals: In Vietnamese, everything is like a sheep. chó" is "dog" or "dogs", "bàn" is "table" or "tables", and so on.
No Confusing Verb Endings: Unlike Spanish or English, Vietnamese is a completely non-inflective language — no word ever changes its form in any context.
Very Easy Tenses: Just take the original verb and stick one of 5 pre-defined words in front of it to define the tense.
Latin Alphabet: All you have to do is learn a bunch of accent marks (technically "diacritics"), which are mostly used to denote tone, and you'll be reading Vietnamese in no time.
Highly Consistent Spellings: Unlike English, In Vietnamese, the same letter is always pronounced the same way no matter what the word or context.
Almost No Grammar: Most of the time, you can just say the minimum amount of words needed to get your point across and the result is grammatically correct.
Logical Vocab (Unlike English): Xe ôm, the motorbike taxi translates literally as "hug vehicle". Vietnamese vocabulary is formed by just combining two words in a logical manner.
The most difficult part of learning Vietnamese is getting the tones right. Being a tonal language, the meaning of the word changes with the tone you use to say it. Vietnamese has 6 tones.
Vietnamese Tones
The 6 tones to master to really speak Vietnamese are as follows:
la – ngang – high flat tone
là – huyền – low down tone
lá – sắc – high up tone
lạ – nặng – short low tone
lả – hỏi – question tone
lã – ngã – down>break>up tone
Vietnamese Tenses
You just need 5 keywords to master tenses:
đã = past
mới = recent past
đang = now
sắp = soon (near future)
sẽ = future
Let's use these to make basic sentences:
Tôi ăn cơm – I eat rice
Tôi đã ăn cơm – I ate rice
Tôi mới ăn cơm – I just ate rice
Tôi đang ăn cơm – I am eating rice
Tôi sắp ăn cơm – I am about to eat rice
Tôi sẽ ăn cơm – I will eat rice
Tôi uống trà – I drink tea
Tôi đã uống trà – I drank tea
Tôi mới uống trà – I just drank tea
Tôi đang uống trà – I am drinking tea
Tôi sắp uống trà – I am about to drink tea
Tôi sẽ uống trà – I will drink tea
Now you know how to eat and drink in Vietnamese 🙂 You can continue making sentences with the following verbs:
eat – ăn
drink – uống
go – đi
watch – xem
listen – nghe
say – nói
read – đọc
write – viết
work – làm việc
call – gọi
sleep – ngủ
wake up – ngủ dậy
understand – hiểu
think – suy nghĩ
know – biết
ask – hỏi
help – giúp
play – chỏi
sit – ngồi
walk – đi bộ
pay – trả
learn – học
teach – dạy
buy – mua
sell – bán
sing – hát
exercise – tập thế dục
have – có
take – lấy
drive – lái xe
While living and traveling in Vietnam countryside, the most common questions I was asked were:
What is your name? Anh / Em tên là gì?
How old are you? Bạn bao nhiêu tuôi?
Where are you from? Em đến từ đâu?
Are you married yet? Anh lấy vợ chưa?
Would you like a Vietnamese wife? Anh thích vợ Việt Nam?
Do you live in Vietnam? Bạn có sống ở Việt Nam không?
Do you work in Vietnam? Anh làm việc ở Việt Nam à?
How long have you been in Vietnam? Mày ở Việt Nam bao lâư?
Do you like Vietnam? Em thích Việt Nam không?
How long did you learn Vietnamese for? Bạn học Tiếng Việt trong bao lâư?
What is your work? Bạn làm nghề gì? / Công việc của anh là gì?
Do you travel alone? / Mày du lịch một mình à?
PART 3: VIETNAMESE NEW YEAR
The Vietnamese new year or the lunar new year is the most important festival of Vietnam when everyone goes to their hometown for a long celebration, meeting family, cooking and eating meals together and a few very special ways to celebrate which I'll explain below.
But first, let's understand the basics of the lunar new year:
THE 12-YEAR CYCLE –
Every lunar year is associated with one of 12 animals. For example, 2019 was the year of the pig so you can easily find the other pig years by subtracting 12 from 2019 and so on. So the past years of the pig are 2019, 2007, 1983, 1971, 1959, 1947. The 12 animals are the same as the 12 animals of the Chinese horoscope.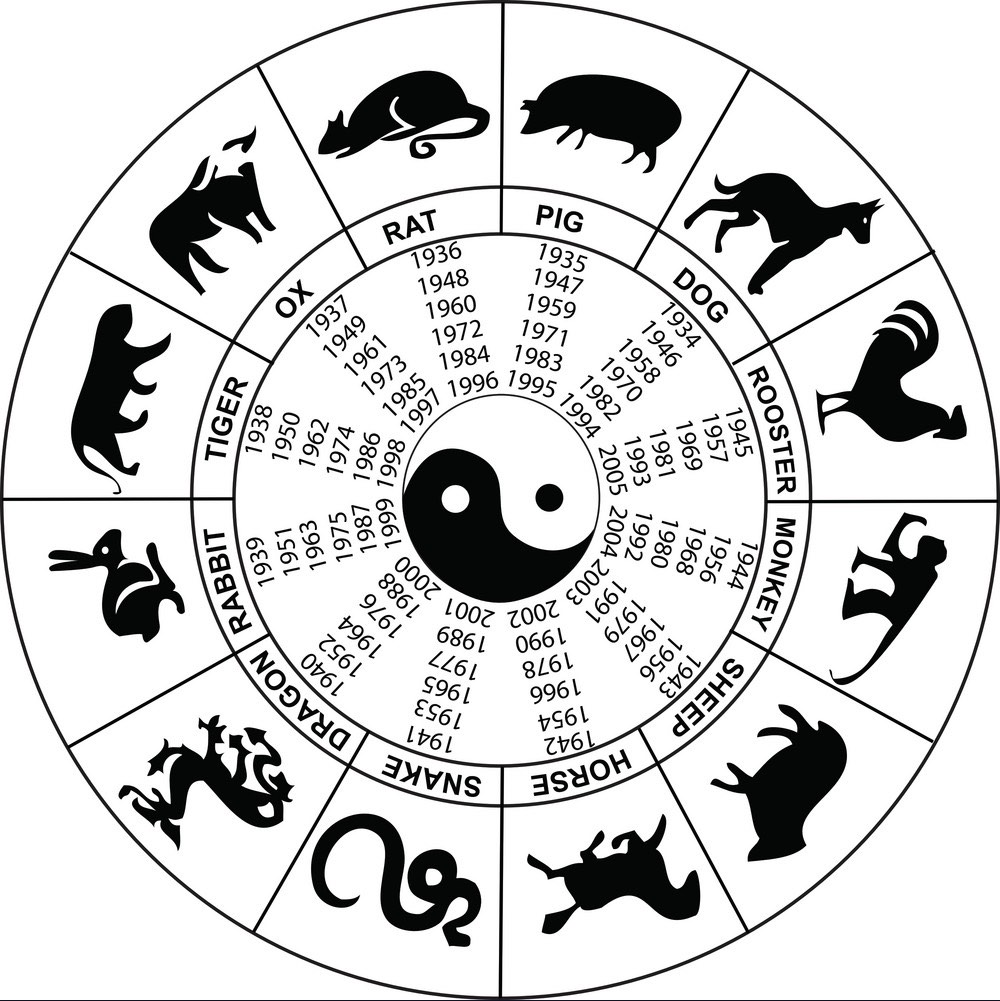 THE FIVE ELEMENTS –
The Five elements in Vietnamese are: mộc — woodhoả — firethổ — earthkim — metalthuỷ — water
THE 60-YEAR CYCLE –
When the zodiac animal is combined with the 5 elements, the cycle repeats after 60 years. For example, 2019 is the year of the pig and earth. So the last year of the pig + earth combination was 1959 and the next would be 2079.
So the other pig years with the combination of their zodiac animal and elements would be as follows:
1935 – lợn, mộc (pig, wood)1947 – lợn, hoả (pig, fire)1959 – lợn, thổ (pig, earth)1971 – lợn, kim (pig, metal)1983 – lợn, thuỷ (pig, water)1995 – lợn, mộc (pig, wood)2007 – lợn, hoả (pig, fire)2019 – lợn, thổ (pig, earth)2031 – lợn, kim (pig, metal).
List of ceremonies in the Vietnamese New Year Celebrations:
ÔNG TÁO – On this day, we have a small ceremony of sending Mr. Tao to heaven on carp fish.
FLOWER MARKET – See and buy the lucky flowers of Tet. Hoa Đào (peach blossom) is iconic of North Vietnam and Apricot Blossom (Hoa Mai) is popular in South Vietnam as the lucky plants for Tet. The Kumquat tree (or Cây Quất) is another common sight during Tet.
END OF YEAR PARTIES – Almost everyone leaves the cities and their 'workplaces' for their hometowns a few days before Tet. There are year-end parties in all offices, organizations, and families and as Tet comes closer, it becomes a more homely, private family affair with visits to close relatives.
COOKING BÁNH CHƯNG & BÁNH TÉT – It's made with glutinous rice, mung beans, pork and onions.
FAMILY MEETINGS & FIREWORKS – The last day of the year was filled with family time and a lot of food and sleep at home. Toward the end of the day, cook Bánh Trôi Nước to offer prayers to the sky and the earth, just before the Fireworks to welcome the new year start.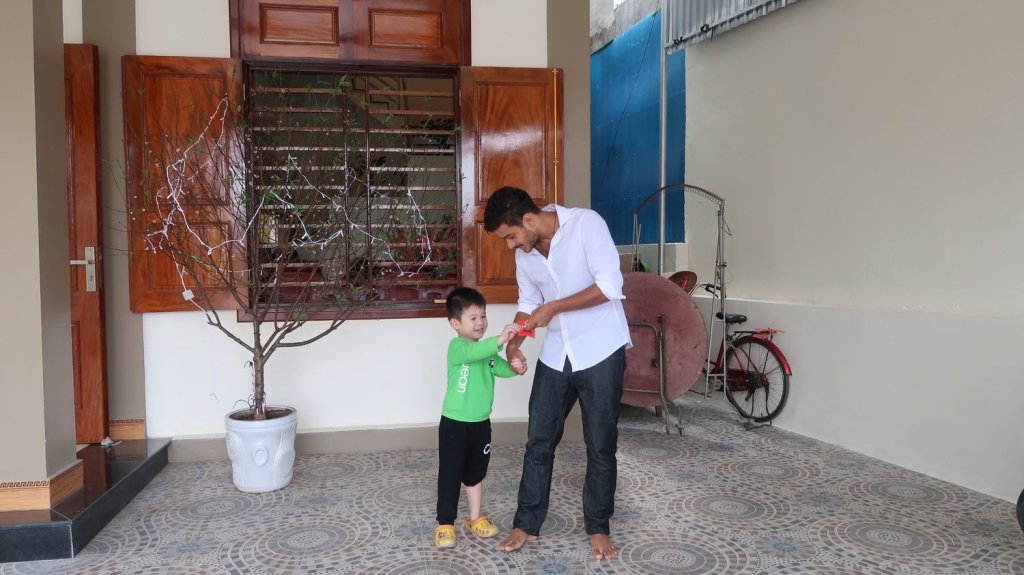 I've celebrated the new year Tet festival in Vietnamese twice and truly had a great time!
To read my complete Tet Experience in Vietnam, follow this link.
PART 4: VIETNAMESE CUISINE
Vietnamese Cuisine is exclusive and unique. There are elements from Indo-Chinese concepts like the representation of the 5 elements and colors in food, as well as common recipes, but you'll easily be able to differentiate Vietnamese cooking from any of its neighbors.
Every province in Vietnam has it's own specialties. I won't get into details of the local favorites of each province in this article. Instead, I will share with you what I eat the most.
Since I'm a pescetarian and Vietnam runs heavily on land animal meat, you may not find this information to cover a lot of the famous dishes in Vietnam.
For that, I recommend this article on Vietnamese food by CNN Travel.
If you're vegan or vegetarian, please follow this guide to the Vietnamese cuisine.
I personally follow a Pescetarian eating style and the Vietnam's coast fits my nutritional sources' requirements quite well.
I'll list the details of my eating plan and the Vietnamese versions of the same.
First, let's start with carbohydrates.
Carbs should make up around 25% of your plate and these are some of the carbs I prefer. I don't usually eat Bánh mì as it's not easy to limit carb intake to 25% if you have a big loaf of bread as your base.
My favorite carbs are:
Potatoes – khoai tây
Sweet Potatoes – khoai lang
Rice – cơm
Rice Noodles – bún
Glass Noodles – miến
I usually prefer carbs like potatoes and sweet potatoes over grain-based carbs but it's not a big deal to exchange any of the above carbs keeping in mind availability while traveling – though these are all common everywhere.
The difference between bún and miến is that bun is made of rice and mien is made of starch (it could be mung bean starch/ potato starch/ sweet potato starch or tapioca starch).
There are other carbs in Vietnam like bread and many other kinds of noodles (including the famous phở) but I prefer to stick to the above top 5 list of carbs.
Next, let's talk about proteins.
Protein should make up 25% of your plate, just like carbs. I try to get around 30 grams of protein per meal which gets me 120 grams of protein in a day (that is my daily requirement) with 3 meals + 1 protein shake.
My favorite proteins are:
Salmon – cá hồi (not a local)
Silver pomfret – cá chim
Shrimp – tôm
Egg – trứng
Tofu – đậu hũ
Those are my top 5 protein preferences and all of them are easy to find in Vietnam. Salmon is not really a very popular local produce but has enough consumption to fuel availability.
Basa and snapper are also common fish in Vietnam but they're not my favorite. I do remember eating a lot of red snappers in South Thailand as it was quite special for me there.
You should also try BBQ seafood with local families Vietnamese style. It's one of the best experiences with fun conversations and lots of fresh seafood.
So we have 50% of the plate covered with 25% carbs and 25% proteins. It's not time to fill the rest of the 50% plate with vegetables.
And yes, I already counted potatoes and sweet potatoes as carbs and not vegetables. The vegetables that are allowed to make a majority of this 50% share are green leafy vegetables. And that's something Vietnam has no shortage of!
Here are my top picks:
Malabar spinach – rau mồng tơi (rau = vegetable)
Morning glory – rau muống
Mustard greens – cải xanh
Bok choy – cải thìa
Sweet potato greens – rau lang
The stir-fried vegetable with garlic recipe works with all a lot of green leafy vegetables. You can check out the recipe here:
Cost of cooking in Vietnam:
Here are some prices of the foods listed above to give you an idea of how much it may cost to buy and cook for yourself in Vietnam.
Malabar Spinach or rau mồng tơi will cost you around 25000 VND / kg in the local market, 30000 VND / kg in Bách hóa Xanh, and 35000 VND / kg in Vinmart.
Eggs will not cost you most than 30000 VND for a box of 10 eggs in any place.
Potatoes will cost you around 35000 VND / kg while sweet potatoes would be cheaper at around 25000 VND / kg
Salmon (fillet) would be around 250000 VND / kg in a mart like Bách hóa Xanh and around 400000 VND / kg at Vinmart. So you can get a quarter-kilo filet at any place unless 100k VND.
It would usually cost you the same eating a meal outside vs cooking a meal yourself but if you repeat this over a long term, cooking yourself will be more cost effective as well as healthy as you can control the oils and cooking style, etc.
That being said, it is quite common for the Vietnamese to eat out and you should do it too when you want to explore the cuisine!