5 smart reasons to join #TwitterSmarter with Madalyn Sklar
As a digital marketer, Twitter chats should surely be one of the items on your Twitter strategy. Twitter chats are like group discussions around a specific topic, represented by a chat-specific hashtag. They make great tools for engagement, allow you to get a lot of exposure beyond your following, you get to share your expertise, represent your brand, and learn from other experts.
#TwitterSmarter is a Twitter chat about Twitter marketing – what could be better than that? The chat is hosted by Madalyn Sklar, who is an early adopter of all things web and tech. Madalyn started the #TwitterSmarter chat on Twitter based on the popularity of her podcast by the same name.
When you do something like that, you get the people talking about it without having to ask them to do so. Quite obviously, I love the #TwitterSmarter chat so very much that I decided to write about it on my blog here and invite my readers and fellow marketers to join. Here are my top reasons you should not miss #TwitterSmarter –
#1 – Madalyn Sklar Herself.
She is the number 1 reason to join the chat. She brings with her an amazing amount of experience and expertise giving you all the reasons to learn from her.
Madalyn listens and engages with the participants, and she does that really well. She's pretty good at multitasking when it comes to managing a Twitter chat, responding to incoming tweets, monitoring DMs and making sure everyone's queries are addressed.
Find her at @MadalynSklar.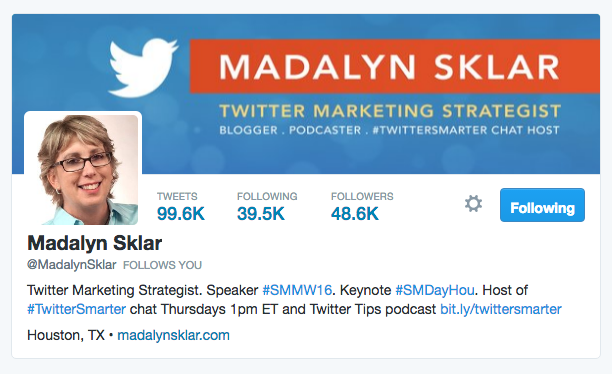 #2 – The Twitter Pros Community And The Guests
The participants on #TwitterSmarter range from digital agency owners like myself to Twitter marketers, entrepreneurs, and biz owners – and there's a great deal to learn from each one of them.
Madalyn has guests on the chat who have a great deal of experience themselves.
Check out some of the people whom you can interact with via #TwitterSmarter
https://twitter.com/MikeKawula
https://twitter.com/alphabetsuccess 
#3 – Breaking The Bubble Of Old Solutions and Resources
We all have the tendencies to get stuck in a bubble every now and then. Then we start recycling the same solutions for every problem that appears before us. When our minds go into that loop, we can't even find something different in Google search results because we'll be using the same or similar keywords, or maybe even Google won't have indexed something new, next-big-thing kind of info in the search results just yet.
#TwitterSmarter Recap: Twitter Strategies To Improve Engagement with @DCuevasIM https://t.co/bQPo1gPYPl pic.twitter.com/hqbrQJd1x0

— Madalyn Sklar (@MadalynSklar) May 14, 2016

With #TwitterSmarter chats, you get an opportunity to exchange ideas with some of the best minds in digital marketing, helping you expand your horizons. There are so many different people from different parts of the world, someone might have used a tool or a trick that you may not have heard of. Even the tiniest of info grabbed from the chat can make a whole lot of difference in your everyday work.

#4 – The Topics
Madalyn's chat focuses on Twitter marketing and explores very specific topics in depth rather than talking about all things in general.Here are some of the previous topics from #TwitterSmarter –
Using Twitter to amplify yourself and find clients
#TwitterSmarter chat stats via @oneQube: 1715 tweets from 292 profiles, 5.9 million reach, 19.8 million impressions. pic.twitter.com/ajs0AFMT7R

— Madalyn Sklar (@MadalynSklar) April 23, 2016
Twitter Mistakes to Avoid
Twitter Mistakes to Avoid with @NealSchaffer https://t.co/U5u3QMAcH1 #TwitterSmarter pic.twitter.com/qiXHc3TxcX

— Madaly Sklar (@MadalynSklar) April 23, 2016
Twitter Automation: The Do's & Dont's
Twitter Automation: The Do's & Dont's with Tim Fargo @alphabetsuccess https://t.co/OQHVd2Vm4I #TwitterSmarter pic.twitter.com/XaVjC0TlXN

— Madalyn Sklar (@MadalynSklar) April 22, 2016
#5 – Organised Participation
Everyone follows the house rules! I've seen many Twitter chats going INSANE with tweets coming in from all directions going nowhere.
Madalyn's house rules work well in delivering actual value via the #TwitterSmarter chat. Want to know what they are? Here you go: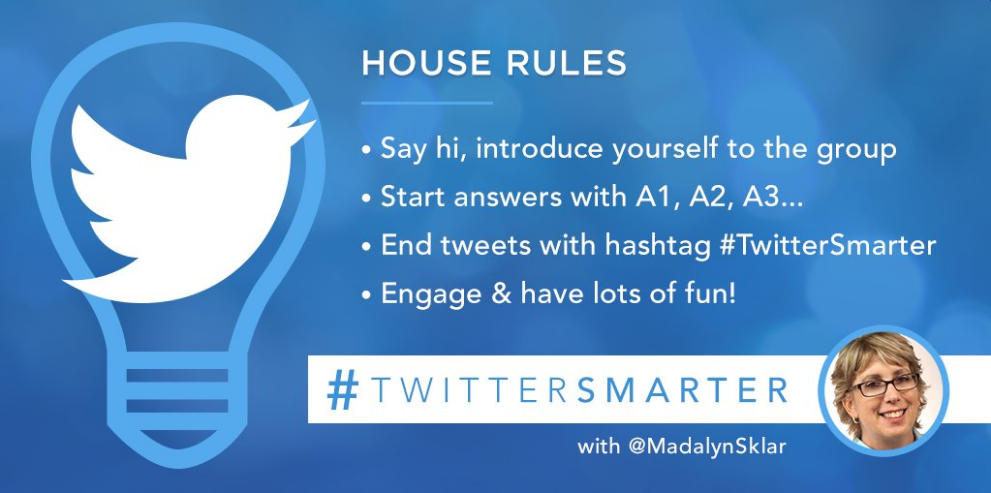 There are many more reasons to join in on this Twitter chat with Madalyn, but I believe we have you convinced already. So don't think, join @MadalynSklar on her weekly #TwitterSmarter chat every Thursday at 1PM ET/10am PT and learn a few more things about using Twitter to your advantage. You can also catch her podcasts with some of the leading digital marketers on her blog. Happy Twitter, y'all.