All about Social media Triple-Peak Effect:
This is a guest post by our MD, Rishabh Dev, originally published on Influence&Co.
Startups are exciting places to work. Founders and their teams wear many hats — leader, marketer, developer, social media manager, content creator, office assistant, and everything in between. And in doing so, they learn to maximize every little resource at their disposal in order to grow.
In 2010, Sean Ellis termed this aggressive quest for success "growth hacking," or using data to assist a startup in its hunt for business growth. But for growth hacking to affect your business as a whole, it has to be applied to several individual tactics — including social media marketing.
Social media platforms provide all kinds of data to help you increase audience engagement, improve your marketing output, and make the most of your resources. And with new social media platforms emerging nearly every day, new opportunities for growth are presenting themselves every day, too.
Effective growth hacking in this fast-paced environment requires the right balance of attention and creativity. And understanding the triple-peak effect allows you to achieve exactly that.
What Is the Triple-Peak Effect?
Similar to the technology adoption curve, the triple-peak effect can give marketers insight into the phases of a social media channel's acceptability and use. The triple-peak effect allows you to identify the natural phases of a new social platform's adoption and evolution.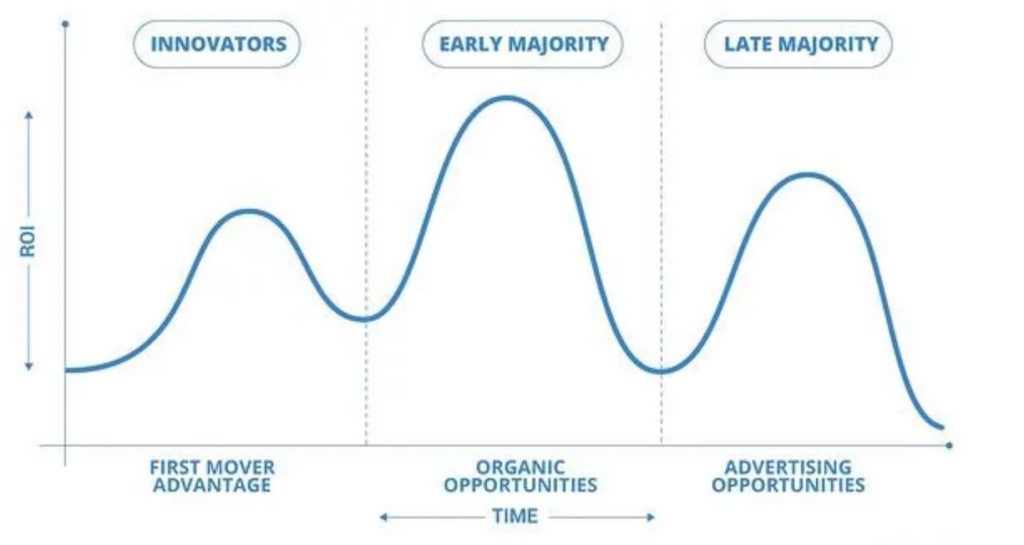 Understanding these phases helps you adjust your social media marketing efforts accordingly to maximize your reach. Now, let's examine each of the three peaks and what they mean for improved growth hacking:
1. The first-mover advantage:
Remember "The Art of War"? Two thousand years ago, Sun Tzu described the advantage of the first mover: "Whoever is first in the field and awaits the coming of the enemy will be fresh for the fight; whoever is second in the field and has to hasten to battle will arrive exhausted."
In social media, the first company to effectively take advantage of a new platform to build an engaged audience has the first-mover advantage.
At this stage, when the channel is new, your audience's interest is at its peak. Facebook, Twitter, Instagram — all your favorite platforms have been through this stage. And while it may be nearing the start of the next, Snapchat remains in this first stage for now.
Snapchat's "new media evolution" cements it as a powerful social media platform. And with more than 110 million daily active users, its audience interest is clearly very high. Marketers who move early to utilize the platform, create content for it, and build an engaged audience of interested users will see this first-mover advantage play out as the platform matures. And those who drag their feet on testing this tool will miss their chance at the advantages of early movers.
2. The organic advantage:
Now, where Tzu advises we move first, he also says a victorious warrior wins first and then goes to war. By attracting an engaged audience in the first peak, you can prepare for the organic advantage and continue to grow in the second.
At this stage, when the platform is tested and liked by the audience, users flock to it in larger numbers. Instagram is a perfect example. Just four years after its launch, it reported more than 300 million users.It was growing in popularity and effectiveness as a platform. And brands were exploring the possibility of capitalizing on it to connect with their audiences, even before platform updates made it easier for marketers.
National Geographic broke through the reservation many established brands feel in embracing a growing platform and launched the @natgeo Instagram account. With contributors all around the world sharing photos, National Geographic has developed a process for creating truly captivating content. And by taking advantage of the organic opportunities that come with utilizing a platform entering the second peak to share that high-quality content, National Geographic has earned more than 56 million followers.
See Also: 10 Powerful Growth Hacks to Boost Content Marketing [Infographic]
3. The advertising advantage:
Tzu doesn't say much about advertising. But he does say something about influencing your enemy with tactics. While equating competitors with the enemy may not be entirely fair, the idea of influencing them with tactics seems all right in the context of the third peak. This means that brands must flex their financial muscles to get their audiences' attention when the platforms they're using are in this phase. Facebook is a great example of one such platform.
To get the same level of attention from users on Facebook that they may have gotten organically a few years ago, companies now have to dig deeper into their pockets to buy advertising that gets their audiences' attention. Getting (and keeping) this attention is easier when you've built an audience using the organic advantage in phase two, but algorithm changes often make it harder for brands to continue relying only on organic reach.
Thankfully, now that the platform is in the third phase, its advertising options are relatively advanced, and its analytics features help marketers better target their efforts; still, attention is harder to attract once the platform isn't as new or exciting anymore.
But the wise always rule, as Tzu says. So if your company has leveraged the first and second peaks wisely to build an audience organically first, the third peak should not be as troublesome for you to conquer.
For marketers using social media to build their communities and connect with their audiences, it's not enough to simply know how to schedule your updates or use hashtags. To get the most value from your social media marketing and truly grow your business, you've got to understand how the triple-peak effect affects your success. And when you learn to leverage it to your benefit, growth hacking your marketing is no longer a battle.