Well, Who doesn't want 100 potential B2B clients for free? This is how I use B2B marketing hack:
I was approached by a services company for a B2B marketing project to set up meetings with decision-makers of product companies as a consulting project. Note that I'm not a sales consultant – I'm a growth hacker. Even though this is a job traditionally a sales team would do, as a startup, the client wanted to experiment and see if they can bring down their costs by hiring a growth hacker to achieve the same results.

Here's the CLIENT PROFILE:
Company type: Services business
Target audience: Decision makers of product companies
The Goal (OMTM): Close 5 new projects in one month for their services
Outcome: 20 new projects in 30 days i.e. Achieved 4x of the Goal.
The outcome, 20 new projects in 30 days, wasn't expected by either us or the client, which is exactly the beauty of growth experimentation.
We had a closure rate of around 20% because the leads were highly qualified and I got them meetings directly with the decision-makers.
Here's the exact step-by-step process I followed:
STEP 2: Using the personas and an online listing website of product companies, I exported a sheet of around 750 product companies that matched the persona. The only information I had was their product demo URL. This is really easy to get.
I didn't even try to find the email IDs of the decision-makers, which would be the most common approach by marketers. I just needed their product demo URL. You'll know why.. soon.
STEP 3: I wrote a script to sign-up for the product demos of all the 750 product companies. You can do this manually for a small list, test it, and then scale it using a script if needed.
STEP 4: I waited and I watched. Guess for what? Read on…
Fun fact: 60% of the demos I signed up for put me in their email drip campaigns.
Fun fact 2: 40% of those campaign emails came from the decision maker's email ID.
The growth opportunity I leveraged was that most product companies were using drip campaigns as their marketing strategy.
I used their drip campaigns for my lead generation.
But the fun has just begun..
STEP 5: I engaged with their drip campaigns and in the 2nd or 3rd mail of their drip sequence, most of the decision-makers asked me for feedback on their product. This is when I replied asking for a quick call with them.
STEP 6: I provided them with feedback on the product specifically around the areas where my client can help with their services. This call, set up by the decision-makers with me, then became my opportunity to pitch them my services.
In fact, The decision-makers scheduled meetings with me so I could pitch my services to them.
Yes, it's that simple!
Go ahead and try out this B2B marketing hack for your business. If you have any further questions or need help with growth hacking, I'm your friendly neighborhood growth hacker and you can reach me at rishabh@mapplinks.com.
SEE ALSO: 30 Lead Generation Hacks I've used in 2019
Note that the better your growth persona definition and the more attractive your service, the better this funnel gets.
A shitty product or service cannot yield these conversion rates even with the best growth hacks.
P.S. I've approximated some data in this blog post. This is just to help you with the process. However, if you're curious about the actual data, I'm including a screenshot from our growth campaign report below: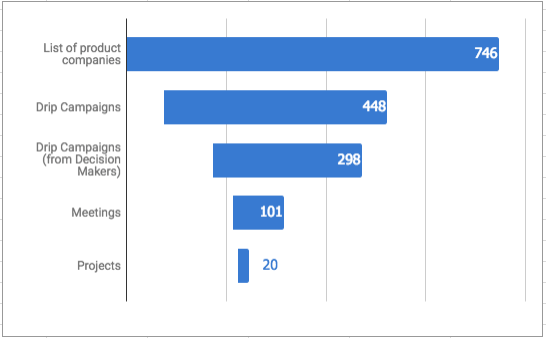 If you're new to growth hacking and want to learn more, join my free growth hacking course at https://academy.mapplinks.com/growth-hacking-course
Biggest Lesson:
Every growth hacker must see the hidden opportunity that marketers don't and leverage the opportunity to meet their growth metrics.
And that's how you find that unicorn growth hack! Always remember: It's all about the mindset.