A growth case study of my Airbnb experiment in Vietnam.
I'd lost my way, it was raining and my rental motorbike was giving up on me.
In the middle of the beautiful landscapes of Trang An, Ninh Binh, I found myself tired and hungry after a long bike trip from Central Vietnam.
I stopped at a small family restaurant for a quick meal. I never thought the family would become mine!
1. The Airbnb Experiment Overview
In 2019, I ran my first Airbnb experiment by chance. Unlike growth campaigns and experiments I run for my clients, this one wasn't planned or strategized.
Here's the link to my Airbnb listings.
I just found so many amazing and helpful people in Vietnam who had so much more potential from their properties, I starting helping them by marketing their accomodation options online.
I would start by helping the local families who owned small homestays or restaurants redesign their spaces, their menus, and services to suit an international audience. I would then promote them using Airbnb search optimization, online advertising, and social media platforms.
Note that my goal here was not to make massive profits from Airbnb but start by helping just one family and expand their revenue potential.
2. The Airbnb Experiment 2019 Earnings
Here's how the experiment went in 2019:
As the first year of experimentation for just 2 family homestays in the Vietnam market, I am excited about the $10,000 revenue we booked (as one big family!)
Throughout the experiment, I learned a lot about how the platform works and how to optimize for it to make sure we were always fully booked.
3. How to Improve Visibility on Airbnb Search Results
The focus was always on hosting people as family and keeping them happy. This reflected in our overall ratings and we stand at an overall rating score of 4.9/5.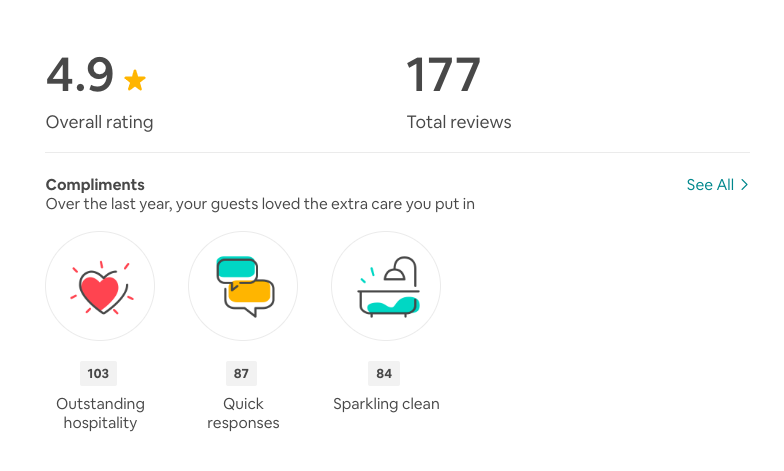 While this has to be the main focus, here are the other factors that improve visibility:
Good quality pictures with cultural elements
Using keywords like "pool access" and "free breakfast"

Being a superhost as some people are searching only for superhost properties (all the hosts including me become superhosts quite quickly)

Responding to requests ASAP (We usually respond within a few hours)
Turning instant book on
Giving long term stay discounts
4. Pricing the Airbnb
The best pricing strategy is aligning your pricing to Airbnb's minimum and maximum price suggestions. The first reason is that Airbnb has already done competitor and region-wise research for you so you don't need to.
The second reason is visibility. Airbnb prefers properties that are aligned to its pricing suggestions and keeping a broad range also makes sure you'll match most of the search filters users are adding for their pricing range.
5. The RARE FIND hack
A small hack we tried was to include the phrase "RARE FIND" in the property title which is actually an Airbnb algorithm feature. Airbnb puts the Rare Find badge on properties which are mostly booked.
If you're not there yet, the hack is to either design a similar badge on your featured image or to include it in text with the property title.
Just make sure you do this only for a few days and then remove it to avoid coming in Airbnb's review radar.
6. The Airbnb Pictures
I took the pictures myself for both homestays – in Hoi An and Ninh Binh.
For Hoi An, I A/B tested multiple pictures initially with the rooms and the pool but the ones that worked the best (in terms click rates) were pictures of Vietnamese girls in the traditional Vietnamese dress, the Ao Dai and pictures of Wine by the pool.
For Ninh Binh, the view of the Trang An landscape from the homestay terrace worked the best and hence, I kept that as the featured image.
7. Airbnb Occupancy Rates
All of the above optimizations helped us beat the market standard occupancy rates of the area. The properties are in both Hoi An and Ninh Binh Vietnam. These are touristy places with a lot of Airbnbs and hotel options.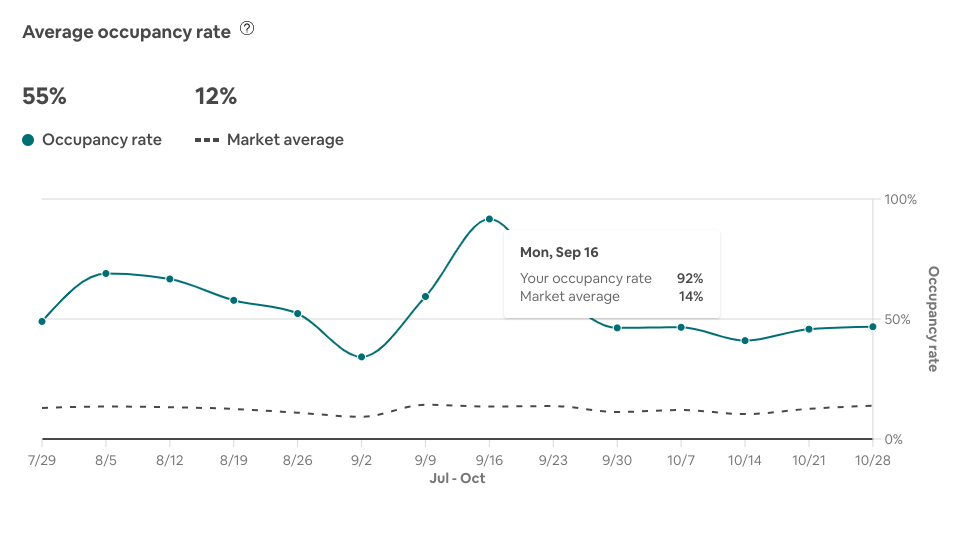 Monday, September 16th was the best day in terms of occupancy as we hit a 92% occupancy rate of the rooms from both homestays combined.
This year, we've also built a few new rooms and my target is to improve the occupancy rates in 2020 to an average rate of 70% by using new growth experiments and optimization hacks on our listings.
I'm really excited to help both families in the future. Both of them have paid off their loans and brought amazing gifts for themselves and their families recently as the Vietnamese new year is less than a month away. I'm happy I could give back to the family that was so hospitable for me and took care of me when I landed up late and tired at their local family restaurant.
And I look forward to seeing where my love for experimentation with growth will take me on this journey of Airbnb growth experiments on other people's properties.
Until then, enjoy your vacation!
P.S. If you have any questions about the Airbnb experiment, feel free to comment and I'll reply.