Sometimes I feel spending on water is like paying for something that is my right just by arriving on this planet. How much we've taken it for granted is astonishing.
Anyway, one almost hidden cost of travel is those little plastic bottles of water. They add up to a lot of our travel budgets and in the process, we consume a lot of plastic.
You won't hear 'Save water krub' or 'Save plastic krub' slogans in Thailand but that doesn't mean you shouldn't. Over consumption of plastic is like a way of life in Thailand but please keep your Western sensibilities intact and don't get carried away by all those takeaway options.
While traveling in both North and South Thailand over the last 2 months, I explored many travel hacks and I can safely say I have mastered the art of getting free water in Thailand.
And I don't mean drinking directly from the tap – Please don't try that!
So here's how to get free (or almost free) drinkable water in Thailand and also use less plastic.
1. The big boss method: If you're going to stick around in one place for a week or longer, get the big 20L white bottle.
Price per litre: 1 Baht, Plastic consumption: 0
You will see the big white 20L bottles being used in local restaurants and houses.
And I mean white. Not transparent.
Find a local grocery shop anywhere (711 doesn't count as local) and you can buy these. Once you've used the water, return the big bottles to the seller. They can be reused again. So you've gone almost waste free without spending much.
2. The machine refill: If you're going to travel around cities, bigger towns or the hotspots, get the 1.5 liter bottle once and refill it at RO machines
Price per litre: 1 Baht, Plastic consumption: 1 bottle for the entire trip
There are many companies who make the 1.5 liter bottles. Get any one of those.
And then, you can refill them on any of the water vending machines which are available through out the country specially in the cities, towns, and hotspots.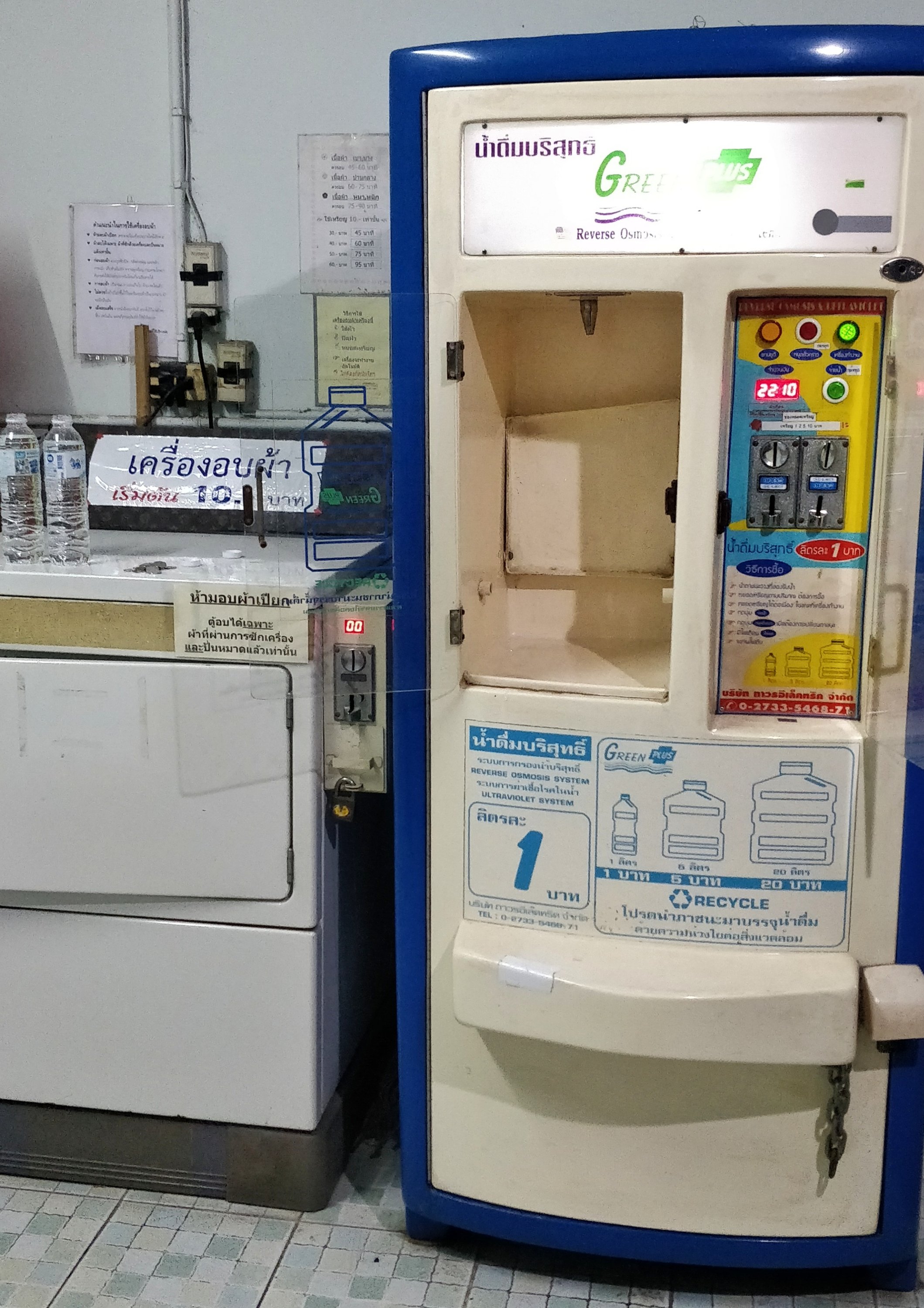 This is how they look.
One hack to find these machines is to go to any self-service laundry or under any of the apartment complexes. That's how locals living in apartments get their water.
Here's another one I found at a laundry.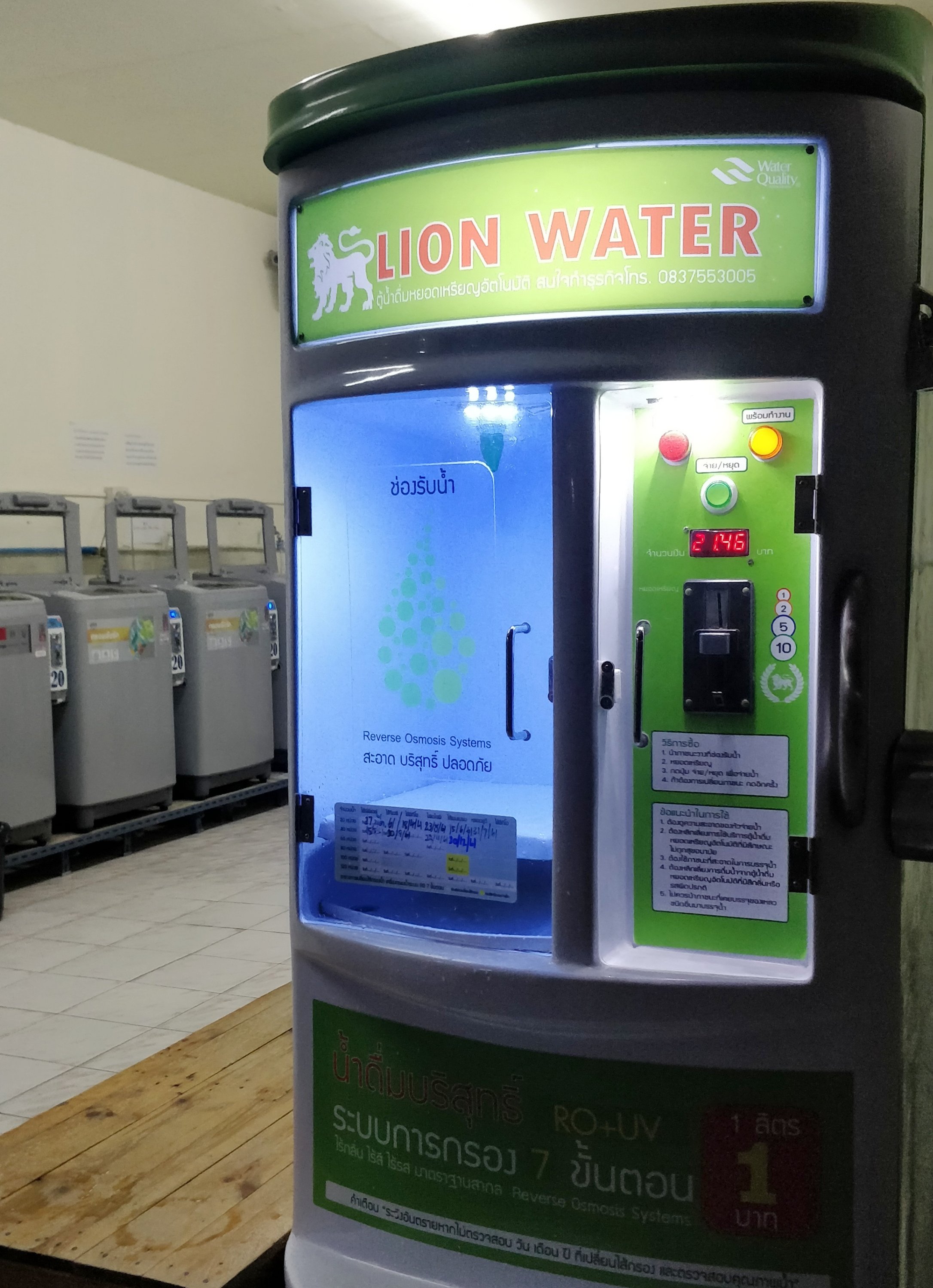 For 1 Baht, you can fill the entire 1.5 liter bottle (almost) and since you'll be buying the bottle the first time, we're going to assume a 1 Baht / litre cost of this method while consuming just one bottle.
I suggest washing the bottle once every week if you're traveling for a long time. You can also buy a new bottle each month and you'd still be far better off than any of your fellow travelers who are consuming less mindfully.
3. The magic cup method: Get the reusable cup at 7-11 and you can refill it at any 7-11 for free.
Price per litre: Tends to 0 Baht the more you reuse, Consumption of plastic: 1 cup
All 7-11s have coffee vending machines which basically give hot water and you can take the coffee power and make your own coffee.
You only pay for the cup or glass and you only pay the first time you take it.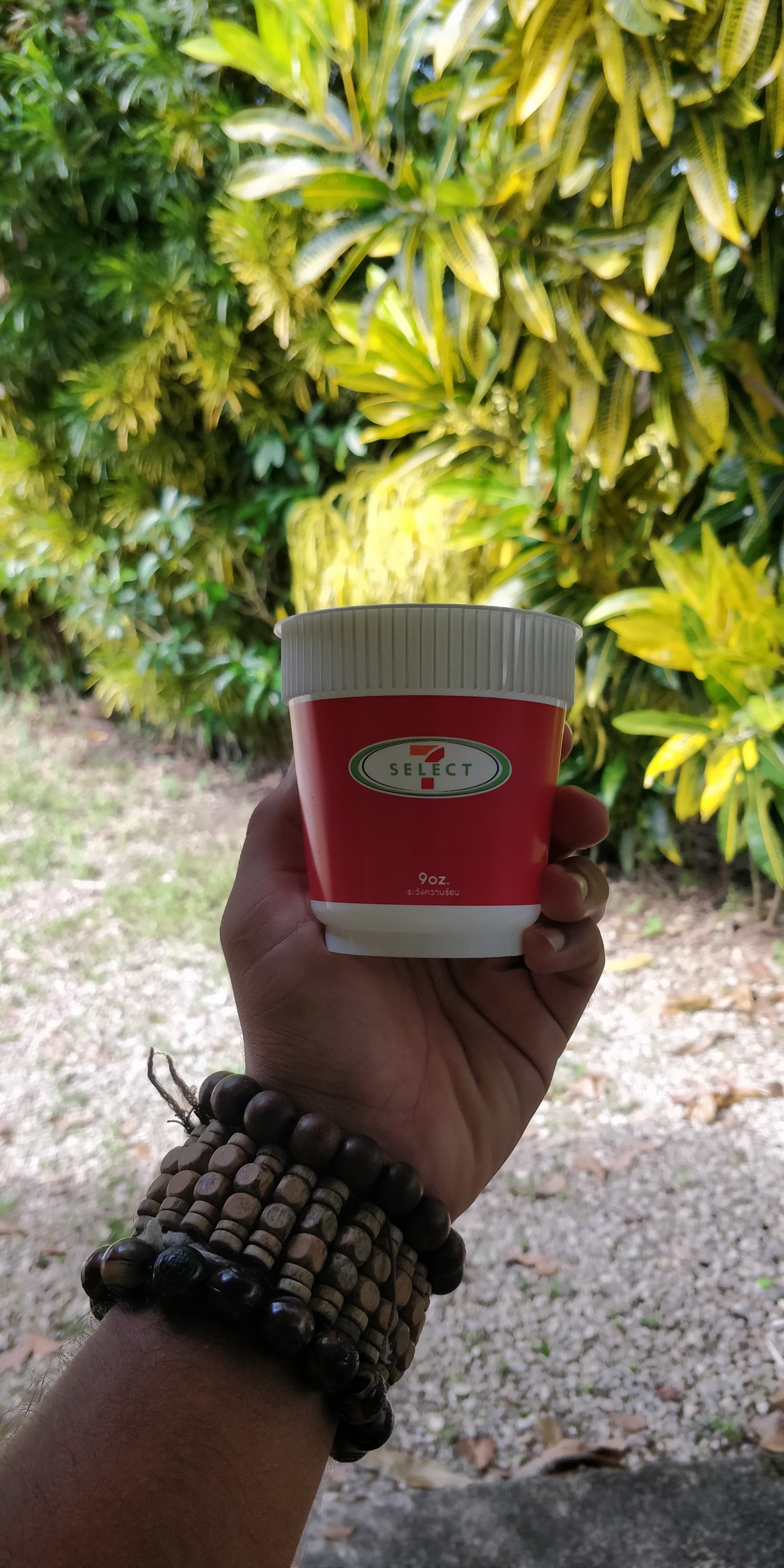 Next time, you can refill the cup with water without the coffee and tell the counter it's just a water refill.
Keep the original bill of the first time when you paid for the cup just in case.
And of course the first time you can buy coffee and then reuse for water.
The machine gives hot water but you can also add some ice to it.
4. The go local method: Eat at local restaurants and get free water
Price per litre: 0 Baht; Plastic consumption: 0
This is as simple as it sounds. Most local restaurants (I mean really local not the ones which have 'local Thai food' written on their menu in English) have jugs of water on all the tables, next to the beautiful set of Thai toppings including soy sauce, chilli powder, and peanut powder.
In fact that's your test. If you don't see free peanut powder on tables, you haven't gone local enough.
Anyway, so all these local restaurants have free water. Drink up and refill.
And don't shy away from tipping them as the price of the food will anyway be lower than other restaurants. I'm talking in the range of 30-50 Baht per meal.
Because it's not just about saving money it's also about helping the locals and reducing consumption of plastic.
So enjoy free drinking water in Thailand! 🙂
Bonus:
The fifth way is my favorite one but it's not really for everyone. There are a number of beautiful waterfalls and limestone caves in Thailand. You should never run out of free water!
. . .
Here's another method to get free water in most destinations in Thailand, as well as a few in Laos and Indonesia.
Buy a #trashhero bottle (this costs 200 Baht) and you can travel with this bottle and refill it anywhere in the destinations listed on this map.
You can check out full details of this program here.