A growth hacker thinks beyond the default marketing channel personas to get better results, with less time and money.
Doubting the Default is a key characteristic of a growth mindset.
While creating user personas is an essential step of a marketing strategy, traditional digital marketers tend to be blind toward exploring channel personas. It's limit them to the most common channels for executing their campaigns.
"Marketers create user personas, Growth hackers also create Channel personas."
Firstly, we need to define two new terms here before moving on with the rest of the article:
Term #1:
Traditional Digital Marketers
Term used for digital marketers in general by a growth hacker. For a growth hacker, modern digital marketing is also traditional.
Term #2:
Channel Personas
A definition with Characteristics of the kinds of channels we can execute creative campaigns on and reach the right Target Audience.
Now, let's look at what a typical digital marketing process looks like:
Digital Marketing Process
Identify goals of the brand
Create user personas
Create a campaign strategy
Execute on popular channels
Analyse campaign metrics
Though there might be various steps in the process on different blogs and website. But this is what really happens. The channel set is usually defined based on where the brand is already active if it has an existing digital strategy. OR a new set of channels is defined based on if it's a B2B or B2C target.
Digital marketers usually play around with a common & popular set of channels like Facebook, LinkedIn, Twitter, Instagram. Rarely social media campaigns are executed beyond this set. While SEM campaigns run across the major advertising platforms like SM Ads and Google Adwords from data gathered across most digital marketing campaigns.
In comparison, let's have a look at the growth hacking process:
Growth Hacking Process
Identify one single goal which is defined using the OMTM or North Star Metric
Create user personas
Create CHANNEL PERSONAS
Use data and gut feeling to brainstorm creative growth experiments
Prioritise experiments based on their ICE Score and other prioritisation frameworks
Execute on selected, often offbeat channels, and analyse OMTM
Scale the successful experiments to growth hacks
Step 3 in the above process is the real differentiator between a digital marketer's approach and a GROWTH MINDSET.
The growth hacker thinks beyond the default marketing channels to get better results, with less time and money.
WHY CHANNEL PERSONAS?
As a growth hacker, it's essential to leverage channels outside of the usual playground. To explore beyond the default set of channels, Growth Hackers Create Channels Personas.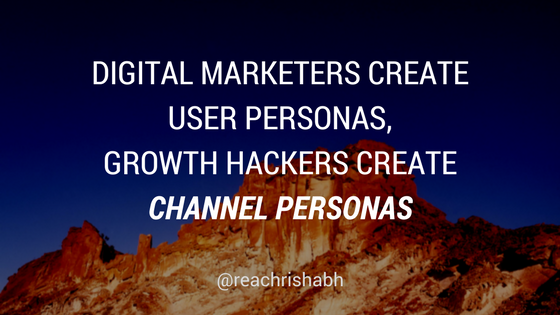 But here's why we need to think beyond the popular channels in the first place:
The most popular channels are expensive and saturated
There are higher chances for successful growth hacking experiments in channels which are in the early-adopters peak
A channel's effectiveness typically reduces over time
Offbeat and new channels are mostly cheaper than saturated ones, thus reducing investment and increasing the growth marketing ROI
Multiple micro-channels mapped with the Target Audience are better than a single macro-channel with no TA focus
It's easier to target the right user segment with micro-channels VS paying for targeting on Facebook or other larger channels
A new or offbeat channel probably has loopholes which Growth Hackers can leverage on compared to a mature channel
Example #1: Airbnb "growth hacked" Craigslist. It was not a traditional marketing or Facebook Ads campaign.
Example #2: PayPal "growth hacked" eBay. It was not an Adwords or a app advertising campaign.
Growth Hacking beats digital marketing in a ecosystem. Where our focus is on achieving results in less time and money, faster and better. And channel personas are key to cause this differentiator. At Mapplinks, we've helped many of our startup clients to optimise results by moving focus toward offbeat channels to get results.
The idea is to think beyond the channels given to us. And instead brainstorm using Channel Personas to find new channels to target as OPNs (Other People's Networks) or growth hacking channels for our creative experiments. It always pays off to "DOUBT THE DEFAULT".
HOW TO CREATE CHANNEL PERSONAS?
Channel personas are sets of definitions of the "kinds of channels" which the growth experiments would benefit the most from. While it's easy to think about the usual suspects like in the case of social media channels. But it requires much more thinking to come up with specific TA-focused channels to run growth hacking experiments on.
To start thinking about target channel personas, it's good to start by asking:
Q1. What kind of problem would the channel solve for a similar target audience as mine?
Q2. What are the other interests of my target audience? Where do people with similar interest hang out online?
Q3. What are some of the other brands, products or tools my TA follows on social media?
Q4. Where does the same age group hang out other than the standard social media channels?
Q5. What are the new channels which have been trending on Google Play or the App Store for the past few weeks?
Q6. What are the new communities or networks on ProductHunt or BetaList?
Q7. Which platforms and marketplaces have recently received PR or funding?
Q8. Which tools or networks are review bloggers in my network also writing about?
Q9. Which channels are my early users coming from?
Q10. What channels are my competitors or brands with similar TA running growth hacking experiments on?
Airbnb's answer to Q9, for instance, was Craigslist. Not any of the usual social media or advertising platforms.
You will be surprised to know a lot more about your TA and discover a set of new high-impact low-cost channels if you ask yourself the above questions.
CONCLUTION
In summary, these should give you a list of channels which you should target your growth hacking campaigns on. Remember, Growth hackers think beyond the usual set of channels and campaigns. It's to get better results faster and with less experiments. What's key here is building the growth mindset.
If you want more information on how to build your channel personas, or any step of the growth hacking process, email me at rishabh@mapplinks.com, and start a conversation.