This is a guest blog by Rachita Saxena. Photography credits go to Rachita Saxena.
An offbeat camping experience in a gorgeous Central Asian country.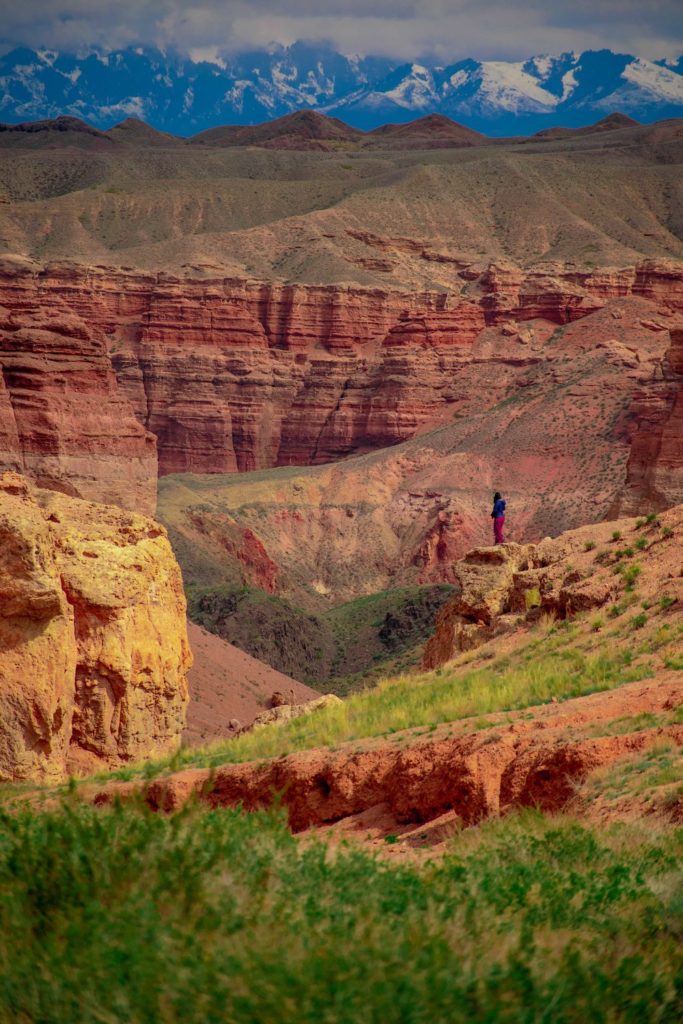 Have you ever camped beside a river, underneath the stars?
Trust me, it is one of the most amazing feelings ever. I have never camped independently a lot before this year but that all changed on my trip to Kazakhstan and Kyrgyzstan.
And out of all the places that I camped, camping beside the Charyn river was definitely the highlight of my trip.
With our tent pitched just next to the river, we could enjoy the gushing river sound and the peace and tranquility at being surrounded by rocky mountains.
And although it did get cold at night, it was every bit worth the experience. I don't think I will be forgetting this amazing camping experience anytime soon.
Trust me, if you are planning a trip to Kazakhstan, then you should definitely spend a night in the Canyon Charon National Park. You won't be the same ever again.
---
Related Experience: An Offbeat Trekking Experience to the Mesmerising Song Kol Lake in Kyrgyzstan
---
About Charyn Canyon National Park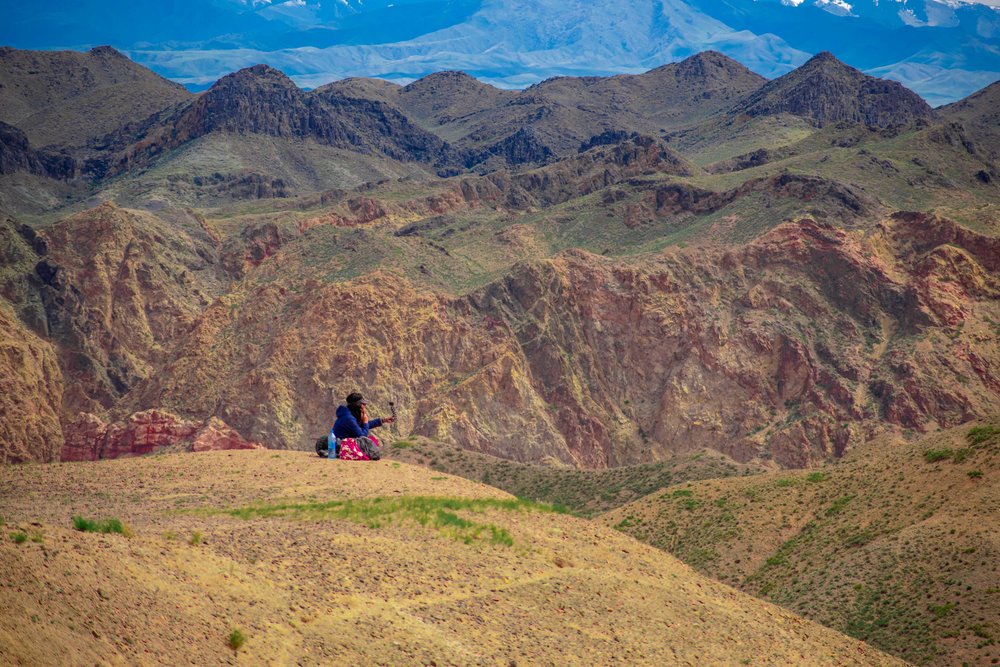 Charyn Canyon National Park is one of the top national parks in Kazakhstan which stretches along the Charyn river. About 1250 km square in area, this national park includes several canyons and landscapes which makes it such a popular place to visit in Kazakhstan.
It was formed in 2004 to protect the geological and ecological attractions of this place. The Charyn Canyon also resembles the Grand Canyon of the USA although it is smaller than it.
But if you have always wanted to visit the Grand Canyon then this is a good place to start. It is still unexplored and doesn't see a lot of tourists which makes it such an amazing getaway from the Almaty City.
Currency Used in Kazakhstan
Kazakhstani Tengge (KZT) is the currency prominently used in Kazakhstan. And there are very few ATMs outside of the city, so make sure you withdraw cash from Almaty before heading out to nearby places.
100 INR will get you 543 KZT while 100 USD will get you around 38895 KZT. The conversion rate mentioned in this post is as of September, 2019.
Where is Charyn Canyon National Park Located?
As I said before, Charyn Canyon National Park is quite big and stretches along the famous Charyn river. It is around 200 km east of Almaty City and can easily be reached in 3-4 hours using a vehicle.
There are many ways to enter this national park, if you have a personal vehicle. But the most popular route is from Kokpek to the Charyn Canyon National Park entrance gate. Because this is the best way to enter the Valley of Castles canyon and spend some time here.
About Valley of Castles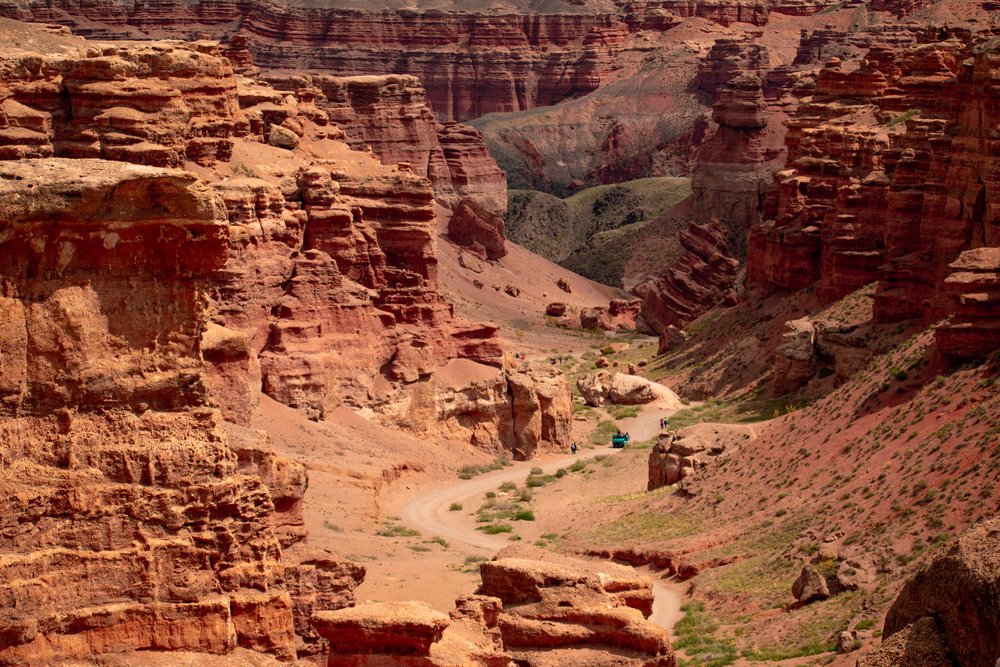 One of the most famous canyons in the Charyn Canyon National Park, Valley of Castles is known as the small brother of Grand Canyon. It is around 3 km long and is the perfect place to walk around and explore.
Honestly, standing on the cliff here is one of the most exhilarating feeling ever as you have such a magnificent sight to greet you. This place is especially amazing during the sunset or sunrise time because all the walls here take on a different shade of red, green, etc.
So, you will feel like you are on some other planet altogether.
Best Time to Visit Charyn Canyon National Park
Since Kazakhstan is a relatively less touristy place, you can actually enjoy Charyn Canyon National Park throughout the year.
However, winter is not a good time to visit Charyn Canyon because the roads are usually covered with snow.
It can be dangerous to drive to Charyn Canyon in winters.
But if you don't mind a little adventure then you could plan a trip. I am sure the entire canyon must look magical when covered with snow. But the best time to visit Charyn Canyon is during the summer season.
However, this is also the high season, from June to September, so you could bump across a few tourists.
Plan a trip here during the weekday then you can have the entire canyon to yourself.
How to Reach Charyn Canyon National Park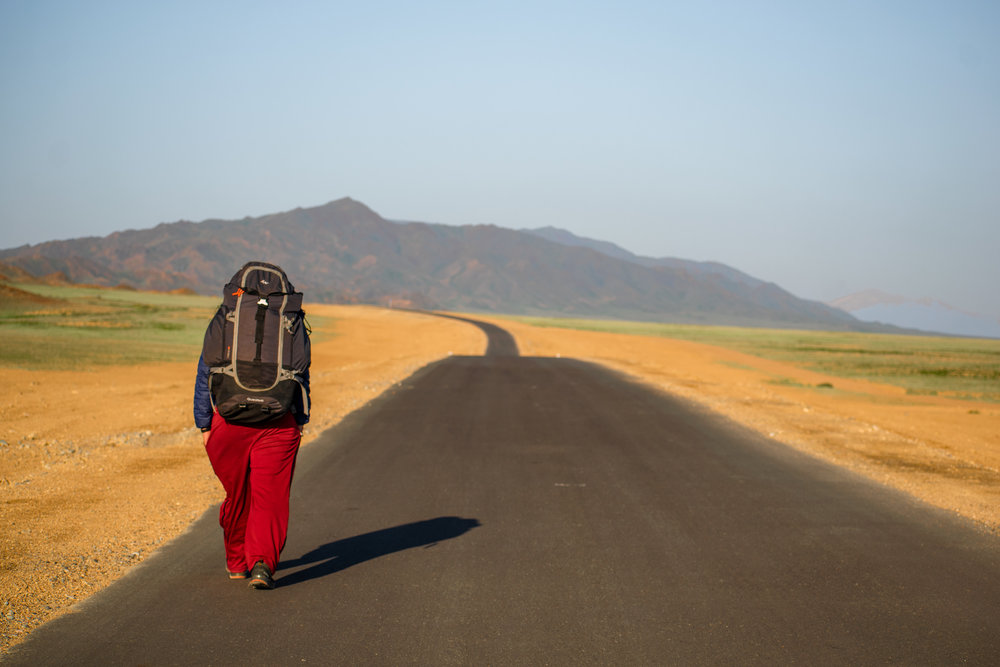 As I mentioned above, Charyn Canyon is just a 4-hour drive from Almaty city. So, if you have your own vehicle, you can start around 8 in the morning and reach here by 12-1 p.m. easily.
However, if you don't have your own vehicle, then you can take a shared cab from Sayakhat Bus Station. Ask for the shared taxi to Kegen village and tell them that you need to get down at Charyn Canyon Entrance.
A shared taxi will cost you around 2000 KZT per person (you will need to bargain a little) and will drop you off at the entrance. If they refuse to drop you at the entrance, then you can get down at the road intersection for Charyn Canyon National Park. This should cost you 1500 KZT.
From this intersection point, it is another 10 km to the Charyn Canyon National Park Entrance post. You can either choose to walk this distance or hitchhike your way through it.
Itinerary for Visiting Charyn Canyon National Park
Here is a day-wise itinerary that I used to reach Valley of Castles and camp here for two nights.
Day 1
We started from Almaty city in the morning and reached the Sayakhat Bus Station. From here, we took a shared taxi to Charyn Canyon National Park which cost us around 2000 KZT per person.
We bought the entrance ticket for our stay here and then made our way to the Valley of Castles canyon.
We walked for a while to get a panoramic view of the valley. And then after an hour of exploring, we made our way down to the valley to camp near the Charyn river.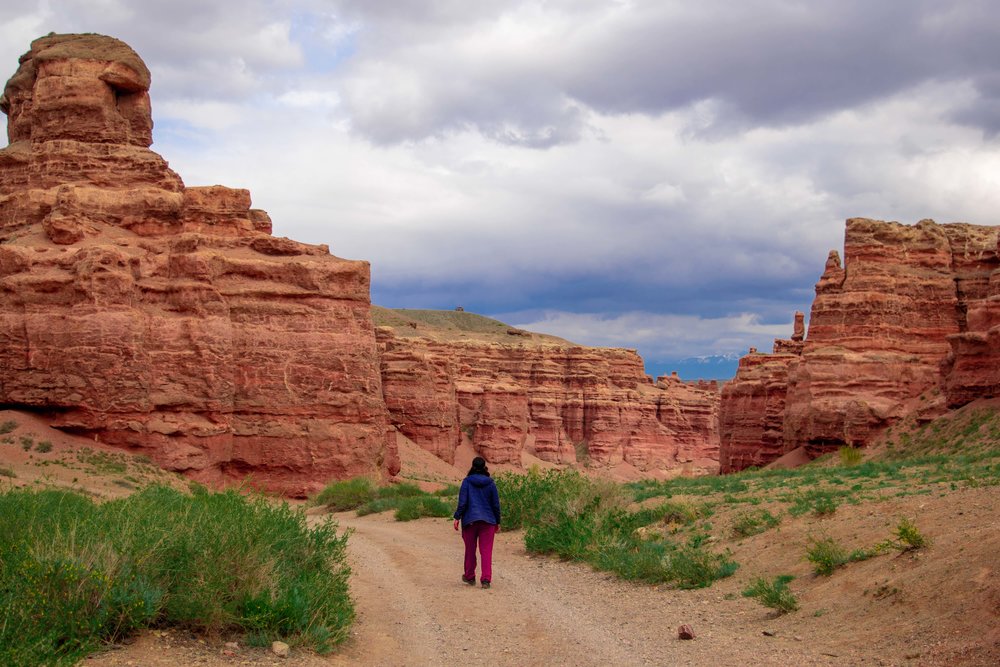 It took around 1 – 1.5 hours for us to finally reach the Eco Park here. After that, we set up our tent here and then enjoyed the evening time beside the Charyn river.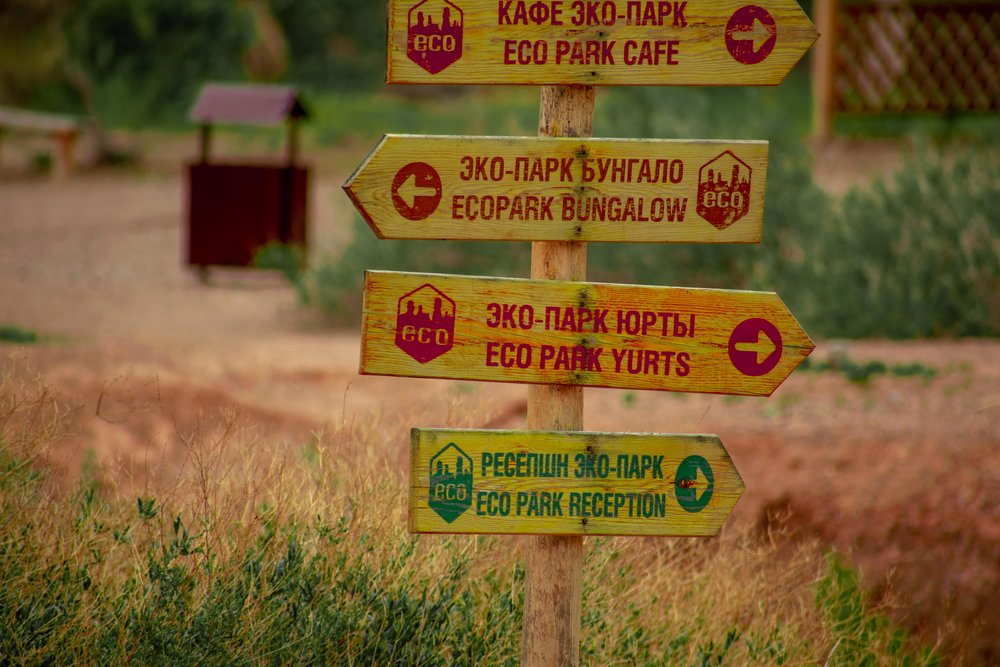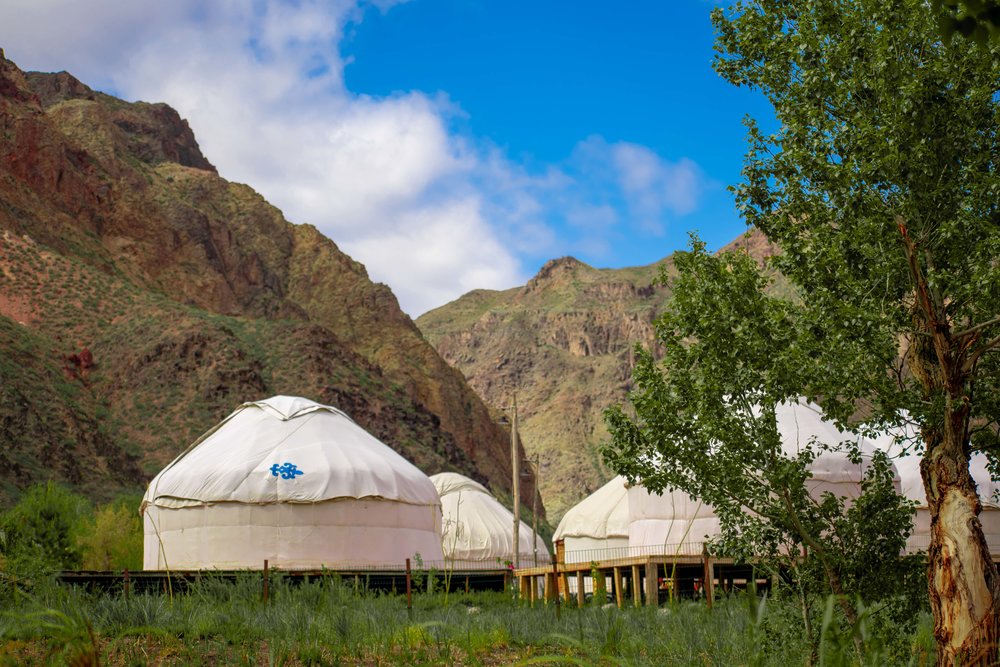 We just relaxed and enjoyed in the evening and around 7 p.m., it became dark so we slept off. It was quite a tiring day and we were planning to get up early the next day.
Day 2
Next day, we woke up around 8 a.m. and got ready to hike around the Valley of Castle. We made our way back to the top of the canyon which took us around 2 hours as the stairs were slightly steep.
After that, we just walked around and checked out the different viewpoints from the top.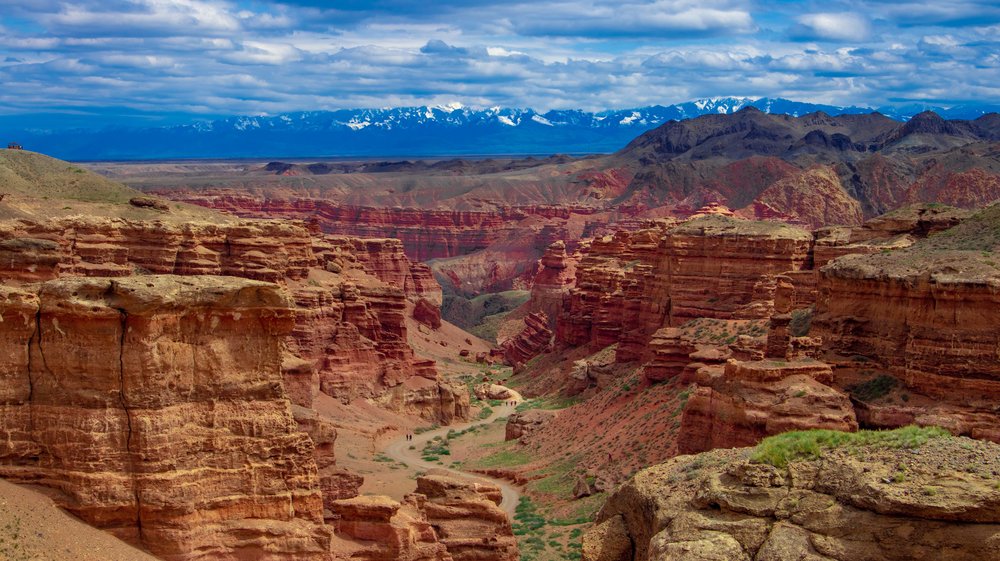 Valley of Castles looks extremely gorgeous from the top. But most of these viewpoints require climbing down a steep path so it can be slightly scary as well. However, it is completely worth it as you get to enjoy such a picturesque view.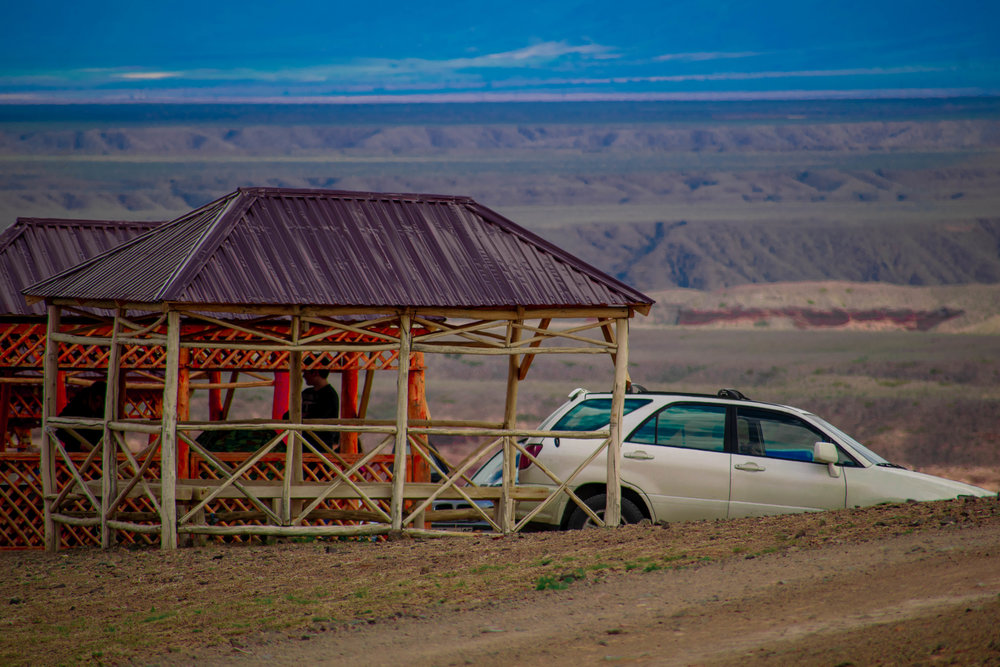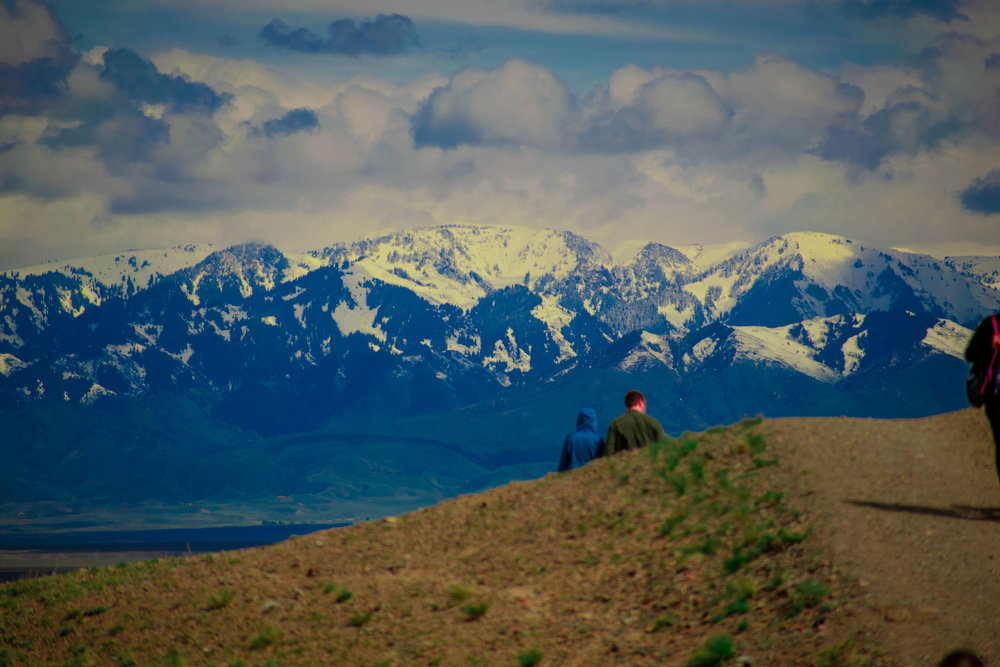 We explored the valley a bit further than we had the previous day and could watch the beautiful Tien Shan Mountains from far away.
Finally, around 5 p.m., we started back towards our camp and were almost in time for the sunset. Honestly, sunset at Charyn Canyon is one of the most beautiful ones I have ever witnessed.
After that, we just waited for a while to watch the night sky. And around 9 p.m., we came out to watch the entire sky covered with stars. It was honestly the most beautiful scene ever.
Day 3
On this day, we had a train to catch from Almaty so we had to reach Almaty on time. We got up around 4.30 a.m. and packed up our tent. Then, we slowly made our way back to the entrance of the national park.
It took us around two hours again but we also watched a gorgeous sunrise on the way.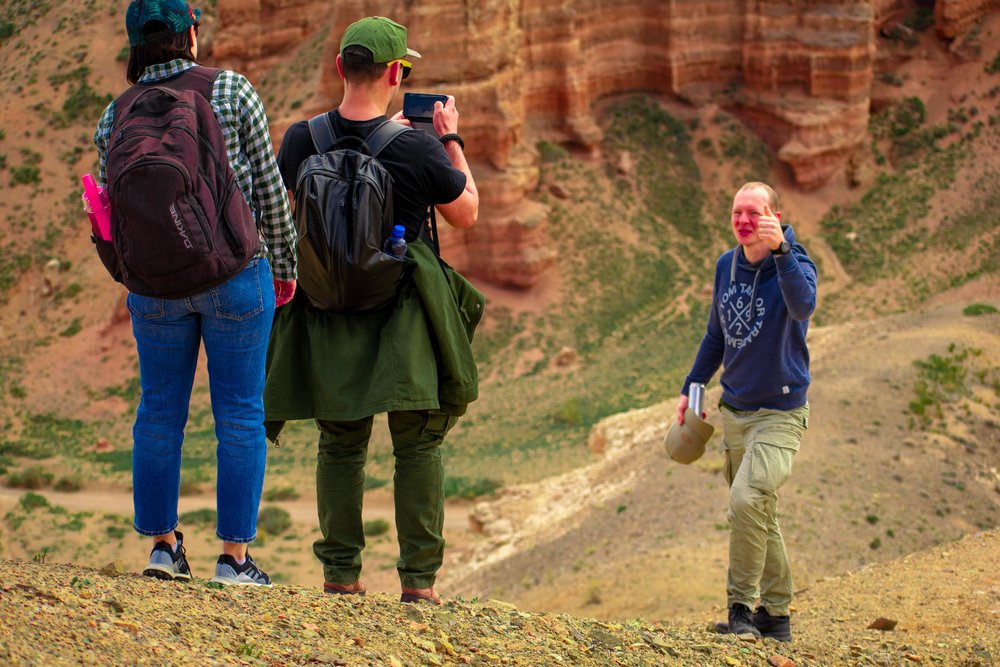 And since we were early, we didn't find any vehicles going back to the main road. So, we had to walk 10 km which took us around 2.5 – 3 hours.
We reached the intersection by 10 a.m. and from there, we got a ride till Kokpek village from a local family. From Kokpek, we traveled back to Almaty with a truck driver who was the sweetest person ever.
Overall, it was our first hitchhiking experience in Kazakhstan and it was truly an amazing one.
Where to Stay in Charyn Canyon National Park – Valley of Castles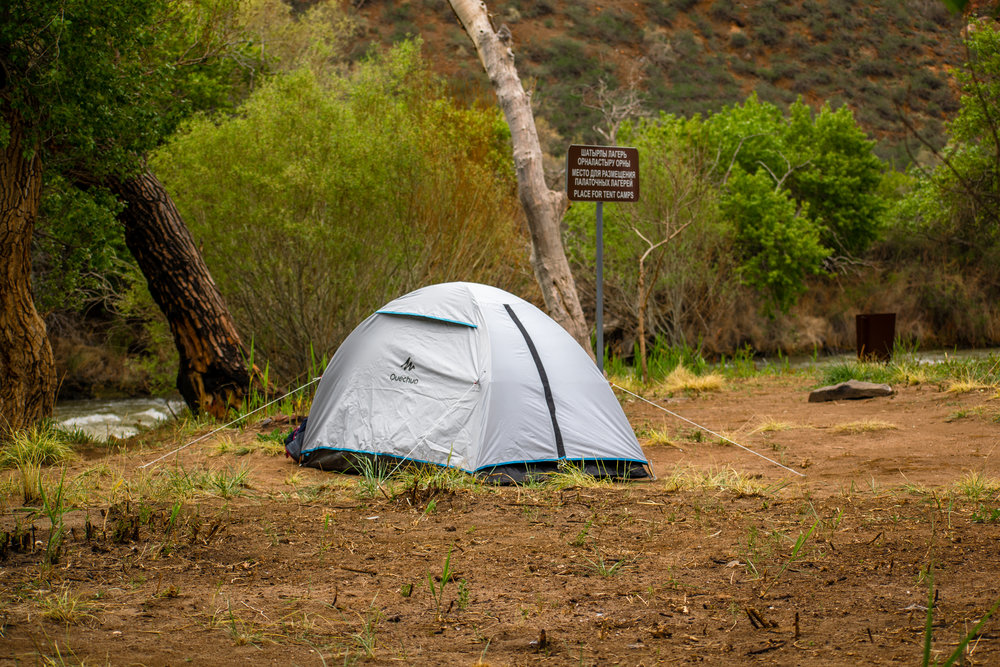 Staying in Charyn Canyon is not a difficult task. If you have your own tent, then you can basically pitch your tent anywhere. Just don't pitch it too close to the cliff or the river if you don't want to tumble down to your death.
Also, it gets really cold so you will need good and warm sleeping bags, sleeping pads, and so on.
If you don't wish to camp here, then you can always book a Yurt or a bungalow in the Eco Park here. Stay in the bungalow will cost you around 16000 – 24000 KZT whereas a stay in the yurt will cost you around 40000 – 50000 KZT per yurt. But you don't have to worry about food or cold if you do choose to stay in these accommodations.
Food and Drinks in Charyn Canyon National Park
Now, if you are planning to camp in Charyn Canyon then be prepared with a lot of food and water. Apart from the Eco Park hotel, there are no restaurants here. And the food and drinks here are definitely more expensive than what you would get in Almaty.
So, carry your own food when planning to camp here. You can also get fruits and snacks from the Kokpek village which is around 45 km from the canyon.
How Much It Costs to Visit Charyn Canyon National Park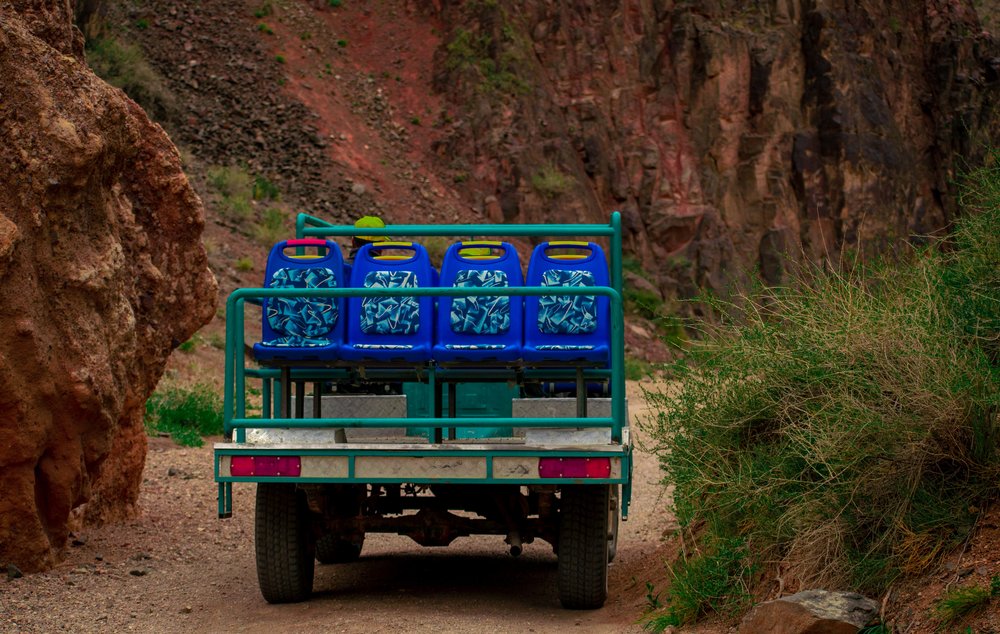 Depending on your choices, it can cost anywhere between 10000 – 100000 KZT to visit Charyn Canyon National Park.
Here is a cost breakdown of our visit to the Charyn Canyon National Park.
All the costs mentioned are as of September 2019.
Transportation
It will cost around 5000 KZT to reach Charyn Canyon and reach back to Almaty city. As I mentioned above, the shared taxi to Charyn Canyon will cost around 2000 – 2500 KZT and you can expect to the same back to Almaty as well.
Entrance Ticket
The entrance ticket cost for Valley of Castles is 750 KZT per person. So, for every day you stay here, you need to pay 750 KZT.
So, it came to be 1500 KZT for our 2-day stay in Valley of Castles.
Stay
If you are pitching your own tent, then you will have to pay 100 KZT for a tent per night here. Else you can book a bungalow or yurt for anywhere between 16000 – 50000 KZT per night.
Food and Drinks
It will be a good idea to carry your own food for camping. So, you can expect to spend around 2000 KZT per person for snacks and drinks.
Important Local Contact for Visiting Charyn Canyon National Park
If you are traveling independently, then visiting Charyn Canyon can be slightly difficult. The tours are really expensive but there are several group tours that you can join as well.
Here is a place that you can contact for joining a group tour to Charyn Canyon
Visit Almaty
The official tourism organization in Almaty, Visit Almaty kiosks are throughout the Almaty city. So, you can easily visit them and find about the next group tour to Charyn Canyon. Usually, these group tours cost around 10000 – 15000 KZT depending on the number of people in the group.
Website: Visit Almaty
Contact: +7 727 393 52 30
Email: info@visitalmaty.kz