I'm Rishabh Dev (Rish) and I'm a startup growth specialist and online business and marketing consultant.
I've helped multiple businesses with their growth marketing process and campaigns. I've also trained over 25,000+ marketers and entrepreneurs based on my 12+ years of experience driving growth using digital channels.
I use the power of leverage, offbeat digital channels, OPNs, and lean and agile frameworks to drive business growth.
My book '101 WAYS TO GROW YOUR STARTUP' was published in 2019 and sold over 1000 copies within a month from its launch.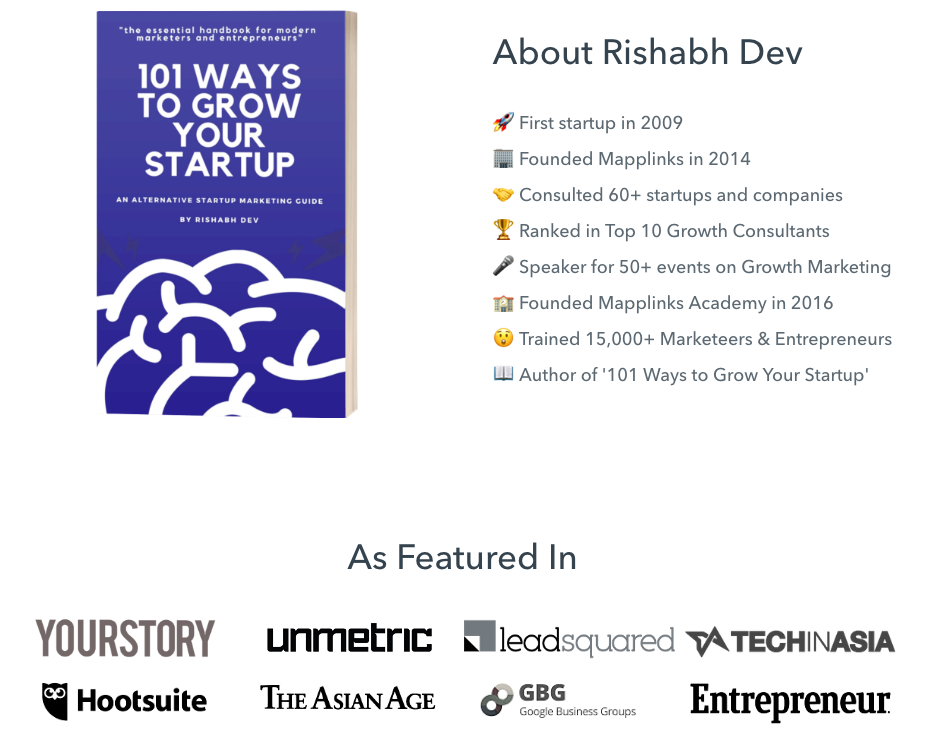 As a digital consultant, I have worked with 60+ companies to strategize and implement growth experiments in their marketing process.
From consulting Fortune 500 companies to helping startups achieve scalable growth, I've consulted all sizes and industries of businesses to help them achieve their growth metrics.
I am honoured that my online courses on marketing and growth are recommended or taken by teams at Oracle, the National University of Singapore, NUMA, Java, Alcatel, Philips, Accenture, and more.

Timeline
2009: Started growth marketing in 2009
2012: Founded his digital consulting venture
2012-2016: Worked with over 40+ businesses on digital growth
2016: Founded Mapplinks Academy
2016-2018: Keynote speaker for 50+ events on digital growth
2019: Trained 15,000+ marketers & entrepreneurs by 2019
2019: Published the first book titled '101 Ways to Grow Your Startup'
2020-2022: Consulted various online businesses, SaaS startups, and e-commerce brands
2022: Launched my own social microlearning platform called Edupops
I love learning, executing, and teaching.
Teaching is the best way to solidify what you've learned and executed.
Delivering keynotes at leading business schools, incubators, co-working spaces, investment groups, and startup meetups and events has helped me get various opportunities to teach and share knowledge.

Get in touch
I stay super-focused and take up only a handful of projects at a time.
You can get in touch with me at devrishabh@gmail.com for the following:
Digital growth consultation
Events and workshops
Consultant CMO roles
Courses and partnerships
Speaking Opportunities
Startup collaborations
Happy to start a conversation on LinkedIn or by email.